Shoemaker Birkenstock Expected to IPO in September
Founded roughly 250 years ago, the longtime shoemaker Birkenstock is expected to IPO as soon as September.
After a dismal start to the year, the market for initial public offerings (IPO) looks poised to heat up in H2 2023.

And one of the big names set to hit the market is the well-known Birkenstock shoe manufacturer, which could IPO as soon as September.

Birkenstock is currently owned by the private equity firm L Catterton, which acquired the legendary Birkenstock brand back in February of 2021 for around $4.9 billion. L Catterton itself is controlled by LVMH Moët Hennessy Louis Vuitton (LVMUY), which manages upwards of 75 prestigious brands, including Hennessey, Christian Dior, Givenchy and Sephora.

Birkenstock was founded roughly 250 years ago in Germany by Johann Adam Birkenstock, who wanted to create footwear that supported and contoured the foot, as opposed to the flat shoes that constituted the majority of offerings at that time.

Today, Birkenstock stock sells upwards of 25 million pairs of shoes every year, including the company's trademark wide-strapped sandals with cork and latex soles, known as "Arizonas."

Birkenstock first entered the U.S. market in 1966, and has secured a faithful group of longstanding customers, as evidenced by the company's recent cameo in the "Barbie" movie. At one point in the movie, the lead actress of "Barbie"—Margot Robbie—sports a pair of pink Arizonas.

Back in the 1960s and 1970s, the company's footwear became a popular symbol of the counterculture movement, due to Birkenstock's focus on foot health and sustainability. Today, Birkenstock is a global brand, and its sandals are worn by a wide range of people who appreciate their comfort and durability.

However, the company's use of natural materials, and its continued commitment to sustainability, remain key differentiating factors, especially considering the renewed focus on the environment.


With the upcoming IPO, L Catterton may be looking to take advantage of Birkenstock's rising popularity. Revenues for Birkenstock were up 29% last year, and totaled roughly $1.3 billion.

The forthcoming IPO is projected to value the German footwear maker at between $8 and $10 billion, which would represent a substantial return on investment for L Catterton, considering it paid $4.9 billion for the company only a couple of years ago.

On July 19, another brand controlled by L Catterton also went public—online beauty products retailer Oddity Tech (ODD)—which raised roughly $400 million on the Nasdaq stock exchange.

Oddity Tech was expected to IPO for about $1.7 billion, but saw better-than-expected demand for its shares, which closed their first day of trading 35% higher than the IPO price of $35/share.
Today, ODD shares are trading at roughly $54/share, with an implied valuation of $3 billion.

Whether Birkenstock can achieve similar results will depend on where the shares are priced on the first day of trading, as well as overall market sentiment—the latter of which can play a big role in the reception of a given IPO.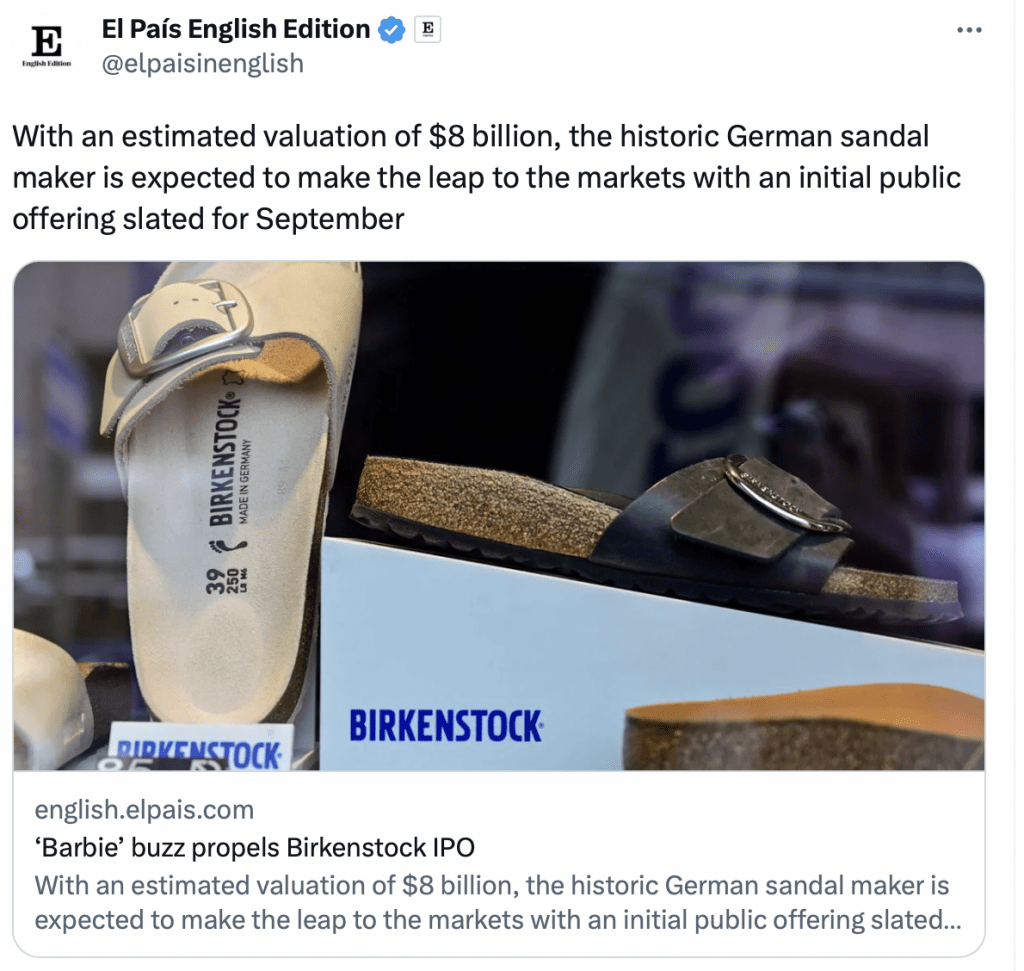 In addition to Birkenstock, several other high-profile IPOs are expected to debut in the second half of 2023, including Databricks, Icertis and Talkdesk.

For more background on the 2023 IPO landscape, readers can check out this previous Luckbox article. To follow everything moving the markets, readers can also tune into tastylive—weekdays from 7 a.m. to 4 p.m. CDT.