What You Need to Know About Tesla's Stock Split
After receiving shareholder approval on Aug. 4, Tesla shares will undergo a 3-for-1 stock split on Aug. 24, and post-split shares begin trading on Aug. 25. 
This week, Tesla (TSLA) shares will undergo their second split in less than two years, and the post-split shares are set to begin trading on Aug. 25.
The latest 3-for-1 split became official on Aug. 4 after shareholders approved the corporate action earlier this month. That means that shareholders of record as of Aug. 17 will receive an extra two shares for every share they own on Aug. 24. Post-split shares officially start trading the next day.
For example, if an investor owned five shares of Tesla on Aug. 17, that investor will wake up on Aug. 25 with 15 shares in his/her account. Likewise, an investor owning 100 shares will instead control 300 shares as of Aug. 25.
Stock splits occur when companies break up existing shares to create a higher number of lower-value shares. The intent of a split is usually to make shares more affordable to a wider pool of market participants, which in turn can improve the liquidity of the shares in the marketplace.
So, a stock split increases the number of outstanding shares and proportionally decreases the associated share prices, but the market capitalization and overall value of the company in question remain the same.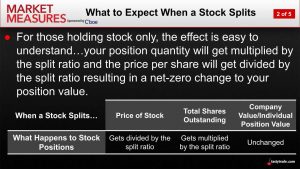 The share price of Tesla will also be affected because the closing price of Tesla stock on Aug. 24 will be divided by three, and become the opening price on Aug. 25. If the split were to occur today, that would mean Tesla stock would trade for roughly $293/share ($880/3 = $293).
Tesla last split its stock roughly two years ago (Aug. 31, 2020). That event was extremely profitable for shareholders, as the value of Tesla stock rallied about 60% from the day the stock split was announced through the date of its execution.
In 2022, the split has likewise been a positive for underlying Tesla shares, although less so than in 2020. Since filing the intended split with the SEC on June 10, Tesla stock is up roughly 25%.
However, one also has to consider that a major market rebound has also unfolded during roughly the same period.
From June 16 to Aug. 15, the Nasdaq 100 rallied by about 23%—which is eerily similar to the gains observed in Tesla. This context suggests that investors are slightly less enamored with the most recent stock split, as compared to the 5-for-1 split executed back in 2020.
The big question of course is whether any positive momentum from the split carries over after August 25. Tesla shares have been on a nice run since announcing the most recent split, but shares in the electric vehicle maker are still down more than 25% overall since the start of 2022.
Previous research conducted by tastytrade has illustrated that post-split shares typically underperform the S&P 500—on average—looking six months past the split date. That said, Tesla is hardly a run-of-the-mill stock. In 2020, Tesla shares went on a strong run in the wake of the August 31 split, but then again, so did the broader market.
In 2022, overall market sentiment will likely play a big role in influencing where Tesla ends the year.
Investors and traders should further note that Tesla option holders will be unaffected by the stock split, as a result of a practice known as "being made whole." While a stock split adjusts the price of the underlying security, the options contracts themselves are adjusted so that any changes in price due to the split do not affect the value of the option.
The Options Clearing Corp. (OCC) has rules and procedures to modify contracts so that options holders aren't affected by splits. Those adjustments will be made automatically on Aug. 25 to ensure an orderly and smooth functioning options market.
To learn more about stock splits, check out this installment of Market Measures on the tastytrade financial network.
For daily updates on everything moving the markets, tune into TASTYTRADE LIVE—weekdays from 7 a.m. to 4 p.m. CDT.
Sage Anderson is a pseudonym. He's an experienced trader of equity derivatives and has managed volatility-based portfolios as a former prop trading firm employee. He's not an employee of Luckbox, tastytrade or any affiliated companies. Readers can direct questions about this blog or other trading-related subjects, to support@luckboxmagazine.com.