Earnings Impact and a Look at Defense Stocks
Home Depot (HD) and Walmart (WMT) earnings were this morning. Lowe's (LOW) and Target (TGT) is tomorrow. Download the full list here.
Defense Stocks
Three companies that are often synonymous with the U.S. military and military spending—Lockheed Martin (LMT), Raytheon Technologies (RTX) and Northrop Grumman (NOC). While U.S. stocks are making all time highs, these defense firms are flat. IV Ranks are low now, but these stocks could start moving again. Calendar spreads and Poor man's covered positions might be the best way to play them currently.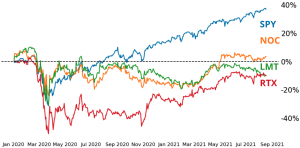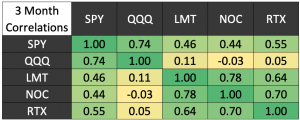 The free weekly Cherry Picks newsletter from tastytrade is stuffed with market research studies, data-driven trade ideas, and unique insights from the geekiest of geeks. Conquer the market with confidence … get Cherry Picks today!
Cherry Picks is written in collaboration with Michael Rechenthin, PhD, Head of Data Science at tastytrade; James Blakeway, CEO of Quiet Foundation, a data science-driven subsidiary of tastytrade; Ryan Grace, co-host of Jones and Grace on the tastytrade network; and John Kicklighter, Chief Strategist at DailyFx with an expertise in fundamental analysis and market themes.