Tom Sosnoff's Current Outlook, Trade Ideas and Crypto Moves
Tom Sosnoff's Portfolio and Potential Trade Ideas
We asked Tom his current outlook on various markets right now, here's what he had to say:
Short: Nasdaq-100, Chip stocks, Bonds
Neutral: Crude Oil, Nat Gas, Russell 2000
Long: China, IBM, ZM
Here are our thoughts on these markets:
Chip stock examples are AMD, MU, INTC or the Semiconductor ETF (SMH).
Bonds can be played with the 20+ year bond ETF (TLT). Or futures /ZN or /ZB—be careful with size.
Crude Oil can be played using the oil ETF (USO), or /SMO and /CL futures.
Natural Gas is /NG or the Natural Gas ETF (UNG). Careful with size.
Russell 2000 can be played with the futures (/RTY) or the ETF (IWM).
China can be played with the large caps (FXI) also ASHR or KWEB. Or individual stocks: BIDU, BABA, etc.
Alpha Boost To Replicate Tom's Bias
We used the Alpha Boost trade generation system to find trades in the markets Tom discussed.
Trades can be found by clicking HERE.
Sign up to get trade ideas three times a week.
Crypto Moves
All of these coins can be traded on tasytworks. Here are the price movements over various timeframes: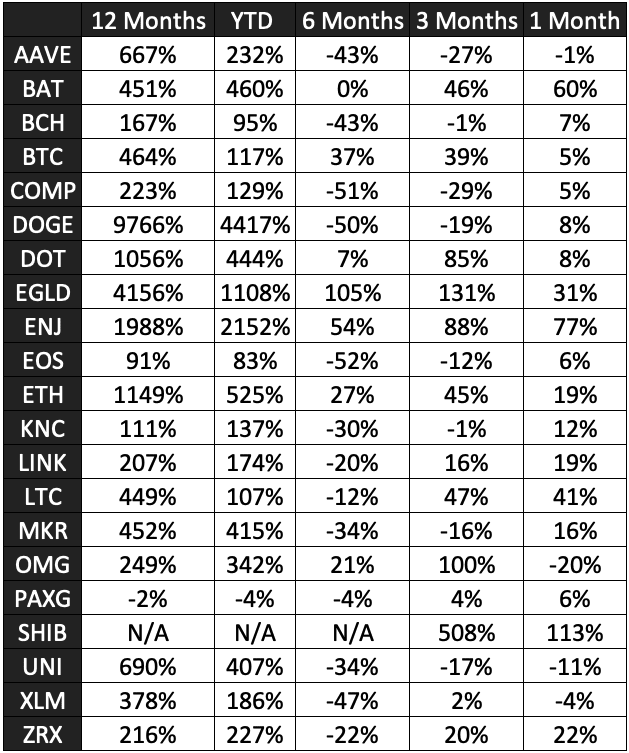 The free weekly Cherry Picks newsletter from tastytrade is stuffed with market research studies, data-driven trade ideas, and unique insights from the geekiest of geeks. Conquer the market with confidence … get Cherry Picks today!
Cherry Picks is written in collaboration with Michael Rechenthin, PhD, Head of Research and Development at tastytrade; and James Blakeway, CEO of Quiet Foundation, a data science-driven subsidiary of tastytrade.