How to Trade New Record Highs in Bitcoin
Bitcoin is on fire and recently broke through its previous all-time high, pulling other cryptocurrency-levered assets along with it.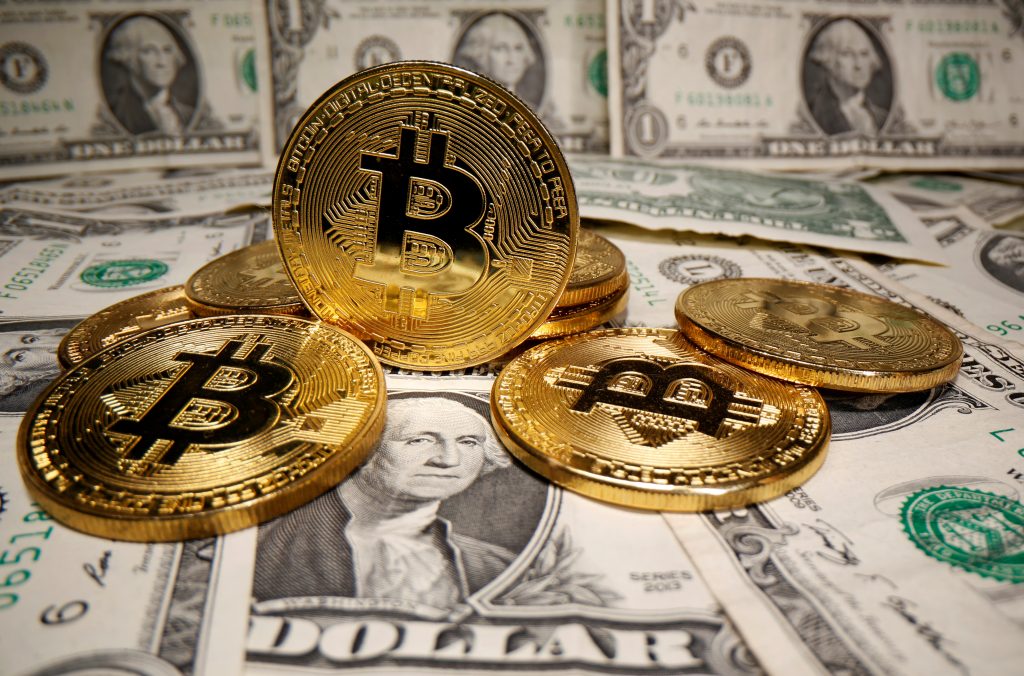 Interest in the cryptocurrency space has exploded in recent days with the price of a single bitcoin spiking to new all-time highs—well north of $20,000.
Leading the entire sector higher, the world's best-known digital coin appears to have recaptured that same freight train of momentum that first put this asset class on the map in 2017.
After its meteoric rise in 2017, Bitcoin dropped like a lead balloon, losing more than 80% of its value during the next 11 months. The big question now is whether Bitcoin can maintain such lofty levels the second time around.
Years after the first frenzy, cryptocurrencies still aren't that well understood by the general public, or even experts, for that matter. The Commodity Futures Trading Commission (CFTC), for example, classifies bitcoin as a commodity. However, for the purposes of taxation, the Internal Revenue Service (IRS) classifies it as a property.
Regulators in many foreign countries simply couch cryptocurrencies under the vague umbrella of "digital assets."
On top of the above, regulation of cryptocurrency trading varies widely by country and is about as messy as it is nonexistent. In sum, that means cryptocurrencies remain extremely speculative, and anyone trading or investing in them (or associated products) should expect to lose the entire sum put at risk—or more, depending on the specific position and product.
That said, cryptocurrencies tend to move around a lot—which means they attract traders like moths to a flame.
For traders who are willing to accept the associated risks, there are a number of ways to access exposure to cryptocurrencies such as bitcoin. The direct method is to buy and sell the digital coins on specialized cryptocurrency-focused exchanges. This approach carries a substantial amount of counterparty risk, varying in degree by platform.
Traders can also access bitcoin via traditional futures, with Ethereum futures expected to arrive at some point next year. Some investors and traders also access exposure to the crypto space through the stock market—via companies affiliated with the industry.
Stock and futures trading is highly regulated in the United States, which means market participants using these methods possess some degree of protection as compared with the far less rigorously regulated crypto exchanges.
Traders should be cautious, however, when trading crypto-exposed stocks. If not from a counterparty perspective, then because the fortunes of such companies can turn on a dime—along with prevailing cryptocurrency sentiment. There's also no guarantee that a given crypto-levered stock will rise just because the price of bitcoin (or another digital coin) moves higher.
That said, traders interested in the cryptocurrency space can add crypto-exposed stocks and exchange-traded funds (ETFs) to their watchlists and track how they move to better understand whether opportunities exist that match their outlook and risk profile.
On the day bitcoin broke above $20k, some crypto-affiliated stocks saw significant price increases, while others did not:
Advanced Micro (AMD) -0.5%
Transformational Data Sharing Amplify ETF (BLOK) +3%
Canaan (CAN) +7%
Grayscale Bitcoin Trust (GBTC) +11%
Marathon Patent Group (MARA) +16%
Microstrategy (MSTR) +5%
Nvidia (NVDA) -1%
Riot Blockchain Inc. (RIOT) +6%
Xunlei Limited (XNET) +5%
The above companies have different levels of exposure to the cryptocurrency industry. Some own cryptocurrencies, some mine cryptocurrencies, and others produce hardware that is used extensively in the sector. This variety provides investors and traders with a range of choices when it comes to crypto exposure—should one decide to get involved.
As many are well aware, stock trading in the U.S. is regulated by the Securities Exchange Commission (SEC). Bitcoin futures trading is regulated by the Commodity Futures Trading Commission (CFTC). The SEC has indicated it might at some future date apply securities laws to digital wallets and exchanges.
More information on the SEC's most recent guidance on cryptocurrency regulation is available via their Framework for Digital Assets, released in April 2019.
A selection of cryptocurrencies will soon be available on the tastyworks platform. To learn more about trading the cryptocurrency sector, readers are encouraged to review the following videos:
This December, give the gift of Luckbox and get a free Luckbox T-shirt! See SUBSCRIBE or UPGRADE TO PRINT (upper right) for more information.
Sage Anderson is a pseudonym. The contributor has an extensive background in trading equity derivatives and managing volatility-based portfolios as a former prop trading firm employee. The contributor is not an employee of Luckbox, tastytrade or any affiliated companies. Readers can direct questions about any of the topics covered in this blog post, or any other trading-related subject, to support@luckboxmagazine.com.