Opportunities in International ETFs
Bullish trends across a wide range of international and emerging equity markets serve as further proof that optimism over the progress of U.S.-China trade negotiations remains strong.
One of the most widely followed China ETFs, iShares China Large Cap (FXI), was recently trading near 6-month highs. As of Nov. 9, FXI was trading close to $43 per share, which was roughly 11% higher than the 2019 lows observed in mid-August.
And while that move was impressive, the South Korea ETF (EWY) is up even more: 15%+ from its 2019 lows.
Strong rallies like these, across a wide range of international ETFs, serve as a valuable reminder that this niche of the global financial markets is also attractive for both equities and options traders—especially those looking for further diversification in their portfolios.
As a brief reminder, international ETFs are exchange-traded funds that specialize in foreign securities. An international ETF may track global markets or track a country-specific benchmark index. ETFs that invest in the stocks or bonds of less-developed countries are known as emerging market ETFs.
As one can see in the graphic below, correlations between equity indexes in the United States and some of the best-known international ETFs aren't as high as one would think. Because of this more neutral relationship, that means adding short volatility in an ETF like FXI (China), isn't necessarily like doubling down on short volatility exposure in an American ETF like DIA (Dow Jones).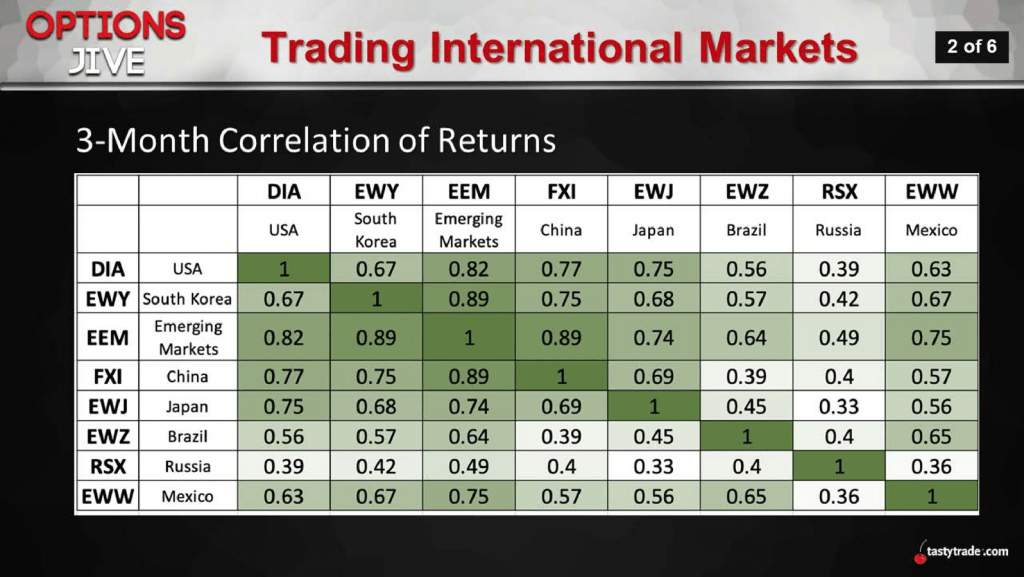 For traders considering international opportunities, previous research conducted by tastytrade may help with ongoing strategic thinking on this topic.
According to tastytrade research, actual moves in international ETFs tend to be more muted than implied volatility tends to suggest—indicating that option premium in these products is overstated, much like what has historically been observed in U.S. equity indexes.
This finding was highlighted when tastytrade identified four high volume international ETFs (EFA, EEM, FXI, EWZ) and then proceeded to backtest historical data in each symbol to ascertain how often actual movement was more understated when compared to expected movement.
As one can see in the summarized findings below, each of the four symbols included in the study exhibited a tendency to move less than what was expected based on what market volatility implied at trade deployment.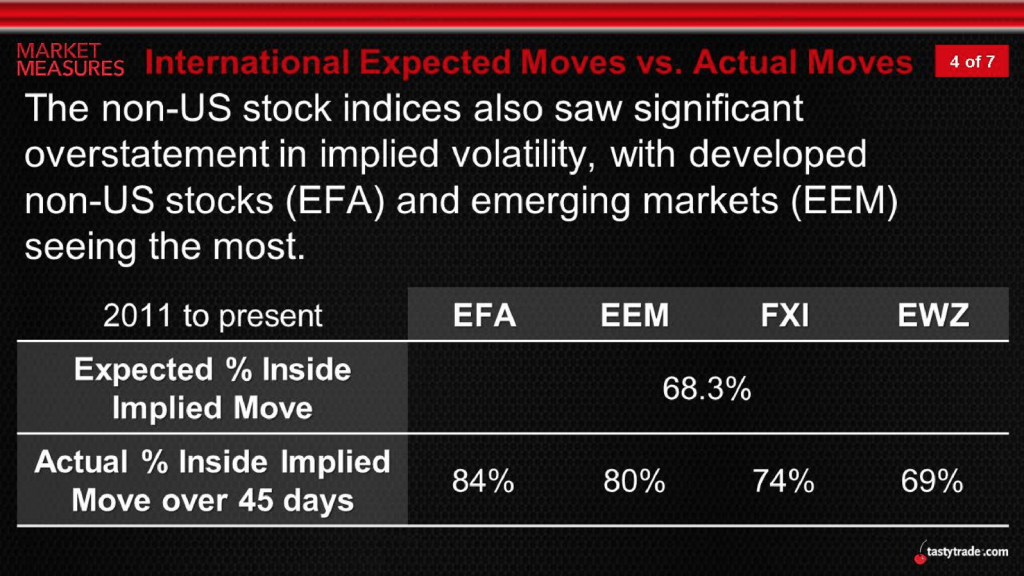 As seen in the above data, each of the four symbols realized movement (on average) that was less than the expected move implied by market volatility.
While this examination only included four international ETFs, it does provide valuable insight suggesting that international ETFs tend to behave in a fashion similar to domestic ETFs— in terms of actual movement versus expected movement.
Traders seeking to learn more about international ETFs may want to review this research in greater detail when scheduling allows. Additionally, a new installment of Options Jive on the tastytrade financial network offers a timely update on this same subject.
It should be additionally noted that in recent days, some international ETFs (such as FXI) have traded slightly lower after news that trade negotiations may have hit a snag. Moves such as these certainly don't detract from the research highlighted in this post, and may even serve as a signal that new, attractive opportunities to trade these products are on the horizon.
Traders new to internationally focused ETFs may initially elect to "mock trade" (i.e. paper trade) these positions, because it's always easier to learn how new products behave and perform without the overhanging risk of capital losses.For example, one could mock trade an at-the-money short straddle in FXI with approximately 45 days-to-expiration and then monitor the performance of this position as it moves toward expiration.
Sage Anderson is a pseudonym. The contributor has an extensive background in trading equity derivatives and managing volatility-based portfolios as a former prop trading firm employee. The contributor is not an employee of luckbox, tastytrade or any affiliated companies. Readers can direct questions about topics covered in this blog post, or any other trading-related subject, to support@luckboxmagazine.com.