The Cooking Oil Market is Boiling Over
Inflationary conditions have pushed the prices of basic food staples higher during the last 12 months, and cooking oil has gotten so hot that thieves are stealing it.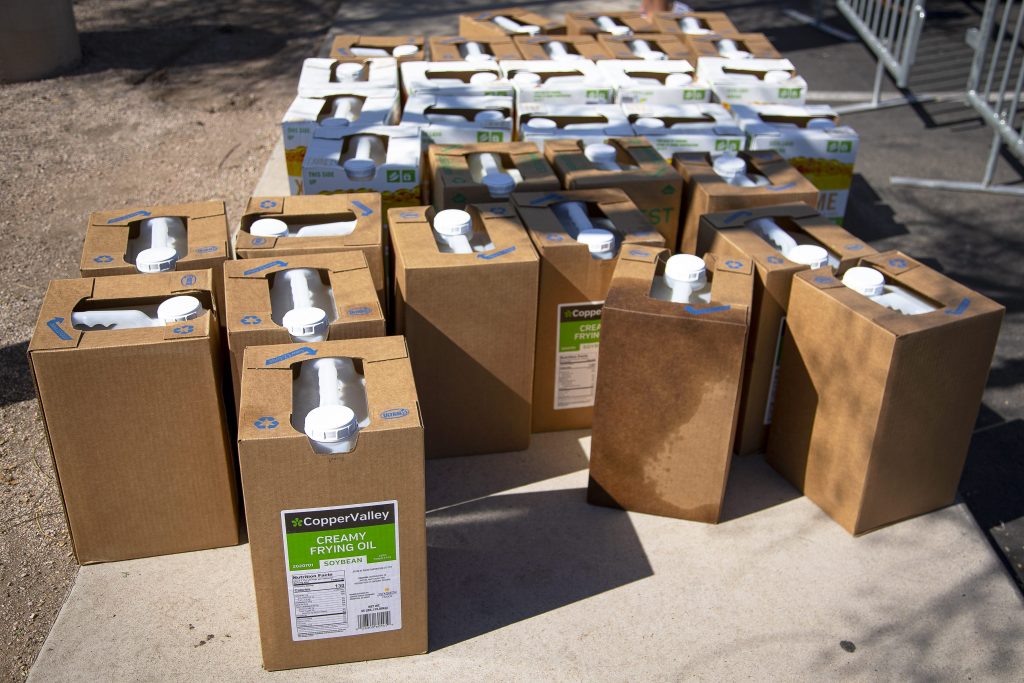 Inflation is steaming higher, and that means even staple food commodities like cooking oils are seeing higher prices—so high that thieves are stealing them.
As most are aware, cooking oils are used in food preparation for frying or baking, as well as in products such as salad dressings and dips. The two giants of the industry are palm oil and soybean oil, representing roughly 37% and 30% of annual global consumption, respectively.
Other popular cooking oils include sunflower seed oil, palm kernel oil, peanut oil, cottonseed oil, coconut oil, olive oil and rapeseed oil.
To get an idea of just how hot prices have been, consider the fact that palm oil prices notched an all-time intraday record high just last week. At that time, palm oil prices climbed as high as 5,600 ringgit/ton ($1,336/ton) in Kuala Lumpur, Malaysia—one of the most active markets for this commodity.
That represents a jump of 160% from October 2019, when prices of palm oil were closer to 2,150 ringgit/ton ($513/ton).
Soybean oil prices have also been hot, with the price per bushel of soybeans rising from $9.30/bushel to $15.95/bushel in the United States over that same period—an increase of 72%.
Both commodities have benefited from a confluence of market factors which have served to push their values to multi-year (if not all-time) records. The last time soybean prices were this high in the United States was roughly eight years ago.
Like most consumer products, the cooking oil supply chain has been impacted by the COVID-19 pandemic. As demand returned to normal levels, supply just hasn't been able to keep up.
Unfortunately, some of the world's poorest people rely on low-cost cooking oils for basic sustenance. That means rising prices have created yet another hardship for a group of people that has been hardest hit by the pandemic.
Indonesia, one of the world's largest producers of palm oil, has even enacted a cooking oil subsidy earlier this year in order to help bolster the fortunes of those in need.
Announced in January, the initiative is set to provide 1.2 billion liters of cooking oil at a subsidized price for consumers in need and will be financed through an export tax on cooking oil. The levy is expected to net around $250 million, and those funds will allow the government to sell subsidized cooking oil at a 40% discount.
Like most markets, as prices skyrocket, so too does criminal activity—and the cooking oil market isn't any different.
Amazingly, what's been targeted is used cooking oil, which often serves as an input in the production of diesel fuel. Because used cooking oil prices have nearly doubled in the last year, thieves have begun to pillage used cooking oil collection points—and even dumpsters—to eventually sell it on the black market.
What's even more interesting is that this activity isn't limited to the developing world. It's also happening in the U.S. and other wealthy countries.
While theft of used cooking oil has been going on for several years, the recent price spike has catalyzed an intensification of efforts to steal it. Having risen in price by about 80% over the last 12 months, a pound of used cooking oil now goes for about $0.66.
The Buffalo Biodiesel company has been collecting used cooking oil from commercial customers for many years and is now using its official Twitter account to document thefts, as highlighted below. Reports suggest that larger restaurants are losing tens of thousands of dollars as a result of this nefarious activity.
#OilTheft reported 11/17/2021 at Mangia in Cortland, NY. When our VAT used for cooking oil was broken into & robbed. We recycle oil for #biofuel, but it's being targeted by interstate #Organizedcrime. Contact Cortland PD w/info pic.twitter.com/6eXC6CPKGm

— Buffalo Biodiesel, Inc. (@buffbiodiesel) November 19, 2021
The aforementioned information makes clear that rising inflation has hit virtually every global consumer and business in some way, shape or form.
On Feb. 10, the U.S. government revealed that inflation had risen 7.5% when comparing January 2022 with January 2021. That was the highest year-over-year increase observed in the last 40 years.
To learn more about the current inflationary environment and its impact on interest rates, readers are encouraged to review this new episode of Small Stakes on the tastytrade financial network.
For more information about trading agricultural commodities like soybeans and corn, readers can also review this past installment of Futures Measures.
To track everything moving in the financial markets, readers can also tune into TASTYTRADE LIVE weekdays from 7 a.m. to 4 p.m. Central Time at their convenience.
Get Luckbox! Subscribe to receive 10-issues of Luckbox in print! See SUBSCRIBE or UPGRADE TO PRINT (upper right) for more info or visit getluckbox.com.
Sage Anderson is a pseudonym. He's an experienced trader of equity derivatives and has managed volatility-based portfolios as a former prop trading firm employee. He's not an employee of Luckbox, tastytrade or any affiliated companies. Readers can direct questions about this blog or other trading-related subjects, to support@luckboxmagazine.com.