Trading the 2020 Cryptocurrency Rally
Cryptocurrencies such as bitcoin have been enjoying a strong year. Over the course of 2020, the price of a single bitcoin rallied all the way from $4,000 to above $12,000.
That is, until last week.
In the last several days, bitcoin has given back about $2,000 in value per coin—and even dropped briefly back below $10,000—a hugely important psychological level in cryptocurrency trading circles. Bitcoin did recover over the holiday weekend, and was trading about $10,200 on Labor Day.
While cryptocurrencies have existed for more than a decade, this nebulous asset class hit the mainstream in 2017 when bitcoin streaked from $1,000 to over $18,000 in less than a year, and in the process became a global beacon of volatility.
During 2017, interest in the crypto space crescendoed into a palpable frenzy, with more than 800 new crypto start-ups entering the market on the wings of $5 billion in fresh capital. Those numbers increased to over $6 billion and 1,100 new projects in 2018, before momentum faded in 2019.
Cryptocurrencies generally use a process referred to as an Initial Coin Offering (ICO) to enter the market and raise capital. Such offerings will undoubtedly be receiving more attention this fall/winter because the "everything rally" that blossomed in March appears to have awoken the slumbering crypto giant.
It's estimated that in the last month, more than 500 new digital tokens have entered the market, including names such as Porkchop, Davecoin, Spaghetti, Newtonium and Whale.
And while the frenzy has created lots of fresh buzz in the digital coin space, investors and traders need to be aware that the lack of rigid regulation in the ICO process can make these transactions potential vehicles of fraud. Some estimates suggest that more than half the crypto coins which came to the market in 2017 are no longer in existence.
Cryptocurrencies, and the blockchain technology that underpins them, are still in the forming stage of market development, which means extra vigilance is required when conducting due diligence on possible investments or trades in this space.
But there are signs that the crypto industry is making in-roads in the consciousness of the investment community.
For example, the BitMEX derivatives exchange is introducing new futures contracts on two digital coins for the first time since 2018. Chainlink and tezos, which have both skyrocketed in value this year, have been tabbed by BitMEX as the next available crypto futures.
The fact that cryptocurrency trading is becoming more mainstream also allows for additional research and analysis into the relationship between cryptocurrencies and other asset classes—particularly in terms of volatility and correlation.
The tastytrade financial network previously investigated the relative volatility of bitcoin and found that it tends to exhibit much higher volatility than some of the highest-volume products on Wall Street.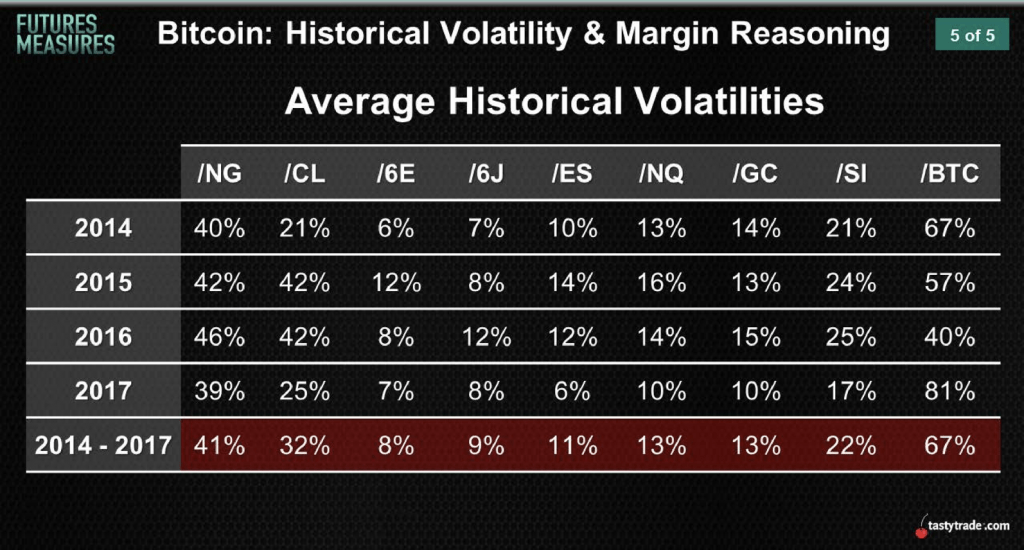 As shown above, bitcoin was more than twice as volatile as crude oil (CL) from 2014-2017. That's significant because crude oil has been extremely volatile in recent years, and is one of the more volatile products in the traditional world of finance.
The interesting thing about bitcoin is that aside from extreme volatility, it also appears to be untethered to the other segments of the financial markets.
Previous tastytrade research on the correlation of bitcoin to other asset classes revealed that the cryptocurrency tends to exhibit very little correlation with other high-volume products.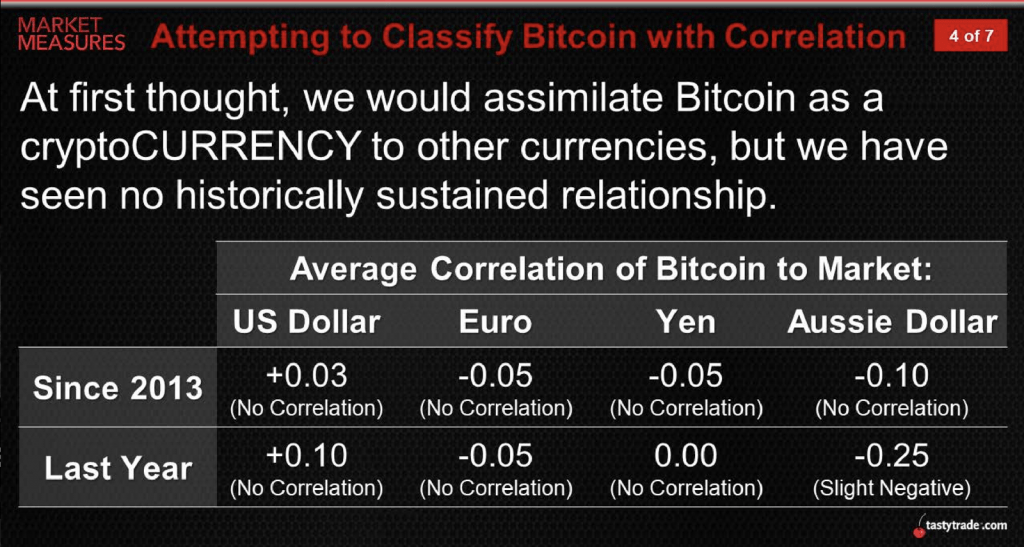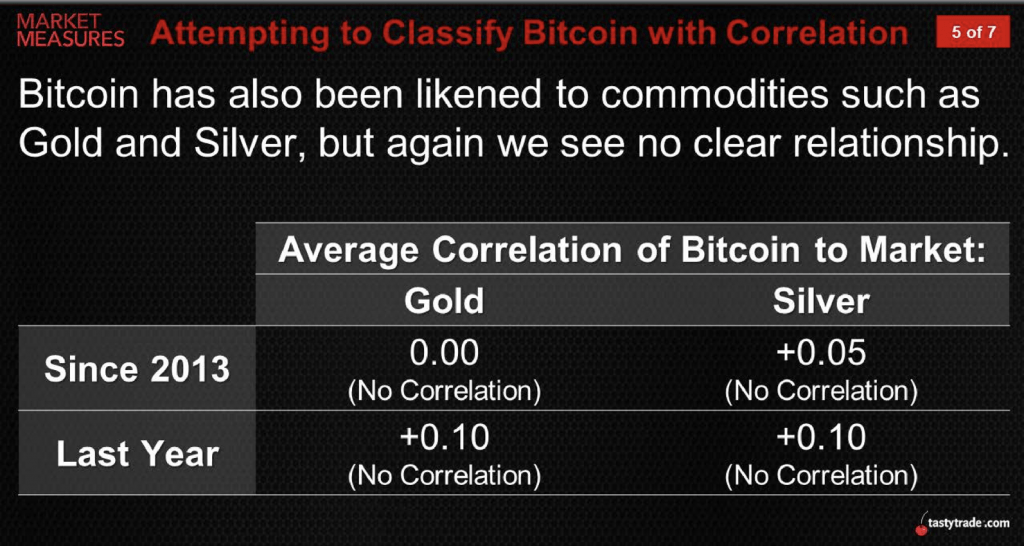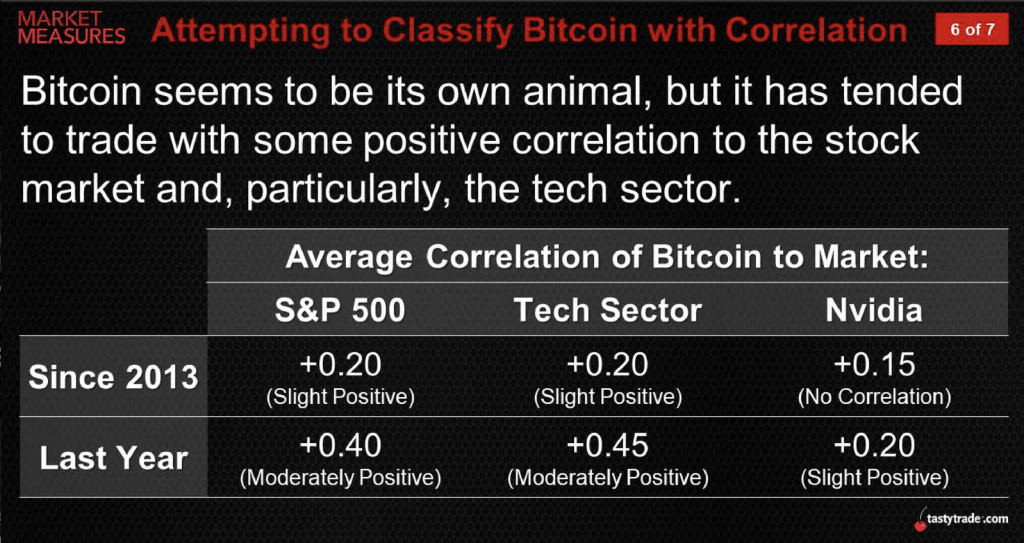 The data above illustrates that bitcoin rarely moves in lockstep with currencies, precious metals, or even the stock market. The highest correlation identified was a medium-strength positive link between bitcoin and the stock market's tech sector.
In 2020, that correlation has been confirmed.
Both bitcoin and the tech sector bounced hard off the March lows and proceeded to lead the financial markets higher through summer. And last week, when asset prices corrected, both bitcoin and the tech sector took the brunt of the pain.
Investors and traders seeking to get involved in the crypto space should keep those correlation characteristics in mind. For investors or traders already heavily involved in the tech sector would merely be extending their strategy by dabbling in cryptocurrencies—at least based on historical correlation.
On the other hand, market participants trading a wide range of stocks, commodities, and currencies could theoretically find diversification using cryptocurrencies, assuming they deemed the sector suitable for their strategic approach, outlook, and risk profile.
Readers seeking to learn more about the current cryptocurrency landscape may want to review a new installment of Market Measures on the tastytrade financial network, which focuses on bitcoin.
A selection of cryptocurrency offerings will soon be available for investing/trading on the tastyworks platform.
Sage Anderson is a pseudonym. The contributor has an extensive background in trading equity derivatives and managing volatility-based portfolios as a former prop trading firm employee. The contributor is not an employee of luckbox, tastytrade or any affiliated companies. Readers can direct questions about any of the topics covered in this blog post, or any other trading-related subject, to support@luckboxmagazine.com.