Airline Rally Fueled by Vaccine Hopes, Holiday Travel
Holiday-related air travel has pushed TSA screenings to their highest levels since March.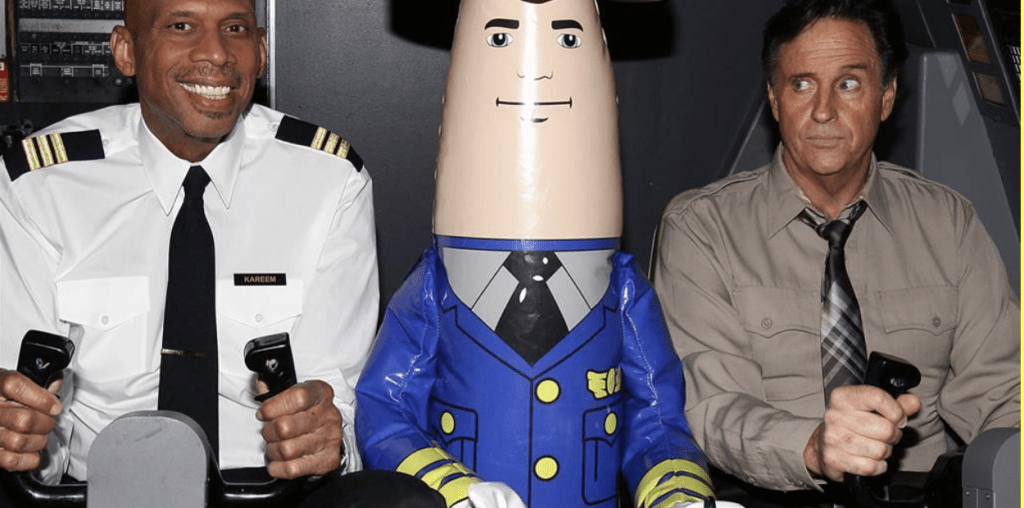 The aging of the coronavirus pandemic has laid bare its bottom-line risks. On one hand, a grave threat to public health, on the other, a grave risk to the economy and the livelihoods within it.
The onset of the holiday season adds a new dimension to the pandemic, with fatigued citizens struggling to reconcile a desire to commune with loved ones against an awareness that coronavirus infections are surging.
Like it or not, this Thanksgiving holiday will dictate the next stage of the pandemic. It will also undoubtedly mold how Americans view air travel going forward, especially with widespread vaccination still months away.
Air travel is in focus this week because Thanksgiving is traditionally one of the busiest periods on the travel calendar. While the Centers for Disease Control (CDC) has advised Americans to remain close to home during the holidays, projected air travel numbers suggest that won't be the case.
Last weekend, airport statistics revealed that many Americans lost the stay-at-home battle. Travel screenings by the Transportation Security Agency (TSA) during the weekend of November 20-22 surged to the highest levels observed since March, with over 3 million travelers screened during that three-day window (more than a million travelers per day for each of those three days).
Before the onset of the pandemic, TSA screenings were averaging between 2-2.5 million per day, with peak travel days reaching as high as 2.7 million. Those levels cratered when COVID-19 arrived in America, punctuated by a pandemic-low of 87,534 total airport screenings on April 14.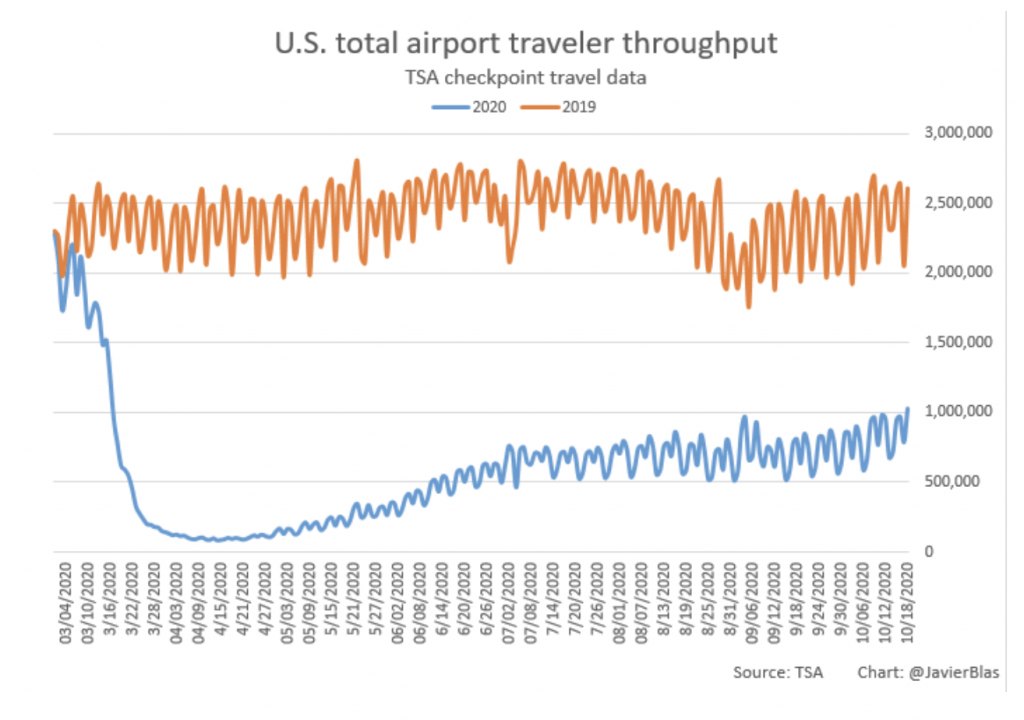 Given the above numbers, it shouldn't come as any great surprise that the airline industry has experienced one of its sharpest declines in history during 2020. At its low point this year, the airline-focused U.S. Global Jets ETF (JETS) was down over 60% from its 2019 highs.
Stock performance can often (not always) be tied back to earnings performance, and in 2020 that's definitely been the case with the airline sector. Q3 earnings for the airlines were dismal, with earnings and profits down significantly from 2019.
Passenger revenues for airlines such as American Airlines (AAL), Alaska Air (ALK), Delta (DAL), Southwest Airline (LUV), and United Airlines (UAL) were all down more than 70% year-over-year. For Hawaiian Holdings (HA), the drop was even more severe, with passenger revenues dropping by 94.3% in Q3.
As might be expected, the revenue drops also resulted in decimated earnings, with virtually all airlines reporting a loss in Q3. The two exceptions were overseas-listed Korean Air and Asiana, two carriers that successfully ramped up cargo service to offset plunging passenger revenue.
With the steep drop in demand for air travel, most airlines were forced to drastically cut costs. Global layoffs in the industry are well above 150,000 in 2020, and likely would be even higher if not for the airline relief package passed by the United States government in spring.
If not for the glimmer of hope associated with the Thanksgiving travel narrative, these deflating trends almost certainly would have persisted through Q4 and beyond. As noted in the tweet below, global airlines were expected to lose $39 billion in 2021, on top of the $100+ billion expected losses in 2020.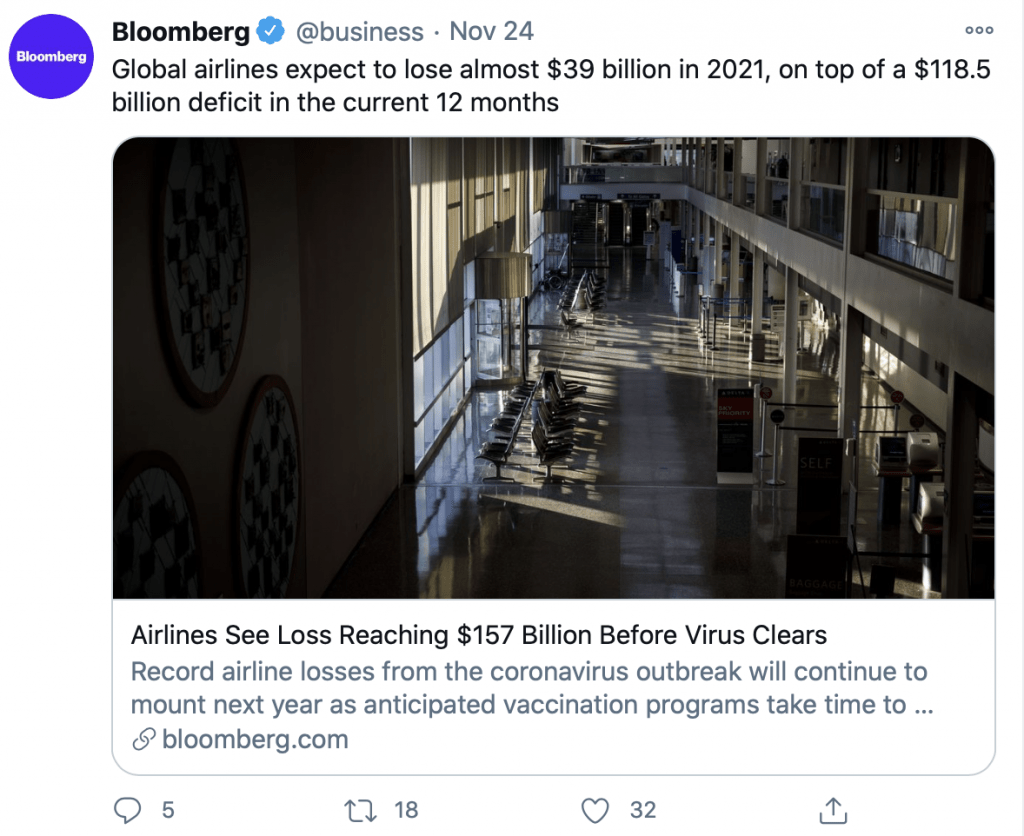 However, it now appears the stay-at-home dam has broken, with many Americans exhibiting an unrelenting willingness to embrace the added risk of air travel during a pandemic. Q4 earnings in the airline sector will undoubtedly hinge on how this experiment unfolds going forward.
If the majority of Americans travel safely during their Thanksgiving journeys, it's almost certain that positive momentum will carry through to Christmas and New Year's, when many American families tend to leave town for vacation.
On the other hand, if myriads of horror stories emerge from the surge in holiday travel, it's equally likely that TSA screenings will drop back down to the depressed levels observed in spring and summer.
At the moment, however, optimism abounds, fueled by encouraging COVID-19 vaccine data released on November 6.
Comprehensive clinical trials conducted by Pfizer-BioNTech (PFE, BNTX), Moderna (MRNA) and AstraZeneca (AZN) suggest that coronavirus vaccines developed by these companies are both effective and safe. In the wake of that news, the JETS ETF rallied 26%, building on strong gains from summer and fall. JETS has now returned more than 70% since the start of May.
The postscript of the Thanksgiving travel narrative will be pivotal in determining whether that trend continues.
Luckbox magazine devoted the feature section of the June 2020 issue to the airline sector.
To learn more about trading the airlines, readers may want to review this previous episode of Calling All Millionaires on the tastytrade financial network. For those seeking to follow all the daily action in the financial markets, TASTYTRADE LIVE (weekdays from 7am to 4pm Central time) is also recommended.
Sage Anderson is a pseudonym. The contributor has an extensive background in trading equity derivatives and managing volatility-based portfolios as a former prop trading firm employee. The contributor is not an employee of Luckbox, tastytrade or any affiliated companies. Readers can direct questions about any of the topics covered in this blog post, or any other trading-related subject, to support@luckboxmagazine.com.