Breakthrough COVID-19 Drug Treatment Finally Arrives
Results from a Phase I clinical study suggest a new COVID-19 drug treatment trial in Israel is safe and effective.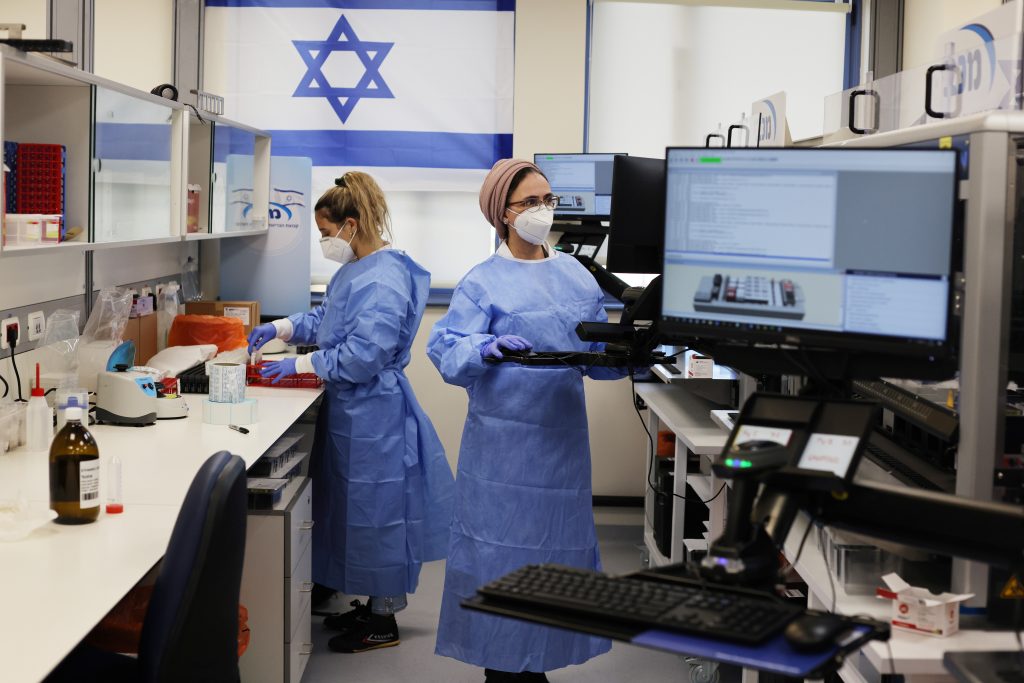 Global vaccination programs have fueled optimism that the coronavirus pandemic may be soon brought under closer control. Thankfully, the good news may not end there.
Results from a recent Phase I clinical trial conducted in Israel suggest that humanity might soon be armed with another valuable tool to fight the coronavirus—an effective medical treatment for severe cases.
As reported Feb. 6 by The Times of Israel, a new treatment helped 29 of 30 patients recover from moderate to severe cases of COVID-19 within three to five days. And the lone patient not included in the first group also ultimately recovered, it just took a few more days to do so.
Amazingly, that means no patients in the trial died of COVID-19 after receiving the treatment. 
So, what is this miracle substance, and how does it work?
Known as EXO-CD24, the treatment utilizes exosomes to deliver a protein called CD24 to the lungs. During the trial, patients inhaled EXO-CD24 for a few minutes a day over the course of five consecutive days.
The intent of the treatment is to deliver CD24 directly to the lungs, with the goal of minimizing the risk of a "cytokine storm." Cytokine storms occur when the body's immune response is too strong, causing weakened tissue and organs to be overwhelmed by its own defenses.
In severe COVID-19 cases, cytokine storms often develop in the lungs and compound breathing problems. CD24 has historically demonstrated an ability to help regulate the body's immune response, which is why scientists first targeted the protein as a potential treatment for COVID-19.
Exosomes, the delivery vehicle for CD24 in this innovative treatment, are critical because of their ability to shuttle material between cells.
The treatment was conceived by Dr. Nadir Arber at the Ichilov Medical Center in Tel Aviv, Israel. Dr. Arber has been studying CD24 for many years and was instrumental in devising this novel treatment.
Due to the decisive success of the early trials, EXO-CD24 will now enter the next stage of the drug discovery process—Phase II trials. Given the urgent need for such treatments, it's possible the drug could ultimately be fast-tracked for humanitarian purposes.
During the pandemic, government regulators have shown a propensity to make promising drugs and vaccines available for "emergency use," which could ultimately be the case with EXO-CD24.
This story should help fuel optimism that the pandemic can ultimately be brought under control in the foreseeable future. The global biotechnology and pharmaceutical sectors have stepped up to the challenge presented by the onset of COVID-19, with safe and effective vaccines developed at the fastest rate in history (less than 12 months).
As illustrated in the chart below, development timelines for drug treatments and vaccines have been falling rapidly in the 21st century, alongside surging global investment in the biotechnology and pharmaceutical sectors.
Vaccines created by Pfizer (PFE), Moderna (MRNA), Novavax (NVAX), AstraZeneca (AZN) and Johnson & Johnson (JNJ) are already being distributed globally, or will be soon.
For more information on recent developments in the biotech sector readers can review this previous Luckbox post. To follow everything moving the markets on a daily basis, TASTYTRADE LIVE is also recommended.
Subscribe to Luckbox in print and get a FREE Luckbox T-shirt! See SUBSCRIBE or UPGRADE TO PRINT (upper right) for more info.
Sage Anderson is a pseudonym. The contributor has an extensive background in trading equity derivatives and managing volatility-based portfolios as a former prop trading firm employee. The contributor is not an employee of Luckbox, tastytrade or any affiliated companies. Readers can direct questions about any of the topics covered in this blog post, or any other trading-related subject, to support@luckboxmagazine.com.