Working from anywhere is growing in popularity as the young and old alike hit the road on a mission in converted vans and RVs. For some, the lifestyle sounds glamorous, liberating, exciting, affordable, environmentally sustainable and off-the-grid.
The U.S. Census Bureau reported more than 140,000 people were living in vans, recreational vehicles or boats in 2019. But that was before the pandemic.
In this issue, Luckbox profiles three road warriors who are working from anywhere to follow either their dreams or their mission.
Video bloggers Dan Lieber and Mackenzie Hartrum have lived on the road for almost a year after decking out their black 2020 RAM ProMaster 3500 with plumbing, an electric fireplace, 100% solar-powered energy and two cats. They connected with a larger community through initiatives like Project Van Life on Instagram #vanlife.
It's no joke that comedian Reena Calm has taken her show on the road to 48 states and has no plans to slow down now that she just converted her 2017 Toyota Sienna to a "green room on wheels."
Ultra-endurance athlete and Marine veteran Tom "QuitProof" Jones travels in an RV cross-country to run upwards of 76 marathons in 76 days for a cause he is passionate about.
Check out these road warriors working from anywhere.
Road Wanderers
By Kendall Polidori
With a love for traveling and exploring nature, this couple finds comfort in van life. Here's how they make it work.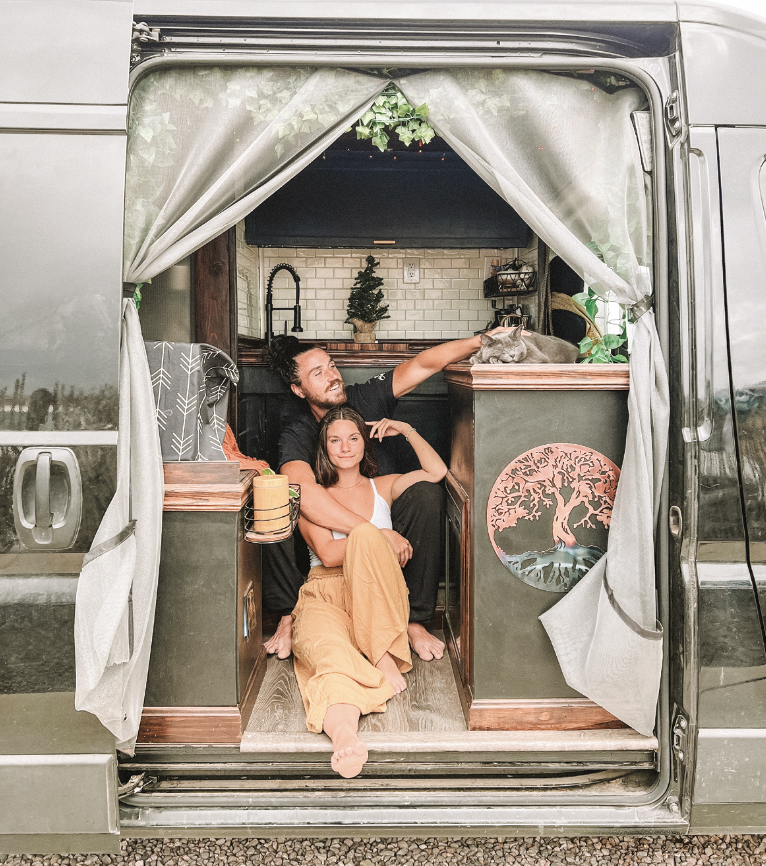 On a typical day in their van, Dan Lieber and Mackenzie Hartrum knock out a few hours of remote work. Afterward, they're driving or enjoying their surroundings, whether that's hiking, heading toward off-grid locations or exploring unfamiliar towns.
Sitting outside the van before an afternoon hike in Boulder, Colorado, Hartrum describes the conversation that launched the couple's journey: "On one of our first dates, I said, 'This might sound kind of crazy, but I would love to live in a van.' Dan was like, 'No way, so do I.' So, we've always had this goal in mind."
Since September 2021, Hartrum and Lieber have been living out of their black 2020 RAM ProMaster 3500, decked out with plumbing (a toilet, sink and shower), an electric fireplace, solar panels and two cats. Leafy greens and vines line the inside of the van's doors and windows, and string lights complement them with a soft yellow glow.
It took about a year and a half to plan the logistics. Almost two years ago, they bought their new van and, with the help of their family, they spent three months building it out.
The modifications cost an estimated $12,000, including $3,000 to $5,000 for mistakes they made in the beginning. But it opened a new chapter in their lives.
When they met, Lieber was working a corporate job. With a dream of traveling and working from anywhere, he "made a plan to escape by creating a small data analytics, operational development consulting agency, where I could pick up a couple of clients and still be able to maintain my lifestyle on the road," he said.
The idea was to have their home base in Philadelphia and travel every few weeks. But thanks to the isolation caused by the pandemic, full-time travel became reality. The two made the transition from operational development to more digital marketing, social media management and content creation for clients.
"There's so many ways to make money on the road," Hartrum said. "People do all kinds of 9-to-5 remote jobs, and there's apps where you can pick up shifts or be a bartender for a few weeks."
Luckily, money has not been an issue. They swapped out rent for a van payment, insurance, food and gas. Each month, they only spend about $1,400 altogether.
By buying a new van, the couple has dodged major repairs. But living on the road doesn't come without challenges.
With a van that's solar-powered, they have to chase the sun. Before upgrading to lithium batteries, their lead-acid batteries weren't efficient on gloomy, rainy days. There would be days where they had to conserve as much energy as possible: eating out, making only one cup of coffee and keeping the lights off. Since upgrading the batteries, power has not been much of an issue.
"This way of living is a more mindful way of being," Hartrum said. "We have to always monitor how much water we have and are using, and we have to always make sure we're not using too much of our energy."
But they still like to stay connected. Hartrum has documented their journey since the start, and they've recently attracted a larger social media following. They post multiple photos and videos each week, as well as occasional blog posts on their website. At press time, their Instagram profile, vanziehartlieb, has 14,800 followers.
The couple uses Instagram to connect with new friends, as well as to form partnerships with brands that resonate with them. They also leveraged Lieber's knowledge of data analytics to their advantage to gain more followers.
"It's so cool with van life because you just skip the small talk. This kind of sounds gross, but I swear one of the first conversations you have with another van lifer is, 'So, where do you go to the bathroom?'" Hartrum said with a giggle.
Van lifers looking for community can take advantage of apps and organizations—including Project Van Life—that provide advice on how to make the transition to life on the road.
Project Van Life was started in 2016 to document van lifers' experiences—offering a platform to showcase the community, present visuals illustrating the lifestyle and connect like-minded folks.
Sami Syed, Project Van Life's chief marketing officer, said the platform strives to make people's introduction to van life as easy as possible.
"I would recommend getting educated on the lifestyle because a lot of people get interested in van life based on what they see on Instagram," Syed said. "That's not very accurate because on Instagram, people are showcasing the inspirational and dreamy side of it."
The platform has about 3 million followers who tap into educational articles and videos. Project Van Life also showcases people's van stories, including the van owned by Hartrum and Lieber.
"We want to empower people with unique tools and resources that help them solve different problems related to transitioning to van life," Syed said.
Lieber notes that adjusting to van life has a learning curve, but they've found their groove over the past few months. Van life, he said, introduced them to a tight-knit community, outweighing the burden of facing situations they can't always control.
As for the long-term, they see themselves owning a van or bus for the rest of their lives but would like to find a home base to settle down in. Lieber says they're just taking it day by day, and when it doesn't feel right anymore, they'll look for somewhere to call home. But for now, the two find comfort in feeling at home wherever they go.
"It's a lot of what you make it," Lieber said. "The lifestyle can be anything you want it to be. If the road is calling you and nature's calling you, and you have the ability to be flexible in terms of the way you're living, then it's a really beautiful way to live a slower, more deliberate life."
Road Comic
By Elizabeth Owens-Schiele
Reena Calm never imagined being a comic on the road—it just happened. But doing well in comedy is what will lead her to own property somewhere that makes her happy.
In 22 days, comedian Reena Calm drove 2,000 miles, headlined nine shows at seven venues in five states and squeezed in five open mics along the way.
That's life on the road for a comedian.
Calm has been traveling as a comedian for the last seven years. She gave up her apartment three years ago to go full-time on the road, living first in her outfitted Toyota Prius. She averaged about 5,000 miles every month, doing five to 10 shows every week until COVID-19 hit the industry hard and Calm harder—she was unemployed, homeless, survived a car accident and needed to buy a new engine and transmission. In March 2021, she let her Prius go to hybrid heaven with 270,000 miles on the odometer.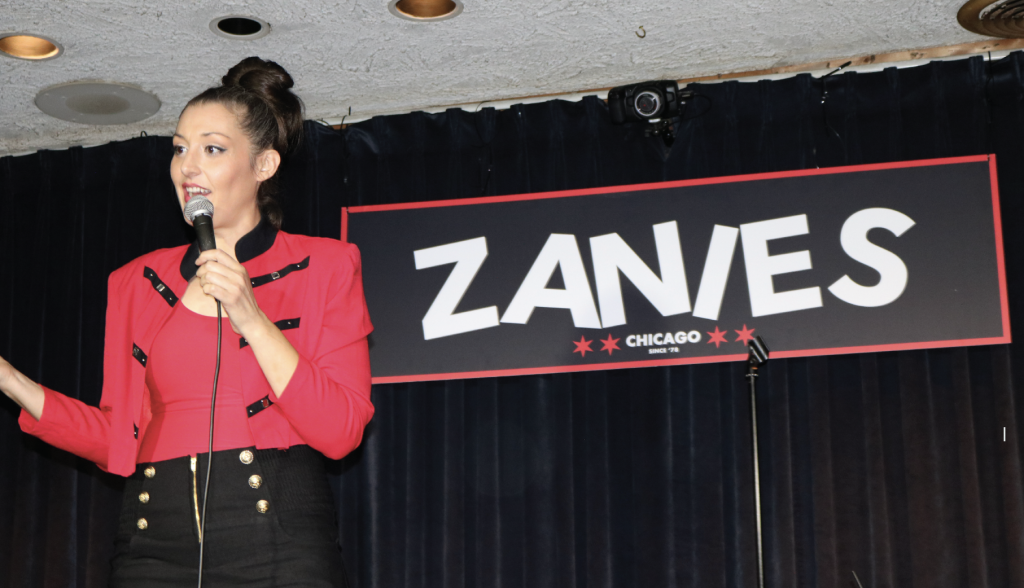 But life is looking a little brighter for Calm this year. She just bought a 2017 Toyota Sienna minivan and set it up as her green room on wheels, complete with an office, bed, wardrobe and storage. Although it doesn't have a bathroom or kitchen, she has a cross-country network of friends providing showers and couch surfing. Along the way, Calm is getting booked at comedy clubs across the country.
For a depressed kid who only wished to grow up to be happy, Calm is "living the dream," albeit in her own way. Her wild journey has taken her to comedy clubs in 48 states. A woman of many goals, her first task is to perform in all 50 states—only Hawaii and Washington remain. Then, she'll release her first album, #Calmedy, July 1. Her future may include a book of her travels, a dream to create a show with Jon Stewart exploring mental health, owning a home and eventually fostering a child.
But for now, Calm is taking it one day at a time, juggling the logistics of living and working on the road—which include eating vegan—while trying to avoid decision fatigue. She jokes about her travels­—and escapades—on stage and takes it all in stride.
Her show
Calm loves a good word play and relies on it often in her 45-minute sets. She describes her show as "an auto-biographical stroll through the mind of a traveler and a little bit inappropriate." She said her goal is never to make people uncomfortable but admits she did get some pushback in the Bible Belt.
"Part of what got me touring the most was going places that I especially felt like women weren't talking enough about women's sexuality," Calm said. "Most comics have an opportunity to talk about sex, but it's coming from a man's perspective. To be able to go to some of these places and speak from a woman's perspective—I've gotten such incredible feedback from women who appreciate it so much more than someone who's living in a big liberal city ever could."
Her backstory
Born in Israel, Calm was raised in Sharon, Massachusetts. She jokes she was the souvenir after her parents spent one year abroad before returning to the East Coast. The oldest of four, Calm was raised Jewish and attended a Jewish Day School. Although she feels like she missed out on a lot of pop culture, her parents did allow the popular television comedy show Saturday Night Live every weekend.
Her youngest brother, Moshe Calm, 31, who hosts his sister frequently in his home in Waukesha, Wisconsin, remembers those weekends well.
"She did a good job trying to entertain us," Moshe said. "She tried to make us laugh. It's always been in her blood."
Their parents divorced when she was 11 years old, and soon after, Calm said she was hospitalized with depression and mental health issues. Later, she attended an alternative high school where a friend introduced her to Strangers with Candy, a comedy television series starring Stephen Colbert and Amy Sedaris—alums of The Second City in Chicago. A friend who worked at the club encouraged her visit. Calm moved to Chicago in 2004 at the age of 21, started taking classes at The Second City, and waitressed there and elsewhere before she realized she desperately needed to get out of the bar scene.
When she made a birthright visit to Israel, Calm discovered she was the funniest person on her tour bus. She returned to Chicago for improv and studied at the Annoyance Theatre, only to go on to start a stand-up comedy open mic in the back room at Will's Northwoods Inn on March 6, 2011, and that's where her career began.
Kevin Kruse was the manager at Will's Northwoods Inn at the time.
"I was there from the very beginning. Seeing the transition from where she was then and where she is now, I'm not surprised," said Kruse, 52, of Chicago, who hired Calm as a waitress. He knew her heart wasn't in waitressing but instead behind the microphone.
"She had a passion for comedy, and I encouraged her to go out and do it—I wanted her to live her dream," Kruse said. "Think of how scary that is to go on the road, sharpen up your skills, live in your car to do this and pursue this—that's scary. But she pursued it 100%."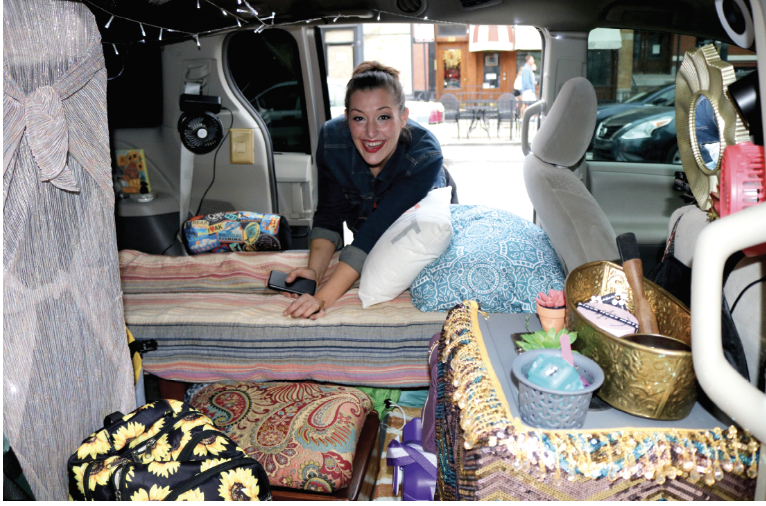 Calm's comedy tours started small with trips to the suburbs but then grew to renting cars to visit family in Indiana, Ohio, Massachusetts and Texas, stopping at comedy clubs along the way.
"I decided I can make it to wherever doing these comedy trips," she said. She discovered small towns with little comedy scenes are just about everywhere, and she became a regular at many.
"I love going places where they don't get a lot of people passing through," Calm said. "Am I a famous person yet? Not in Los Angeles, but in Bryan, Texas, I'm a pretty big deal, and West Virginia loves me."
Her brother, Moshe, tries not to worry about his sister being a road comic but admits he'd like to see her settle down, be happy and successful.
That is his sister's end goal, too.
"I would like to be happy. I spent a lot of my life very unhappy, and comedy is not a comfortable lifestyle," Reena Calm said. "But the reason I do comedy is because I want to make people feel good.
"I'm excited for whatever adventures this new van brings, and I'm nowhere close to figuring out which of these places I've been that I'd want to actually live in," Calm said. "It feels like the road is calling, and I am not done listening to it."
Road Runner
By Elizabeth Owens-Schiele
Ultra-endurance athlete Tom Jones is on a mission to use what he calls his divine athletic ability to help others reach their goals and to raise funds for causes he's passionate about
Tom Jones is quit proof.
At age 59, Jones is about to complete his 76th consecutive marathon. Yes, that's right—76 marathons in 76 days. He's been running 26.2 miles every day for two-and-a-half months for a total of 1,991 miles. Crazy, or just extreme?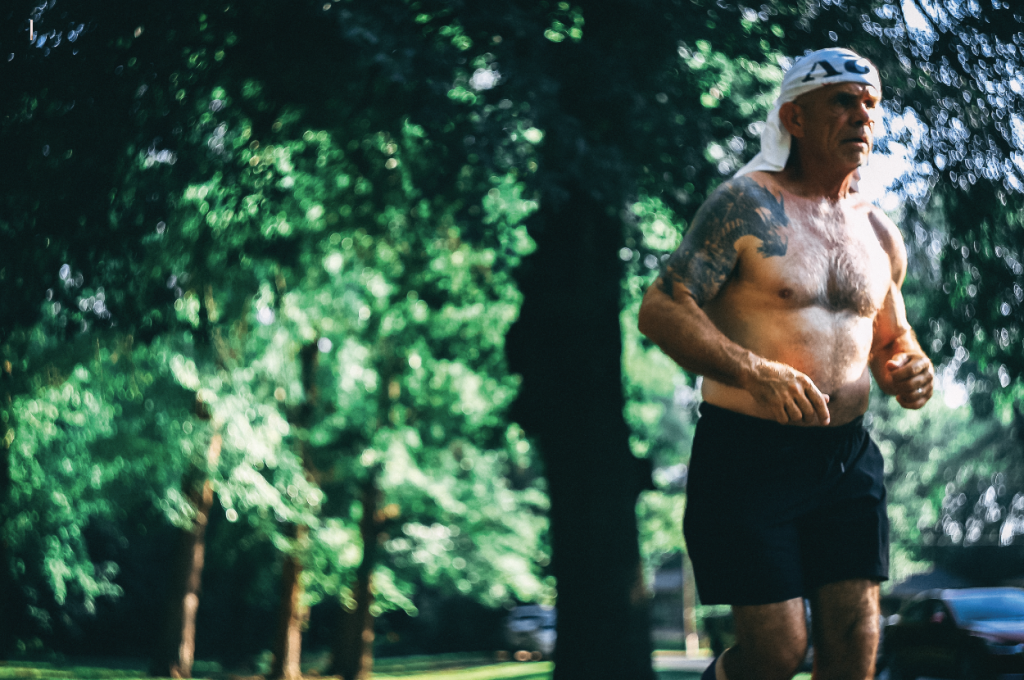 Jones is neither. A Marine veteran and former professional boxer, he's on a mission to make a difference using his gifts to inspire others while raising money for causes near and dear to his heart. His sports of choice are running marathons, paddleboarding and surfing, but he's also a master of karate and Muay Thai kickboxing. He's broken world records, received awards and has been recognized for running more than 50,000 miles in his lifetime. But it's not just about being outside, enjoying the sports he loves and pushing beyond his physical limitations. It's also a mental game—mind over matter to beat the odds and achieve the unthinkable. Ryan Murtha has witnessed that as a member of Jones' team. He is visually documenting Jones' journey. A U.S. Navy reservist and recent film school graduate, he's been working side-by-side with Jones in their 32-foot Winnebago Minnie Winnie RV and telling his story, especially the last two months.
"I feel like he's the greatest athlete I've never heard of. It's not rainbows all the time. He's out there working his best," Murtha said, adding Jones is "slow and steady" while inspiring others daily. "It's about getting up and doing whatever your marathon is for the day."
Jones continues to overcome his own physical and mental challenges to inspire others with his life lesson.
"I believe that in life, we have two choices—we can either be a victim and take the role of the victim, or we can be the victor and take the role of the victor," Jones said. "And no matter what your circumstances are, there's a victim on one side and there's a victor on the other side, and in the lane in the middle, there's something called life. And life happens to all of us," he said.
His backstory
Jones grew up with a father who was terminally ill and a mother who was chronically mentally ill.
"I was removed from my home when I was 12 years old for child abuse. The state intervened and placed me into a children's institution that was run by pedophiles," Jones said. "I had to deal with that for several years until I ran away and joined the Marine Corps. The Marine Corps was a great parent—they taught me right from wrong. They taught me integrity and esprit de corps, which is doing things for people above and beyond yourself."
Jones graduated No. 1 in his boot camp class of 3,000 in San Diego and went on to serve in the Marines from 1982 to 1986 in Okinawa, Japan, the Philippines, Iraq and Afghanistan. After being honorably discharged, he mastered the mixed martial arts and toured with the USO. He also spent time as a bouncer at a Huntington Beach club owned by the legendary Chuck Norris. Jones soon became a training and sparring partner to Norris.
"Chuck was another really great positive influence on me," Jones said. Norris, an action film actor, is also philanthropic, working with the Make-a-Wish Foundation for children who are terminally ill.
Later, Jones went on to work for Glenn McCusker, president of V2 Technologies Inc. At the time, Jones was a full-time professional fighter but became McCusker's personal bodyguard, traveling the world with him. McCusker often hosted events with motivational speakers and partnered with professional athletes who were involved in community outreach.
One day, McCusker asked Jones to fill in for one of the athletes who was supposed to tour an immediate care facility for children. Jones saw clingy toddlers, hardened teens and infants in body casts who had suffered from child abuse.
"When I finished that day, I felt really guilty that I had turned my back on that world," Jones said. "I had an empowering story to tell because I was only afforded a sixth-grade education and I was doing things that no kid should ever be doing and I ended up making something out of myself."
When he learned the residents of that children's facility wanted a playground, he decided it would be a good idea to run a long distance to raise money. So, he did. It was 1998 when Jones ran 1,250 miles from Oregon to Mexico.
"When we dedicated that playground, my life changed," he said. "I felt enriched and fulfilled and worthwhile.
"That's how my ultra-endurance athletic career was born," said Jones, who is also an endurance mindset coach at quitproof.com. "It was because it became a feel-good addiction to me."
Just getting started
That feel-good addiction drove him to run 121 marathons in a row from Huntington Beach, California, to New York City. That means he ran at his own pace 26.2 miles every day for four months, for a total of 3,170 miles.
Twenty-five years later, Jones is still running marathons. This year, it's for United We Pledge, a private, nonprofit organization established to "celebrate freedom, family and faith," according to its mission. The organization is fundraising to build an American Village West in St. George, Utah, to teach the public about American history and government.
It's an immersive experience for children and families to learn through historical reenactments. The village will be modeled on the original American Village in Montevallo, Alabama. Jones is currently running "village to village," from Alabama to Utah.
This was the first time Jones was approached by an organization to help raise money and bring awareness. Jones is also a spokesman for Balance of Nature, a fruit and vegetable supplement owned by Lex Howard, who also owns United We Pledge. Before that, he would identify a cause and find corporate sponsors who wanted to co-brand with his athletic ability for a cause.
That ability, he said, doesn't come easily. Jones considers it a divine gift to be able to run that far, but it doesn't come pain free. He leverages what he learned in the Marines to overcome mental and physical hardship. It's called OODA: Observe, Orient, Decide, Act.
"When I come up against the challenge, I observe what's going on, I orient to that challenge, I make a decision and then I act upon it," Jones said. Another trick he uses is to develop a sentinel in his mind which will alert him when he's going down the wrong track mentally. "I redirect myself into a positive state of mind and then I maintain that positive state of mind.
"Pain is only temporary, and quitting lasts a lifetime."