Freight Tech is More Than Tesla Semis
Tesla semi-trucks are expected to be delivered to customers for the first time in 2021, but other advancements expected in "freight tech" this year could be equally significant.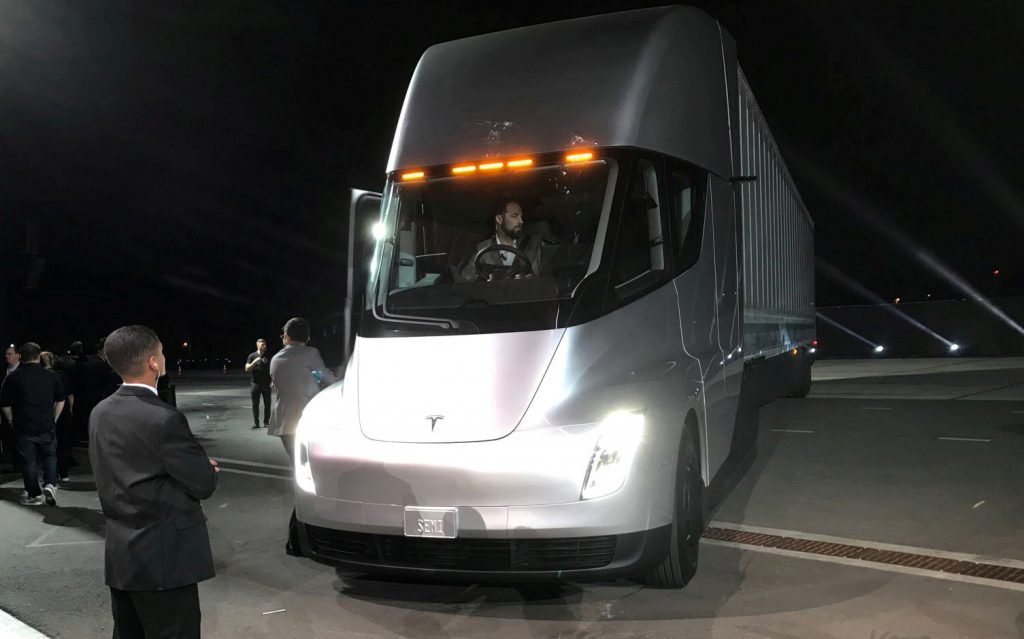 The potential for fully autonomous vehicles has drawn incredible attention, and the widespread adoption of this technology would undoubtedly represent a new era in transportation history.
However, looking into the future, family sedans may not be the first type of driverless vehicle to reach ubiquitous status on the world's highways. That prize may instead go to the freight industry—the so-called "driverless semi-truck"—an advancement that falls under the broader umbrella of "freight technology" (aka "freight tech").
Freight tech encompasses the wide range of products and services that are pulling the freight industry into the digital era. Driverless technology may be the sexiest on the list of potential innovations, but digital logistics platforms, cutting-edge mapping software and shared freighting (think Uber's shared rides) are also transforming how goods travel from Point A to Point B.
As with many technological advancements, the goal of freight tech is to reduce waste in the system (i.e. time and fuel), improve delivery timelines and ultimately make the system as a whole more efficient. The incredible potential of freight tech is illustrated by the fact that 90% of the estimated 1.2 million freight-focused companies in the United States operate six, or fewer, vehicles.
Those figures suggest there's plenty of room not only for industry optimization, but also for consolidation.
The most highly publicized freight tech advancement in recent years is of course the Tesla Semi. Tesla has built up such cache, and widespread brand recognition, that the company's semi-truck announcement back in 2017 arguably electrified (pun intended) the freight tech subsector all on its own. The first Tesla Semis are expected to be delivered to customers in 2021.
Tesla semi-trucks are especially intriguing because they offer not only autonomous driving potential, but also the ability to reduce greenhouse gas emissions. This is significant because it's estimated that 25% of total global greenhouse gas emissions are attributable to the transportation sector, of which a large portion is directly tied to freighting.
For example, in the United States alone, it's estimated there are roughly 2 million semi-trucks currently in operation. It's further estimated that the heavy truck fleet consumes roughly 3 million barrels of fuel every day, and emits over 500 million metric tons of carbon dioxide annually. That figure represents as much as 12% of America's total annual carbon emissions.
The potential for modernization in the freight industry has drawn significant interest from technology-savvy entrepreneurs, with 2020 seeing a number of new entrants to the field. Currently, some of the best-known freight tech startups include:
TuSimple — an autonomous driving freight trucking startup
FreightFriend — a freight-matching software and CRM startup
Kodiak Robotics — an autonomous driving freight technology startup
Embark — an autonomous driving freight technology startup
Flock Freight — offering an algorithmic pooling platform for freight and logistics
Transfix — building a digital freight marketplace that connects shippers and carriers
While new entrants to the industry are making waves, mature players in the freight sector aren't necessarily laying down and handing over the keys to the kingdom.
Just last week, for example, General Motors (GM) shocked many in the industry when the company announced it was developing an electric-powered cargo van, and a connected pallet system for delivering goods from the vehicle to customers' doorsteps. The van—referred to as the "EV600"—is powered by GM's Ultimum battery system and has a range of about 250 miles. Fedex (FDX) will take deliveries on the first 500 EV600s off the line later in 2021.
Walmart (WMT), which has extensive freighting needs, also dipped a corporate toe into the freight tech pool last year. The retailing behemoth announced a partnership with startup Gatik to create and maintain a fleet of automated delivery box trucks.
As part of an initial pilot program, goods were transported via driverless trucks between a Walmart distribution center and a Walmart retail location in Bentonville, Arkansas. Human operators ride along with the vehicles for the time being, but the ultimate goal is to transition to a completely autonomous, driverless environment. Walmart has also pre-ordered a large number of Tesla Semis.
Ryder (R), for its part, created a venture capital corporate fund (RyderVentures) that invests in freight tech startups. Through this initiative, Ryder hopes to internalize advances in the industry, focusing on e-commerce fulfillment, next-generation vehicles, automation and data analytics.
Daimler Trucks, which broke new ground in 2015 with its driverless semi-truck technology in Nevada, is likewise pushing the autonomous envelope with its second-generation Freightliner Cascadia.
The goal for Daimler, as with most driverless freighting initiatives, is to eventually create solutions that don't require a human operator. As of now, there are two categories when it comes to driverless technology: semi-automated (depends on a human operator for some functions) and fully autonomous (doesn't require a human operator).
Pennsylvania-based SAE International has outlined a series of six classifications that separate the varied degrees of automated driving.
SAE levels 0-2, for example, encompass technologies that require direct intervention from a human operator, with SAE level 0 being the most basic. SAE levels 3-5, on the other hand, describe driving conditions whereby human intervention is gradually removed from the equation—SAE level 5 being the most advanced.
SAE level 5 indicates an autonomous system that requires zero human intervention in all driving conditions. At this time, the most advanced driverless technologies in use are level 4.
Investors and traders looking for exposure to freight tech can monitor the aforementioned startups for potential initial public offerings (IPOs), or for investments in these technologies by large-cap, publicly listed companies such as ArcBest (ARCB), C.H. Robinson Worldwide (CHRW), J.B. Hunt (JBHT), Knight-Swift Transportation (KNX), Old Dominion Freight (ODFL), Ryder (R) and Werner Enterprises (WERN).
To follow all the technology news moving the markets, including in freight tech, readers can tune into TASTYTRADE LIVE, weekdays from 7 a.m. to 4 p.m. Central Time.
This January, subscribe to Luckbox in print and get a free Luckbox T-shirt! See SUBSCRIBE or UPGRADE TO PRINT (upper right) for more information.