This Is What Happens When Two Hot Trends Collide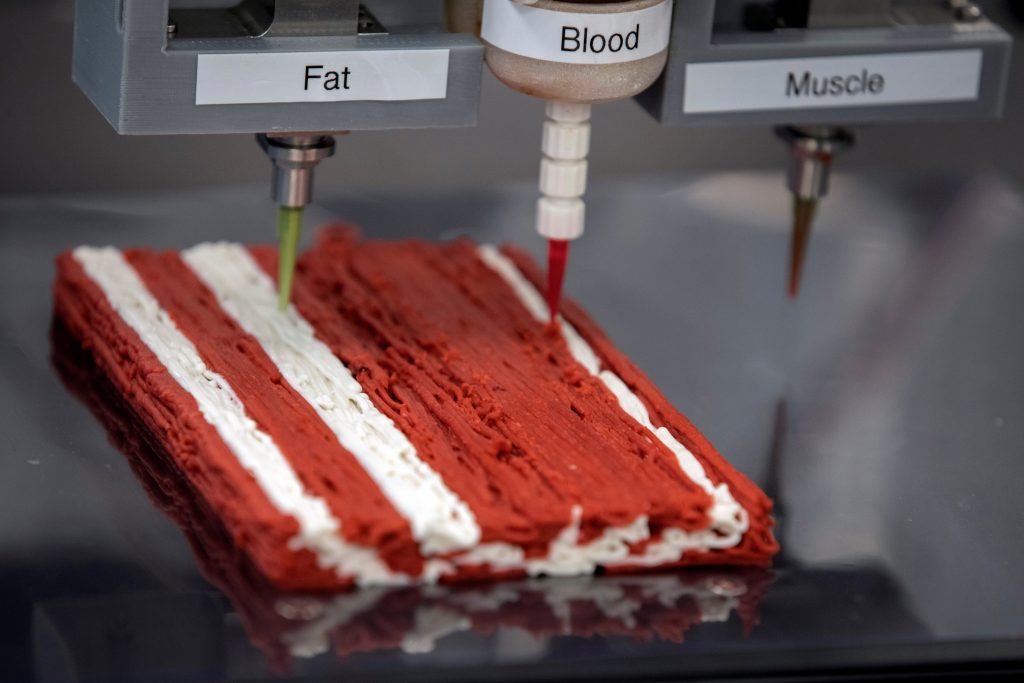 Based on recent reports, there may be a food frontier revolution that could further shake up the industry: 3D-printed food.
A couple of the best-known developing food tech stories include Beyond Meat (BYND) and Impossible Foods, two companies focusing on plant-based "meat" as a substitute for traditional animal protein.
New developments in the food tech industry have catapulted the sector back into the forefront of investor consciousness. And what's especially intriguing about this burgeoning story is that it combines two sizzling-hot corners of the stock market: food tech and 3D printing.
A closer look at the performance of shares in Beyond Meat since its initial public offering (IPO) provides strong evidence as to why innovations in food technology deserve the market's attention.
Last May, Beyond Meat shares were set at a modest valuation of $25/share heading into its first day of trading, and the shares haven't looked back since.
As of Aug. 17, Beyond Meat is trading at $125.50/share, representing a gain of 400% since its IPO. It should be noted the stock has traded as high as $172 in the last 52 weeks, meaning that at one point it was up nearly 600% during its first year of trading.
Now that's momentum.
Impossible Foods, which partnered with Burger King to offer the plant-based Impossible Whopper in 2019, isn't yet publicly traded. However, that hasn't stunted the company's skyrocketing valuation, which hit $4 billion only days ago when the company raised an additional $200 million on Aug. 13 (implying the $4 billion valuation).
When Impossible Foods eventually goes public, that event will undoubtedly generate at least as much excitement in the financial markets as Beyond Meat. And due to these vibrant success stories, most people are already aware of the plant-based meat trend.
But what about 3D printed food?
If that sounds like the distant future, when people are living in SpaceX-owned communities on Mars, think again. There are international companies already offering 3D-printed foods for human consumption, and there are some potential game-changers set to enter the market next year.
This begs some immediate questions: How can something edible be 3D printed? Doesn't meat, whether plant-based or animal-based, have to be grown or raised?
The first question actually has a fairly simple answer, while the second is a little more complicated—but both are imperative.
One key to 3D-printing is the "layering" or "additive" process in which a product is printed from the bottom up using a computer-generated model. Consequently, a 3D object is created by laying down successive layers of material. Each of these layers can be seen as a thinly sliced horizontal cross-section of the final product.
Because of the layering process, 3D-printing technology is as much about the hardware and software involved as it is about the materials used. For example, plastics are especially conducive to 3D printing because they can be easily manipulated and shaped before hardening into their ultimate form.
As it turns out, the consistency of food also makes it suitable for layering—and therefore for 3D printing. One of the food tech offerings gaining special attention right now is "3D-printed steaks."
Circling back to the aforementioned question, doesn't the meat in a steak need to be grown or raised? The answer seems to hail from the world of science fiction.
Right now, scientists are using cells from plants and animals to produce lab-grown meat, a process that doesn't involve killing a living organism.
One of the methods being pursued involves the removal of muscle stem cells from an animal, such as a cow or goat. These stem cells are then combined with growth factors and other patented processes/materials to produce additional cells in exponential fashion.
The result is being referred to as "cell-based meat," or "cultured meat," "cloned meat," "slaughter-free meat," "alt-meat" or "clean meat," among other names.
Regardless, the point is that cell-based meat can apparently be used as a material for 3D printing, in which the final product is a "steak" (i.e. lab-grown cow meat cells).
Redefine Meat, an Israeli firm, is considered one of the companies at the forefront of innovation in this new market.
The company's animal-free, 3D-printed "Alt-steak" could be tested in restaurants as soon as late 2020, or early 2021. The company stated they can produce and sell their alt-meats with attractive profit margins.
The co-founder and CEO of Redefine Meat, Eshchar Ben-Shitrit, commented on the 3D-printing aspect of their operations in saying, "The importance of using precision 3D printing technology to achieve texture, color and flavor—and the combinations between them—cannot be overstated."
He added, "By using separate formulations for muscle, fat and blood, we can focus on each individual aspect of creating the perfect Alt-Steak product. This is unique to our 3D printing technology and lets us achieve unprecedented control of what happens inside the matrix of alt-meat."
Meat Tech 3D (MTTCF), another Israeli company, is also pushing to deploy its cell-based meat products this year or next. The company is focusing on meat patties (i.e. burgers) and its shares are already traded OTC on the Nasdaq.
SavorEat appears to have taken things one step further. SavorEat is building robots that can 3D-print a burger and then cook it—an all-in-one solution the company hopes can be sold to burger chains. Interestingly, SavorEat is focusing on plant-based cells (lab-grown) to create its burgers instead of animal cells.
Reading menus is apparently set to get a lot more complicated.
And larger players in the food industry aren't likely to get left behind in the meantime.
Fast-food giant KFC has announced plans to test 3D-printed chicken in Russia at some point in the near future. KFC has also partnered with Beyond Meat to create Beyond Chicken (a plant-based product), which could be market-tested in California before the end of 2020.
Specialized 3D-printing companies in the United States are likely to hone in on this trend as well. Some of the best-known names in the 3D-printing space include AutoDesk (ADSK), 3D Systems (DDD), Materialise (MTLS), Proto Labs (PRLB) and Stratasys (SSYS).
To follow all the action moving the markets, readers can tune into TASTYTRADE LIVE weekdays from 7:00 a.m. to 3:00 p.m. Central Time.
"Sage Anderson" is a pseudonym for a contributor who has traded equity derivatives and managed volatility-based portfolios as a prop trading firm employee. He is not an employee of Luckbox, tastytrade or any affiliated company. Readers may direct questions about this blog post, or any other trading-related subject, to support@luckboxmagazine.com.