Ouch! So that got us thinking…
What do you HATE about Luckbox?

The publishing industry has been kind to Luckbox. In two years we have won 15 editorial & design awards (far more than our peers) and each month we add thousands of new subscribers!

But we can still get letters like this one… "Wow…you've got to be kidding. An issue I won't waste my time reading. When Luckbox is covering unique and intelligent topics it's the best magazine on the planet. When it channels 'Mother Jones' it's horrible. Pick up your game–you're better than this."
—James M. (full name withheld by editor)

So, after two years and our latest issue taking a hard look at Amazon, we thought we should take a hard look at ourselves and you, while we are at it. Which means it is your chance to hold media accountable in the Luckbox Annual Reader Survey. We are awarding 25 Luckbox t-shirtsto random readers that complete the survey.
More cowbell
Anthony Scaramucci invited us on his MoochFM podcast.
Tom Sosnoff (co-CEO of tastytrade) appeared on CNBC to talk about today's new crop of active traders. Cherry Picks has the daily scalping range for crypto traders.
The Prediction Trade podcast is betting on practically everything.
Shoppers are getting excited about the upcoming Amazon Prime Day.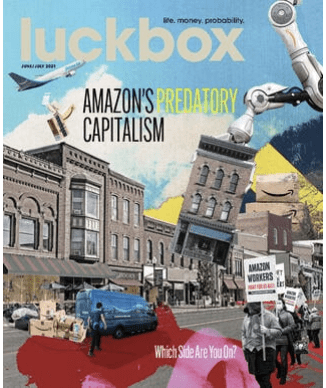 Read the current Luckbox Issue with Amazon.