Smart Farming Goes Vertical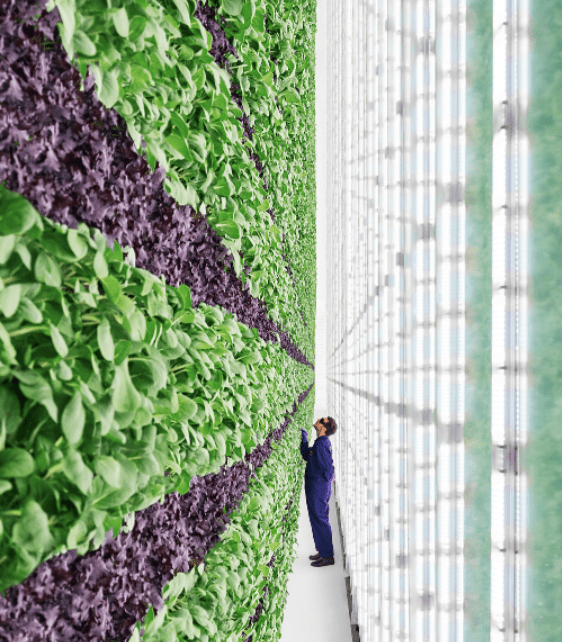 Agtechs are creating indoor vertical "smart farms" that outproduce traditional flat farms by nearly 400%
Imagine a future when an acre of farmland yields 400 times as much food as it produces today. Now, stop imagining. The necessary technology has already arrived.
Welcome to the indoor vertical smart farming revolution. Unlike greenhouse farming—which relies on natural sunlight—smart-farming takes place in fully enclosed, climate-controlled structures that use LED lighting to accelerate growth.
And while a commercial warehouse may not rival amber waves of grain when it comes to inspiring song lyrics, the early returns from indoor farming suggest its superior efficiency may transform the industry.
Upending tradition
The vertical aspect of indoor farming is flipping traditional farming on its head. Instead of sowing seeds in vast, flat outdoor fields, vertical farmers nurture crops in layers stacked from floor to ceiling.
Vertical farming typically leverages "soilless" techniques, such as hydroponics, aquaponics and aeroponics—methodologies that substitute mineral-nutrient solutions for dirt. That's one reason vertical farms need only two acres to outproduce traditional farms of 720 acres.
What's more, indoor crops are less susceptible to extreme or unexpected weather. Indoor farms operated in existing buildings a disrupt the natural environment less than annual plowing and tillage on large tracts of land. Soil erosion from wind and rain becomes a thing of the past.
Rise of the agtechs
A San Francisco-based privately held startup called Plenty is helping to lead the vertical farming revolution. Plenty's cutting-edge approach incorporates robotics and artificial intelligence (AI) into indoor farming to maximize efficiency.
With AI—which might be best characterized in indoor agriculture as "machine learning"—Plenty optimizes variables such as light, temperature and humidity. For example, AI can fine-tune the amount of blue, white and red light used in the growing process. AI can theoretically learn on the fly, tweaking the model to improve future harvests.
Plenty's high-tech approach illustrates another trend in the sector: smart farming. And while not every farm is equipped to use AI and robotics, many farmers are installing digital sensors and interconnected networks to assist with crop monitoring, diagnostics and decision-making.
Agtechs that have integrated best practices from indoor and smart farming have produced eye-popping efficiency. The most sophisticated vertical smart farms use 95% less water and 99% less land than traditional flat farms.
Importantly, however, the efficiencies aren't cheap—at least not without scale.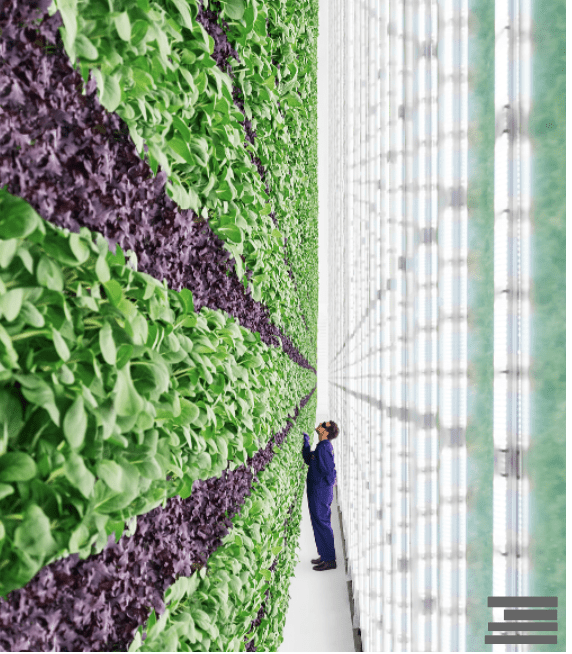 The gadgets powering vertical smart farms, particularly the LED lighting and climate controls, come with a substantial price tag. A vertical smart farm requires 14 times more energy per square meter than a traditional farm, according to a study in the United Kingdom.
That's a substantial difference in terms of financial costs and for the environment. Unless indoor farms are powered by renewable energy, producing the electricity they require could generate significant greenhouse gas emissions.
But the high costs of indoor smart farms haven't scared away investors. Crunchbase estimates that investors lavished more than $4 billion in fresh capital onto agtech startups during 2020. Listed are some of the highest-profile agtech startups in North America:
Freight Farms a Massachusetts-based company using shipping containers to build vertical farms at schools
AeroFarms a New Jersey-based agtech building patented aeroponic growing systems
Elevate Farms a Canada-based vertical farm company providing remote parts of Canada with fresh produce
Kalera a Texas-based vertical farming company set to open the largest vertical farm in Hawaii
BrightFarms a New York-based agtech in the indoor, controlled-environment leafy greens segment
Bowery a Pennsylvania-based vertical farming operation that developed its own proprietary software, BoweryOS, to monitor crops from seed to harvest
Any of the firms listed might go public this year via an initial public offering (IPO) or through a merger with a special-purpose acquisition company (SPAC).
A two-acre vertical farm can raise as much food as a 720-acre traditional horizontal farm.
In a promising sign for agtech startups, a large established agricultural player signed a groundbreaking deal with Plenty last October. Driscoll's, a California-based company with a controlling interest in about one-third of the $6 billion U.S. berry market, announced it had reached an agreement with Plenty to produce strawberries year-round at Plenty's Laramie, Wyoming, location.
Leadership at Driscoll's was apparently so impressed with what they saw at Plenty that the berry producer also decided to take an ownership stake in the company. That investment also closed last October, during a new Series D round of funding led by Softbank (SFTBY).
The big players
Investors and traders interested in the agricultural sector would be well-advised to monitor other large players to see whether they sign deals with agtech startups, invest additional funds in them or create their own smart or indoor farming divisions, analysts advise.
A short list of well-capitalized, publicly listed companies in the agricultural sector includes Archer Daniels Midland (ADM), AGCO Corp. (AGCO), Bunge Limited (BG), Calavo Growers (CVGW), CF Industries (CF) and Fresh Del Monte (FDP).
LG Electronics and General Electric (GE) are said to be striving to turn indoor farming into the next big home appliance category—a sign that advances in agtech may represent the beginning of a broader transformation.
Andrew Prochnow, a longtime options/volatility trader, has contributed extensively to Luckbox, Bleacher Report and Yahoo!Sports.