This Homegrown Festival Levitates Beyond Music
In Marshfield, Massachusetts, the Levitate Music and Arts Festival creates a community that celebrates life through art, music, the environment and good company
Nine years ago, on the anniversary of Levitate Surf Shop's grand opening in Marshfield, the brand launched its first annual music and arts festival—an effort that was originally meant to be "a backyard barbeque type of thing," according to Levitate Surf Shop co-owner Dan Hassett. It was a one-day event with one stage, including a few food and apparel vendors.
The festival was a means to bring everyone who had been involved in Levitate together for one day, but it quickly expanded beyond that. In 2019, the festival was acquired by Live Nation, adding it to a roster of festivals including Lollapalooza, Governor's Ball, Bottle Rock Napa Valley, Austin City Limits and Bonnaroo.
Initially intended for a couple hundred people, this year's three-day festival saw around 15,000 attendees per day, flocking into the Marshfield Fairgrounds to see headliners Vulfpeck, Phil Lesh and Jack Johnson.
"The growth and reach has grown not exponentially, but organically, over a decade," Hassett said after the festival weekend. "We were able to ride out the pandemic so well because of our grassroots base of support from the local community. This support is a foundation which we are able to build upon to share our values around creativity and connection to nature."
Don't underestimate the festival's reach to people outside the small town's limits, though, as it's unlike any other large music festival at the moment.
For starters, it sticks to its roots of featuring the best names in roots, reggae, folk rock and funk music. And it doesn't stop at the music—it's a whole lifestyle.
Levitate is bohemian in the sense of expression and celebration through art, food, the outdoors and music. Colorful Tommy Bahama beach chairs lined up in rows along the grass areas, and people had their sandals in hand as they walked the grounds barefoot. It's what Woodstock would have been if it stuck around.
Headliner highlights
Vulfpeck made their live show debut at the festival as the headliner on Friday, July 8, after a three-year hiatus. The band's last live performance was at their sold-out Madison Square Garden gig in 2019, which made them the "first-ever headliners to sell out MSG without a manager or top record label behind them," according to Billboard.
The funk band of seven were dressed for a schvitz in long white robes and red hats—leaving the audience to assume for a split second they were impersonating the rock band Devo.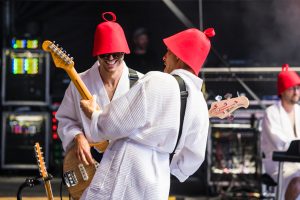 They hopped around their lengthy music catalog of four EPs, six albums and a handful of compilations as the band members swapped out instruments after almost every song. They're a multi-talented bunch, specializing in experimental funk and displaying wide vocal range.
From elongated bass grooves to saxophone solos, the decorated performance led to an actual schvitz, where singer, guitarist and drummer Theo Katzman stripped out of his rode and plunged into a tub full of ice for more than 10 minutes.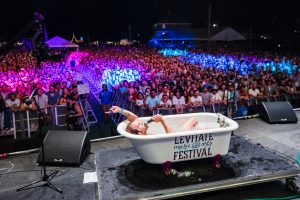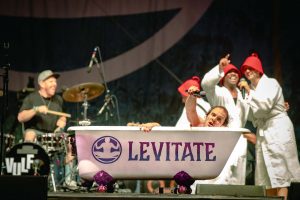 Although the tub was planned, much of their performance style is improvised. Their music sounds quite complex live, but the band actually aims for a simple sound with each instrument contributing but not overpowering the others.
Start with Vulfpeck's song 1612, and you'll hear how a funky bass riff guides the song in the beginning but how Antwaun Stanley's vocal range ends up leading the instruments along for the rest of the song.
Pay attention to the variation of instruments in the song but how they never quite overlap one another.
Phil Lesh and Friends brought the deep cuts of the Grateful Dead's collection to the stage on Saturday, July 9, with founding member Lesh joined by a handful of musician friends and family. Even though the surviving members of the original group have disbanded, Deadheads gathered in droves.
Lesh played songs that aren't often spotlighted on Dead & Co. tours, which features former Dead members Bob Weir, Mickey Hart and Bill Kreutzmann. His set list included Cumberland Blues, Slipknot!, Unbroken Chain and Help On The Way. The performance helped fans reminisce about what made the Dead so influential in the first place: a jam session of musical styles noting the contrasts among blues, rock, jazz and folk.
Jack Johnson closed out the festival weekend with friends G. Love and Donavon Frankenreiter accompanying him in a family-friendly acoustic set. His music is a staple in surf culture, and he's a surfer himself who dedicates much of his time to environmental activism geared toward cleaning up the oceans, reducing plastic pollution and promoting eco-friendly merchandise. His lyrics often speak to the need to take environmental action, too.
Johnson delivered a two-hour show of soft rock ballads and love songs accompanied by his signature guitar style, and he didn't leave out the songs kids grew up with, like his hit Upside Down from the album Sing-A-Longs & Lullabies For The Film Curious George.
Kids were on parents' shoulders swaying to the tunes as harmonica solos and layered guitar riffs brought deeper elements to his songs. Johnson's music prompts listeners to examine and appreciate the simple things in life, leaving them in a more feel-good mood. His music is like taking a long breath of fresh air.
Start with Johnson's song Upside Down, and you might hear how the simplicity of his chords draw people in.
Pay attention to his lyrics. His words encourage listeners to take life slow and enjoy each second of it.
Music aside, the festival's culture focuses on community support and environmentalism through the nonprofit Levitate Foundation and by working with outside organizations, such as 4Ocean and Garbage to Garden. The festival has always donated a portion of its proceeds to local organizations, like the Boys and Girls Club of Marshfield, according to the Boston Business Journal. This year, the organization will receive around $100,000.
Check out more about the Levitate brand and festival here.