Will Jerome Powell be Reappointed Chairman of the Federal Reserve? (Luckbox has a prediction)
Jerome Powell's first term as Chairperson of the Federal Reserve is set to expire in February 2022, prior to which President Joe Biden will need to reappoint Powell or replace him.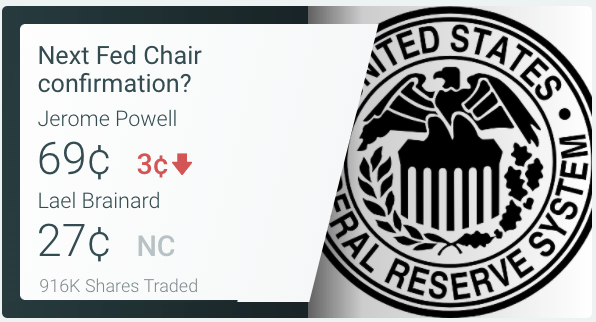 Political appointments don't often capture the attention of the financial markets, but the Chairperson's seat at the U.S. Federal Reserve is an important exception to that rule.
For this reason, the markets have shifted their attention to February 2022, which is when the current Fed Chairman, Jerome Powell, will need to be reappointed or replaced by President Joe Biden. Powell's four-year term is set to expire in February.
Luckbox weighed in with a (long odds) prediction on the fate of Jerome Powell. Look for the editor's letter in the upcoming inflation-themed issue debuting just before Thanksgiving. If you are not a current subscriber, get Luckbox here for free.
According to law, the Chairperson of the Federal Reserve is appointed by the President to a term of four years and cannot be dismissed prior to the end of that term. Traditionally, newly elected presidents reappoint the sitting Chair of the Federal Reserve.
At least that was the case with every president from Jimmy Carter through Barack Obama. In 2017, President Donald Trump decided not to reappoint Fed Chairwoman Janet Yellen after her first term and instead appointed Jerome Powell.
Powell is the 18th leader of the Federal Reserve System, which was first instituted in 1914. Technically, the title of the Chairperson's job is "Chair of the Board of Governors of the Federal Reserve." Notably, it was President Obama who first brought Powell, a Republican, to the Federal Reserve in 2012 as a member of the Federal Reserve Board of Governors.
In the next couple of weeks, President Biden is expected to announce his decision to reappoint Powell or elevate a new person to be the 19th chairperson in the organization's history.
Currently, prediction market projections favor Powell over Lael Brainard—the latter is currently a member of the Fed's Board of Governors, as Powell was before his appointment.
If elevated, Brainard would become the second woman in history to get the job. Brainard is an accomplished economist and previously worked as an under secretary within the U.S. Treasury Department. Because Brainard is a Democrat, pundits suggest her vision might better align with the current administration.
However, rampant inflation is said to weigh heavily on the President's mind, and it's expected his decision will hinge on how each candidate plans to combat that particular challenge. Biden interviewed both Powell and Brainard recently to gauge their respective suitability for the role.
No matter which person is ultimately selected, he or she will also need to be confirmed by the U.S. Senate. Considering that both already work with the Fed, neither candidate is projected to have a problem passing muster.
Besides inflation, the next Fed chair will also play a key role in adjusting—and ultimately removing—the accommodations implemented by the Federal Reserve starting in 2020 to assist the economy during the pandemic. The pace at which the Fed "tapers" is a big talking point on Wall Street, and has been closely monitored by investors and traders.
Tapering too quickly could push the economy back toward a recession, while tapering too late could contribute to further inflation. It's that high-pressure tight rope that the next Fed chair will need to successfully navigate.
To learn more about trading Treasury yields, which are extremely sensitive to decisions made by the Federal Reserve, readers may want to review this previous installment of Small Stakes on the tastytrade financial network.
And look for the upcoming Luckbox issue about inflation in your inbox near Thanksgiving for our special prediction on the next Fed Chair.
Sage Anderson is a pseudonym. He's an experienced trader of equity derivatives and has managed volatility-based portfolios as a former prop trading firm employee. He's not an employee of Luckbox, tastytrade or any affiliated companies. Readers can direct questions about this blog or other trading-related subjects, to support@luckboxmagazine.com.