Learn the Trade: Start Here
These essential resources can help any active investor navigate the equity markets
Learning about finance on the internet can seem challenging because so many courses and resources are hidden behind paywalls. Plus, would-be online learners have to navigate the distractions of a never-ending stream of pitches for "how to become a millionaire fast and easy."
But persistent seekers of knowledge can avail themselves of dozens of free self-education resources and thus avoid spending thousands of dollars on courses.
Investors intent on learning about the past and applying its lessons to the future can begin with FRED. That's short for Federal Reserve Economic Data, an online database with hundreds of thousands of datasets covering banking, employment, interest rates and mortgages.
For those interested in furthering their knowledge of macroeconomic conditions, FRED provides not only lots of information but also tools to help them understand the data. Users can freely download the data or use an API for access to the data with a variety of programming languages.
Market information
The next step is to find stock market data, and the Nasdaq website offers an incredible amount of it for free. It includes news, price data, dividend history and anything in-between. In the market activity tab, investors can find commentary and data for stocks, futures, cryptocurrency and exchange-traded funds.
The breadth of information on Nasdaq.com may seem intimidating, so start with the stocks tab. It displays valuable information at a glance, including share volume, analyst recommendations and news updates.
Nasdaq.com even offers a stock screener investors can use to filter by sector, ratings or market cap and then download the data for further analysis.
Advertisements crowd each page of the Nasdaq website but keep this resource free. Just remember that ads can cause bias in stock tips or recommendations.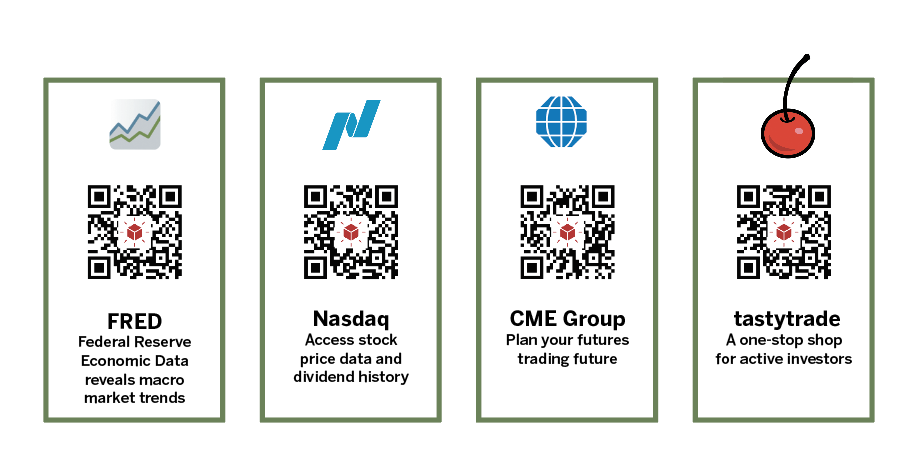 Futures and options
Investors will find no better place to begin exploring futures than the CME Group website. They can browse dozens of product groups, from grain to bitcoin. Each futures contract has specs that include restrictions, minimum price changes, how much of the underlying each contract represents
and other important information. The minimum price fluctuation is especially
important because futures don't all have the same multipliers, which can make profits and losses confusing.
Once investors develop a feel for macroeconomic factors, changes in stock prices and multipliers for futures, it's time for them to learn about options. tastytrade.com is an excellent resource for beginners and experienced investors alike because it offers hundreds of hours of video devoted to strategy, management and trade ideas.
For visual learners, tastytrade offers live shows with a varied lineup of hosts covering a wide range of topics. Each host has a different style, so there's something for everyone. By scrolling through the on-demand catalog, viewers can find the shows that fit their interests—anything from the mechanics behind options to how strategies would have performed in the past.
tastytrade also offers free courses that teach beginners the basics of options trading. The site's Trading Concepts and Strategies page describes the intricacies of options.
Whether it's stocks, futures, options or economic data, numerous resources can help investors educate themselves free of charge.
Eddie Rajcevic, a member of the tastytrade research team, serves as co-host of the network's Crypto Corner and Crypto Concepts. @erajcevic11