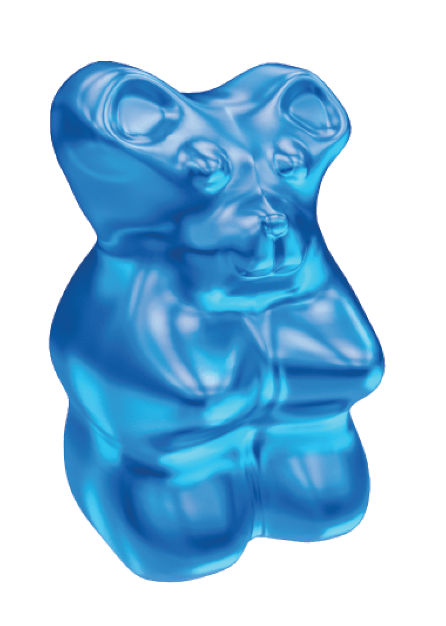 Key Reasons the CBD Market Will Keep Growing
From pharmaceuticals to ingestibles, a prominent research firm quantifies the recent ascent of the CBD consumer phenomenon
The U.S. CBD market will grow more than seven-fold this year because the 2018 Farm Bill legalized hemp-derived versions of the chemical compound. The legislation has created a whole new legal CBD market, and consumers of all stripes are already snapping up CBD-related products.
Brightfield Group's analysis of CBD's potential provides an overview of the industry's prospects during the next few years. If just a few reasonable assumptions come true, the CBD market should prosper.
Previous Brightfield estimates assessed the hemp-derived CBD market as a grassroots movement with growth held at bay by a burdensome regulatory system and limited formal retail and marketing channels. Today's estimates anticipate the Food and Drug Administration (FDA) will sanction CBD, helping a fully operating formal market develop during the coming months with growth blooming over the five-year forecast period.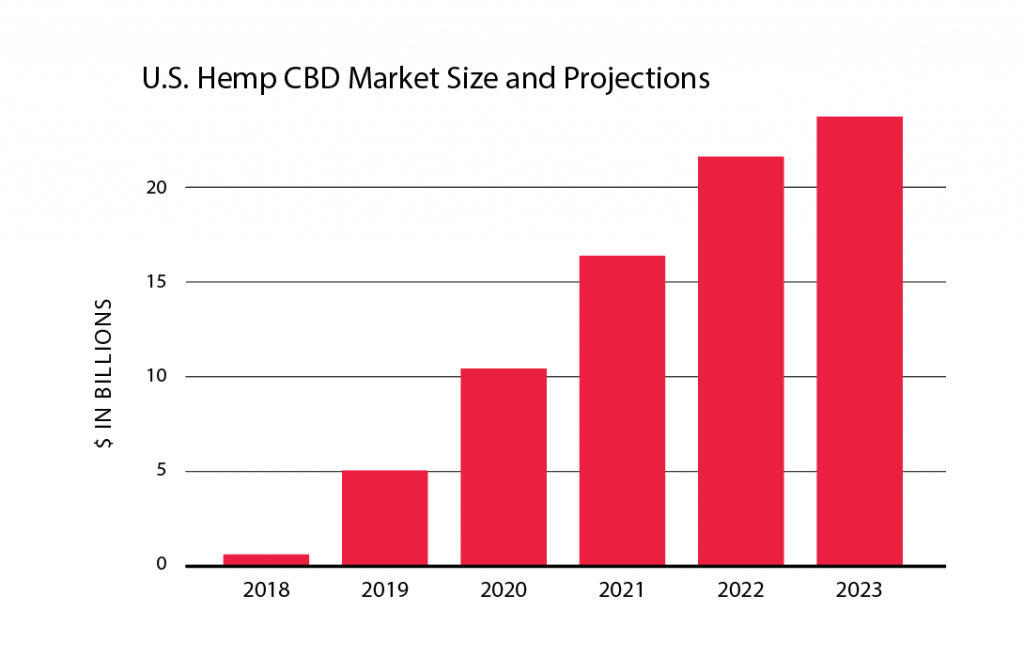 Influencing market growth
The hemp-derived CBD market has been expanding rapidly in recent years but will see unprecedented growth this year, reaching
$5 billion in market revenues for a seven-fold increase over 2018. The CBD market is expected to grow to more than $23 billion by 2023.
Brightfield Group bases forecasts on the premise that the FDA will issue a revised policy that establishes a framework for the legal sales of CBD products that comply with the rules. That includes CBD-infused foods and supplements. By the middle of next year, it will free up more mass retailers to begin carrying CBD products or expand their current CBD offerings. It also will attract additional major manufacturers from other industries—like consumer packaged goods, cannabis and nutraceuticals—to enter the sector.
Some mass retailers have already entered the market, led by major pharmacy chains and—most recently—grocery chains. Given their reach, scalability and mainstream familiarity, the big chain stores are expected to garner 57% of CBD market revenues this year. Over the short- to medium-term, the expansion will continue on existing pharma and grocery fronts, while spreading to supercenters, gyms, pet stores, natural grocers and other big box retailers.
As CBD has changed from a niche product to a full-blown mainstream wellness phenomenon, it's reaching more consumers across the age, gender, regional and political spectrums. Millions of new CBD consumers are flocking to the market as products become available in more familiar formats, including anti-aging cream and multi-vitamins versus tinctures. CBD products are also appearing in more varied and accessible outlets, such as Walgreens and Kroger versus local smoke shops. Meanwhile, marketing and strategic positioning are improving and now include athletic and event sponsorship and influencer campaigns.
As a result, approachable products like topicals, skincare and beauty products, pet treats, and vapes are posting impressive growth numbers. While tinctures remain a mainstay of the market, their share is declining as more-mainstream and consumer-friendly products surge.
CBD-infused food and beverages are gaining traction as the cannabinoid makes its way into the limelight, but some continue to be perceived as the riskier products in the face of FDA statements regarding ingestible CBD.
But growth will continue to swell, as clinical trials establish the medicinal value of CBD, driving pharmaceutical and other research dollars to the market, ultimately increasing the number and variety of applicable uses.
With the entry of marketing, manufacturing and retail behemoths onto the scene, hemp-derived CBD is changing from a grassroots movement driven by word-of-mouth marketing into a full-fledged competitor on the nutraceutical, e-cigarette, food and beverage markets, and sales are exploding.
CBD in chain retailers
Not long ago, in 2017, nearly two-thirds of CBD sales took place online, with one-quarter coming from smoke shops and dispensaries combined, and only a fraction from natural food stores (8%) and health practitioners (less than 1%). Last year, the market underwent a transformation to become much more brick-and-mortar oriented, with only roughly one-fourth of sales born online and a diverse mix of other channels—primarily natural food stores and smoke shops—accounting for the remainder of revenues.
The real impetus for most of this year's impressive growth is the volume of sales moving through the chained retail channel. The entry of mass retailers into the market commenced with major pharmacy chains, including CVS, Walgreens and Rite-Aid, which began to offer a range of topical products in a limited number of stores around the country at the beginning of Q2.
They were soon followed by supplements retailers such as GNC and the Vitamin Shoppe. In mid-year, grocery chains, such as Kroger, began to join the fold. Growth is taking place at such a rapid clip, in fact, that by the end of this year, more than 16,000 chain retailers are expected to carry CBD products.
Over the short- to medium-term, expect to see continuing expansion in big box pharmacies and grocery chains as well as the addition of supercenters, gyms, pet, natural food, convenience and other mass retailers. Because of the higher stakes involved, decision-makers in this channel are simply awaiting FDA clarity on a regulatory framework for non-pharmaceutical CBD products before expanding the variety of compliant CBD products offered on their shelves, making them available in all outlets or beginning to carry FDA-compliant CBD goods. Despite FDA-related delays, the vast reach of chain retailers is expected to garner 57% of market revenues this year, and 68% by 2023.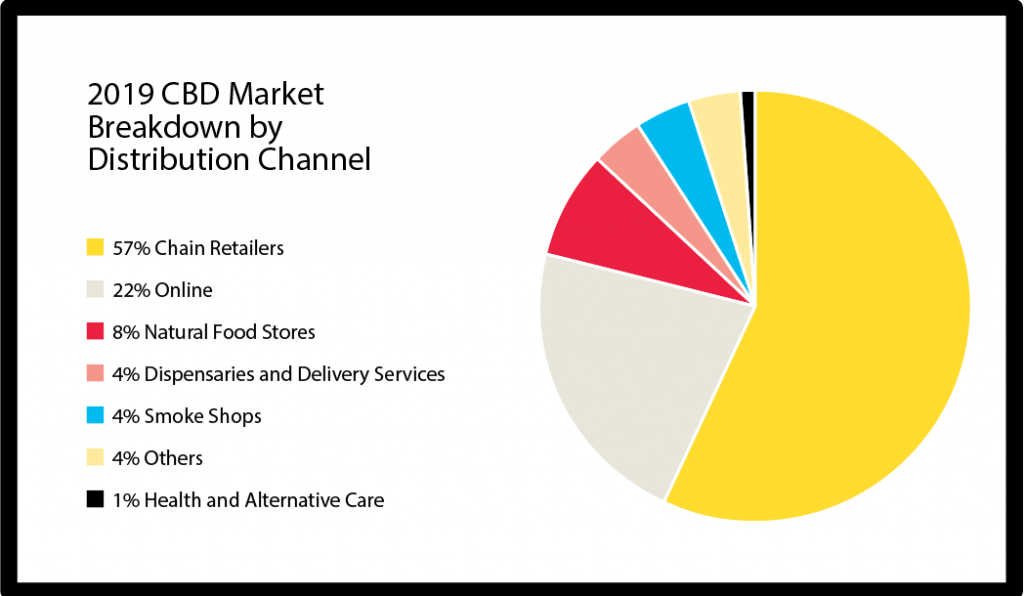 Big pharma
The pharmaceuticals channel is based on products distributed by prescription only, as authorized by the FDA. This year, the only CBD pharmaceutical products are sold by GW Pharmaceuticals (GWP) under the brand name Epidiolex. That's because the company came up with the pioneering prescription for a plant-based CBD medication and won formal FDA approval. Epidiolex is an oral formulation of purified CBD designed to treat seizures associated with two rare and severe early-onset, drug-resistant epilepsy syndromes. Despite the small market for rare seizure conditions and supply barriers, Epidiolex sales have been impressive.
At least 80 cannabidiol-related clinical trials have been conducted this year or are slated for completion by the end of the year. The same number are already on deck for the next five years, including 43 scheduled for next year alone. It's likely that only a fraction of the studies will lead to FDA approval of CBD-based medications for epilepsy and other conditions, which will subsequently enter the pharmaceuticals market. In anticipation of this, combined with the continued growth of Epidiolex sales, the CBD pharmaceuticals market is set to reach $2.8 billion in 2023.
Incredible edible growth
Edible hemp-derived CBD products, such as gummies, candies, chocolate, baked goods and beverages, are not only growing in popularity among current CBD users but also drawing in new users, given their approachability and familiarity to the average consumer.
These CBD products have been a useful and popular delivery channel that addresses a wide range of symptoms, especially side-effects from cancer treatment, such as nausea, pain and insomnia. Edibles are often easy on the stomach and have slower release and longer-lasting effects. Because they're easy to consume, discreet and tend to taste good, CBD-infused edibles are also great for first-time users. Thus, this category has become home to trendy products bolstered by CBD's sudden launch to fame, inlcuding gourmet chocolates, lattes, and even CBD-infused hamburgers.
Though the edibles categories continue to make up a smaller fraction of the market, totaling 12% this year, retailers' reports are consumer data reflects an increasing demand for edibles—especially drinks—during the five-year term. Smaller revenue figures reflect a comparatively lower price tag per CBD food or beverages versus products like tinctures. And sales have been dampened this year by the FDA's decision to prohibit selling CBD-infused food additives—a product category that includes edibles.
However, with the impending FDA authorization of edible products, followed by the inevitable entry of behemoth consumer packaged goods companies into the sector, combined CBD edibles sales are set to become a $2.5 billion market by 2023.
CBD-infused lattes are sold at cafes throughout the country now but weren't widely available as recently as last year. Meanwhile, manufacturers are beginning to sell CBD-infused coffee beans. CBD-infused beer has begun to appear at craft breweries, and macrobreweries like Anheuser-Busch InBev are contemplating similar products. Manufacturers are adding CBD to sparkling water, energy shots and workout beverages (including protein shakes). CBD has landed on the shelves at supplement chain GNC, and Coca-Cola is eying CBD-infused "functional wellness beverages."
U.S. retail sales of sports and energy drinks amounted to approximately $9.6 billion in 2013 and have expanded greatly since then. Beer sales in the country totaled $35 billion last year. In 2016, U.S. coffee and snack shop revenues reached $32.46 billion. Extraordinary opportunities for growth abound in the CBD-infused beverage sector, whether drinks are positioned for functional wellness, athletic endurance or simply as a substitute or supplement to alcohol.
What Did the Farm Bill Actually Change?
The Hemp Farming Act won the support of lawmakers from both sides of the aisle and was signed into law in December. It removes hemp and its extracts containing less than 0.3% THC from the Controlled Substances Act of 1970, taking the crop out of the purview of the Drug Enforcement Administration and transforming it from a felony-related controlled substance into an agricultural commodity.
Under the Act—which was part of the Farm Bill—the states were granted the right to develop their own regulatory frameworks, as overseen by the U.S. Department of Agriculture, which is expected to approve or reject plans within 60 days of submission.
Legalizing hemp invites legitimate industry players to compete with gray- and black-market actors. It provides the good guys with previously unavailable market protections, paves the way for consumers to purchase CBD products without concern about legality and will ensure the quality of CBD products once a regulatory framework is established and safety standards are formulated.
Passing the 2018 Farm Bill has helped normalize and sustain hemp and CBD-related products for the long term.

Other edibles include anything outside the beverage and gummy categories, such as gum, chocolates, baked goods and savory products. Major manufacturers offering those products include Restorative Botanicals, which carries a caramels line. Diamond CBD sells honey products, cake pops and popcorn. Carl's Jr. has even rolled out a CBD hamburger. Some edibles haven't garnered as much attention or traction as drinks or gummy products but will continue to play a secondary role on the CBD market.