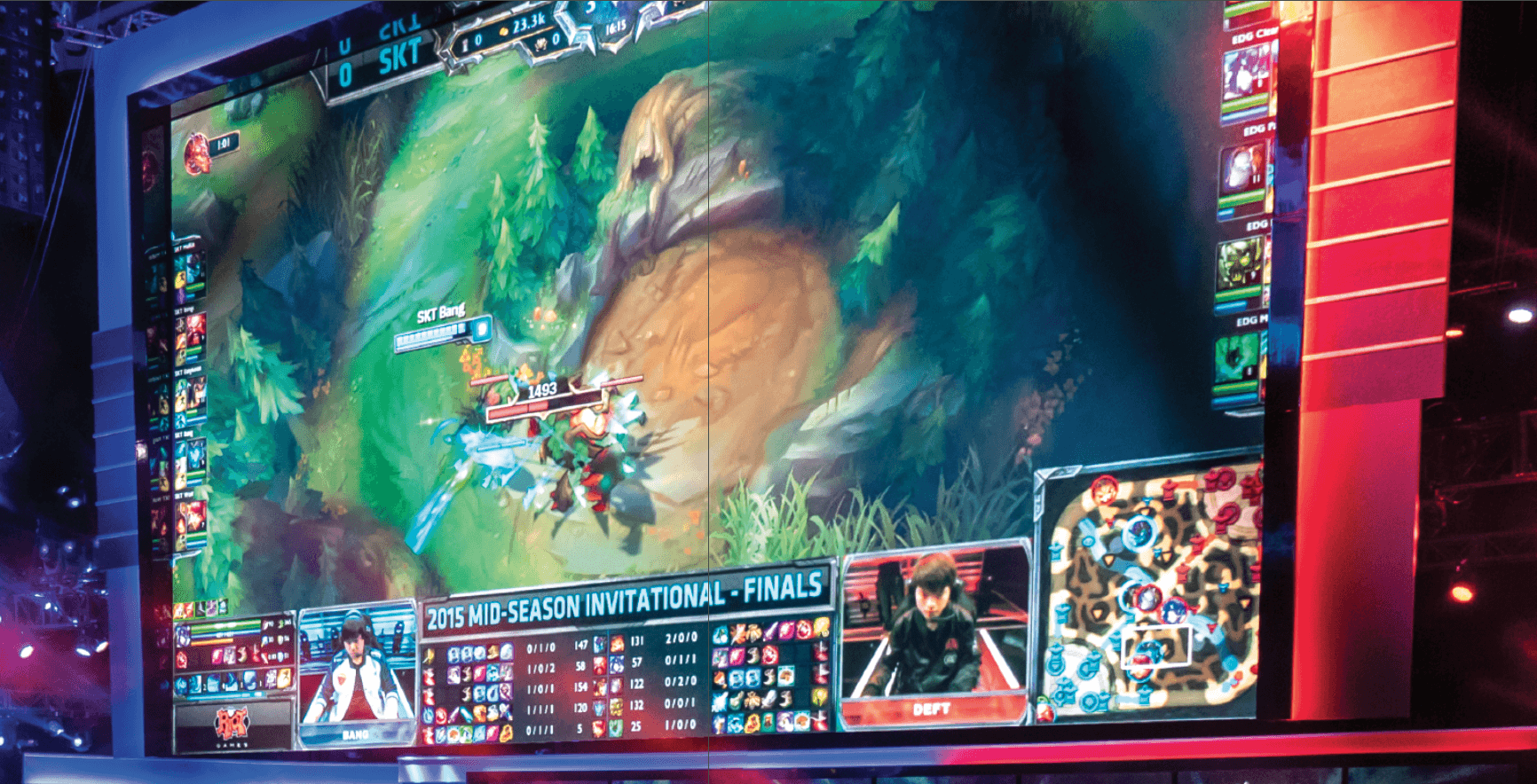 The Business of Esports
While we weren't looking, video gaming grew into something called esports—a professional sport complete with well-paid players, huge fan followings, sold-out arenas, lucrative sponsorships and hefty tournament payouts. For video game developers and publishers, esports functions as both marketing expense and operating income. Esports can keep the general public engaged in video gaming and willing to spend more on games.
Today's dominant video game, League of Legends (LoL), was developed by Riot Games, which was purchased by Chinese tech giant Tencent in 2011. LoL uses five-player teams who control characters with differing abilities and attributes The goal is to push into the opposing team's base and destroy it. Because each game takes place on the same map, fans can easily follow what's going on and every game offers a balanced playing board. Live tournaments fill huge stadiums like the Staples Center in LA and Seoul's World Cup Stadium. Prize pools often reach eight figures, and big-name sponsors like Samsung, Red Bull and Coca Cola, pony up for advertising.
Esports tournaments also attract tens of thousands of fans, and millions of online viewers. To lead off this special luckbox leans in report, the editors joined forces with Newzoo, a leading global provider of esports analytics, to provide an introduction to the opportunities that lie ahead in the fast-growing world of competitive electronic gaming.
Top 10 Gaming Stocks

Last year, the 25 public companies with the largest game revenues generated a combined $107.3 billion, up +16% from 2017. That marks the first time they have exceeded the 100-billion-dollar mark—a milestone for the market. Together, those companies accounted for nearly 80% of the $134.9 billion global games market.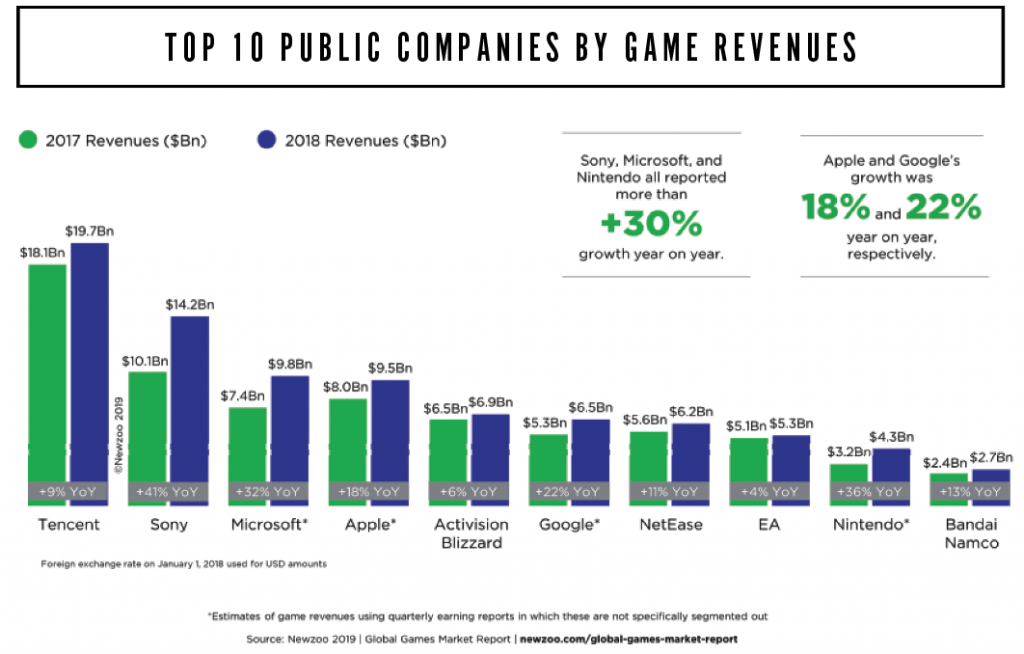 Tencent (TCEHY) alone earned $19.7 billion in revenues, accounting for nearly 15% of the entire games market, and it was the world's No. 1 public company by game revenues for the sixth year running. Tencent is followed by Sony (SNE), Microsoft (MSFT), Apple (AAPL) and Activision Blizzard (ATVI), respectively. Combined, the Top 10 companies grew +19% year on year. However, the top 11-25 companies together grew just +6% year on year, with many companies in this bracket unable to keep pace with the market leaders.
Apple and Google's New Gaming Market Plays
Apple (AAPL) and Google (GOOG) have long monetized video gaming. The consistently strong performance of those two American tech giants is a direct result of revenues generated by their respective app stores, where both take their cut of every transaction. Now, both companies have revealed initiatives that will expand their involvement in the global games market.
Google has recently announced Stadia, a cloud gaming platform that enables users to stream entire games via the internet. The games run on hardware at Google's data centers, which means consumers don't need to own expensive hardware. At the same time, Google announced the creation of Stadia Games and Entertainment, a studio that will develop Stadia-exclusive games.
Meanwhile, Apple plans to release Apple Arcade this year. The subscription service gives users access to a library of 100 new games for a monthly subscription fee. The platform will carry no ads and no in-app purchases—key drivers for growth in the games market in past years.
Both companies have acquired top talent from the games market but have remained quiet about expansion plans. Both intend to use their strengths to expand their activities in the games market: Google leverages the global presence of its data centers and strong tech credentials, while Apple will rely on its expertise in accessibility and its focus on curating content.
Key Takeaways
2019 Global esports revenues will surpass $1 billion for the first time
1. Global esports revenues will grow to $1.1 billion in 2019, a year-on-year growth of +26.7%. North America will generate $409 million of this amount, while China will account for $210 million.
2. In 2019, $897 million in revenues, or 82% of the total market, will come from brand investments (media rights, advertising and sponsorship). That will increase to $1.5 billion by 2022, making up 87% of total esports revenues.
3. Globally, the total esports audience will grow to 453 million in 2019, a year-on-year growth of +15.0%. Esports Enthusiasts will make up 201 million of this number, growing +16.3% year on year.
4. China will have the most Esports Enthusiasts in 2019 with 75 million, followed by the U.S. and Brazil. South Korea will have the highest share of Esports Enthusiasts relative to its online population (Esports Density) in 2019 with 12%.
5. The global average revenue per Esports Enthusiast will be $5.45 this year, up +8.9% from $5 in 2018.
6. Last year, 737 major events occurred. Together, they generated $55 million in ticket revenues, down from $59 million in 2017.
7. Last year's total prize money reached $151 million, a significant increase from 2017's $112 million.
8. The League of Legends World Championship was last year's biggest tournament by live viewership hours on Twitch—a livestreaming platform for gamers—with 53.8 million hours. It also produced $1.9 million in ticket revenues. The Overwatch League was the most-watched league by live viewership hours on Twitch, generating 79.5 million hours.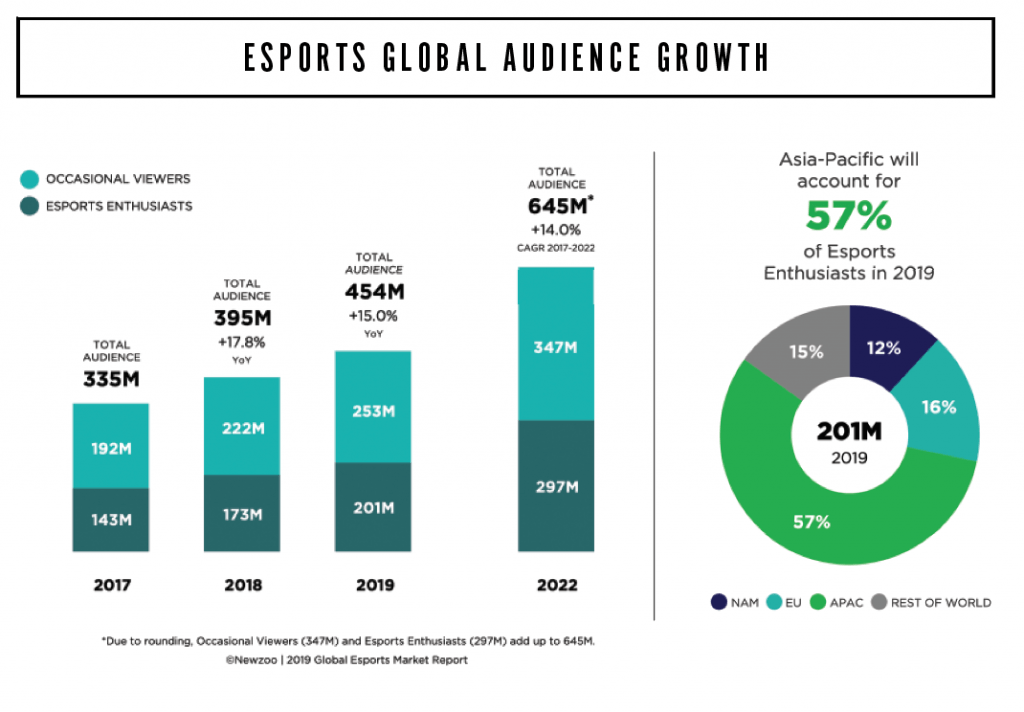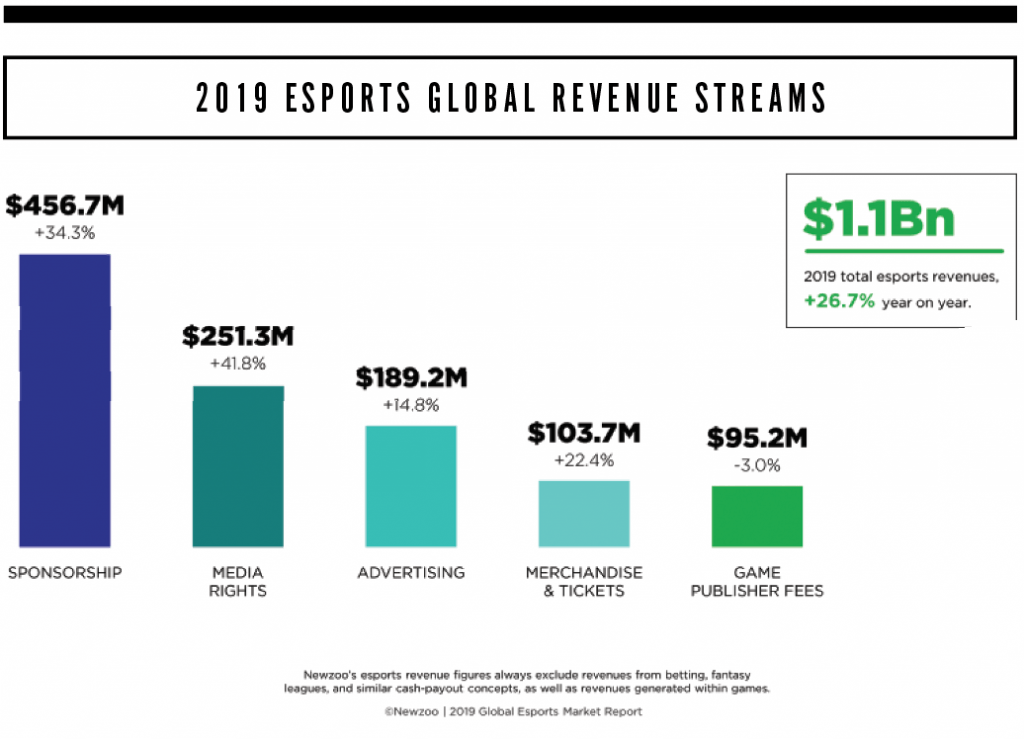 KEY TERMS
Esports: Professional-level competitive gaming in an organized tournament or league with a specific goal, such as winning a championship title or prize money.
Streaming: One person, or sometimes a group of people, streaming live video via a streaming platform to enable viewers to see what's happening at that moment.
Media Rights Revenues: Revenues generated through media property, including all revenues paid to industry stakeholders to secure the rights to show esports content on a channel. It includes payments from online streaming platforms to organizers to broadcast their content, foreign broadcasters securing rights to show content in their country, or copyright costs to show video content or photos of an esports competition.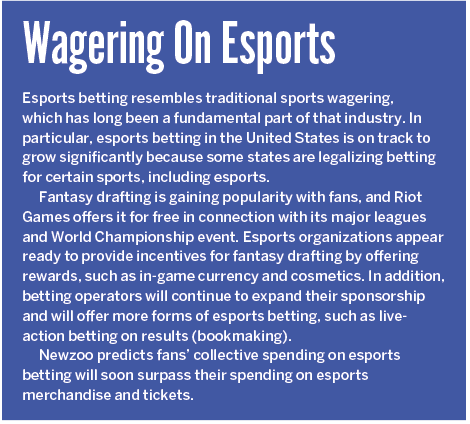 Sponsorship Revenues: Revenues generated by teams and organizers through sponsorship deals. This includes all deals relating to sponsoring an event, including product placement, sponsoring teams, and payments by brands for the use of team, event or game-specific IP rights in their marketing communications. Any advertisements sold as part of a sponsorship package are also included in sponsorship revenues.
Game Publisher Fees: Revenues paid by game publishers to independent esports organizers for hosting events. This excludes investments or spending by game publishers on their own events because that is considered part of their regular marketing effort.
Sander Bosman, Newzoo vice president of research, is the company's second-ever employee and leads the Consumer Research and Insights team. newzoo.com @newzoohq. Jurre Pannekeet, senior market analyst at Newzoo, models the esports economy, finds and dissects key esports trends and helps brands shape esports strategies. Tom Wijman, Newzoo senior games market analyst, leads the company's efforts on the global games market, forecasting revenues and players per market and identifying how trends influence those markets. @newzoohq