The industry's revenue projections stay healthy as more players turn to video gaming during the pandemic-induced shutdown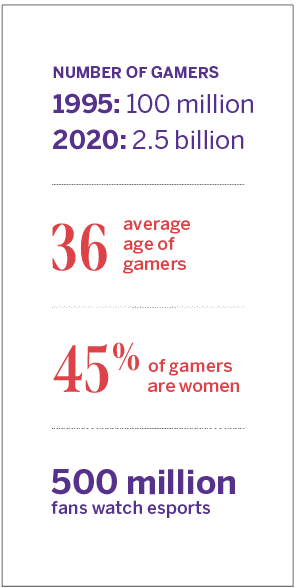 COVID-19 has changed the way the world is entertained, at least for as long as stay-at-home orders, lockdowns and social distancing remain in effect.
Movie premieres, notably the opening for James Bond thriller No Time to Die, were postponed. Concerts, festivals and other live musical performances met a similar fate, with many delayed or even canceled outright.
But as the supply of entertainment shrank, demand climbed because many Americans found themselves with more time on their hands while sitting at home in self-quarantine.
Date nights at the movies were replaced by date nights on Netflix Party, a browser extension that allows for synchronized TV- and movie-streaming with friends. Live concerts were replaced with livestreams of archival band performances, such as jam band Phish's Dinner and A Movie series.
Much seems to have changed, and the stats confirm that feeling. For instance, Netflix added more than 15.7 million subscribers in the first three months of this year, setting a company record. Within four weeks of its release in March, Tiger King, a Netflix docuseries, had been streamed in 64 million households.
The financial world has kept an eye on the obvious streaming champions amid the pandemic, but observers may have missed another sector benefiting from the growing shift to online entertainment: video gaming.
Video gaming, one of the few industries thriving amid the challenges of the COVID-19 pandemic, is providing much-needed entertainment while simultaneously helping billions of people stay connected in a socially distant world.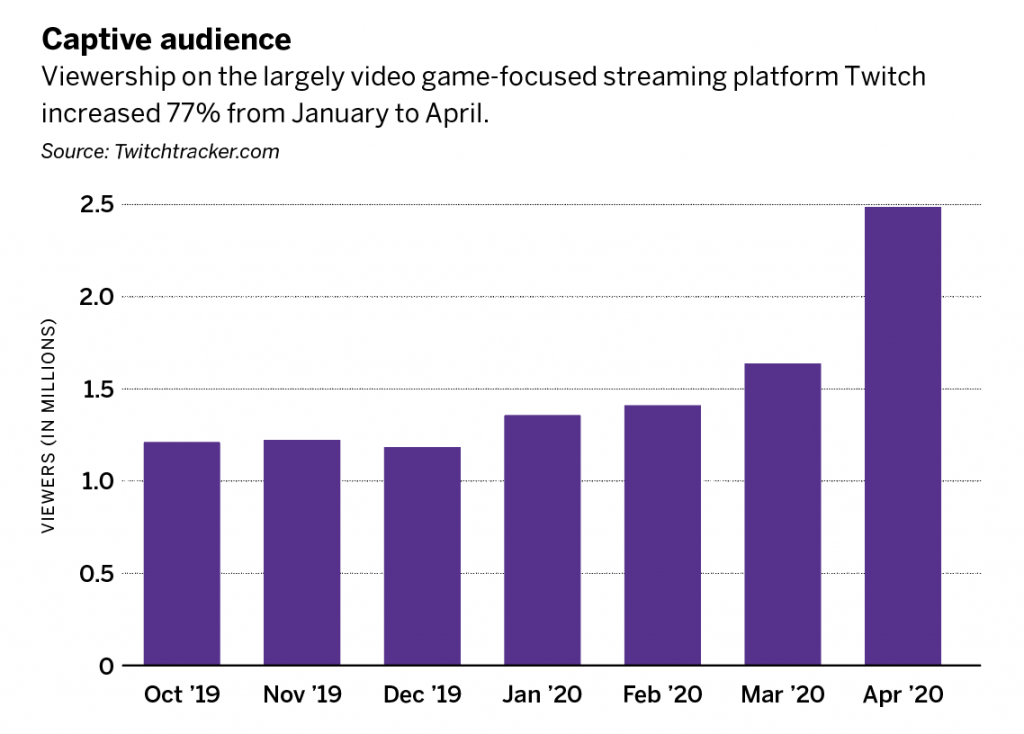 An analysis of historical and contemporary trends in gaming offers a clear picture of the industry's overall health during the global coronavirus crisis and also indicates what may be in store for the medium's future.
In recent months, gaming has grown in popularity because so many people are spending more time at home to avoid passing along the virus. Twitch, a streaming platform focused largely to game-related content, is now viewed more than Hulu. In fact, gaming viewership has increased by 77%, from one billion hours in January to 1.7 billion hours in April.
On mobile, global game downloads increased 39% from January to February with 1.1 billion more downloads. In the first quarter of this year, mobile playtime is up 62% with in-app purchases up 30%.
And in the absence of traditional sports, viewership of competitive eNASCAR racing took center stage on the FOX Sports network. On March 31, the eNASCAR iRacing Pro Invitational Series race drew 1.3 million viewers on FS1, making it the highest-rated esports TV program to date.
As investors contemplate the sustainability of gaming's recent windfall of participants, three questions have emerged.
Is this gaming's moment?
The recent surge in video gaming is substantial, yet video gaming has been growing at a compound annual growth rate of more than 9% for the past 12 years—ever since the Great Recession.
This 9% growth rate is twice that of other entertainment sectors, such as gambling, film and music. The video game industry may benefit from the current challenging economic landscape, but this is not "gaming's moment." Gaming has been growing for decades.
Will the new gamers stick around?
No, not all of the new entrants to the gaming world will become permanent converts. Even though observers will need data from several quarters before they can assess the situation accurately, they expect significant churn.
Of the hundreds of millions of new gamers, fewer than 50% seem likely to keep playing indefinitely, they say. But even with attrition, the growth remains staggering. In the United States, video game sales in March were up 35% year-over-year, as consumers bought gaming systems, accessories and software.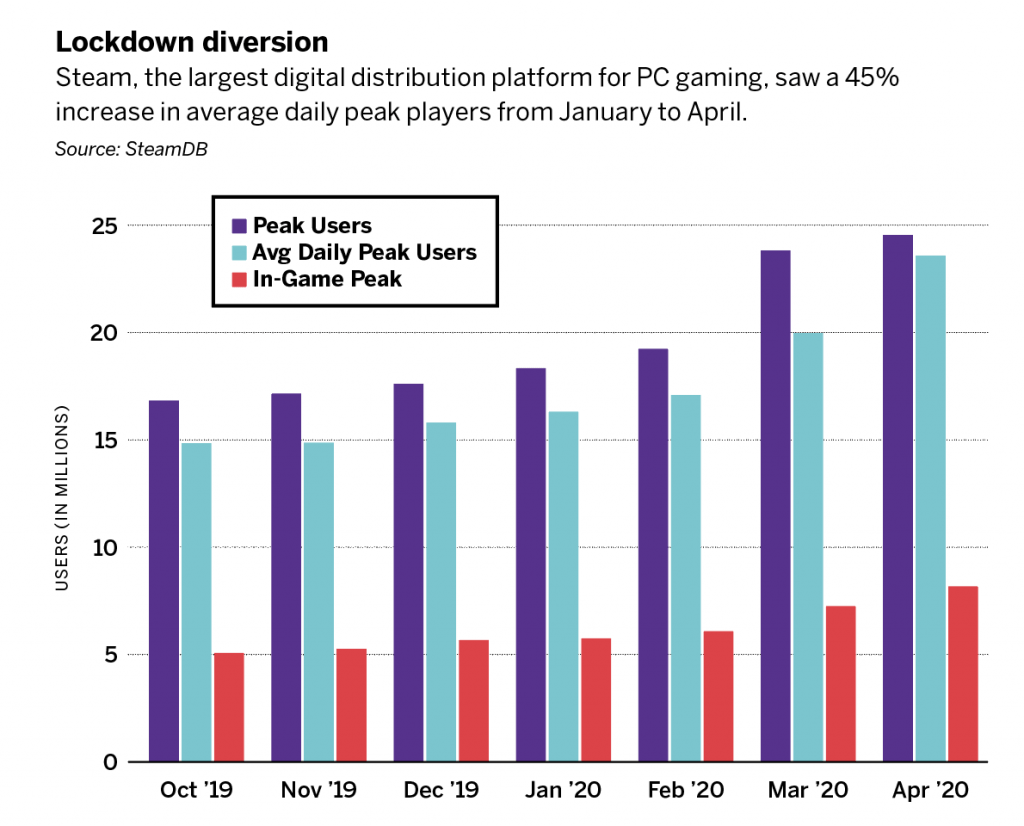 Can gaming grow during a recession?
Yes. The modern age of video gaming (post 1995) is weathering its third recession. In the last two downturns, the video game industry did not decline but instead grew substantially in both revenue and number of players.
Given the early indicators in this recession, industry analysts expect video gaming to thrive throughout this economic setback.
Fading stigma
Perhaps the most important recent shift in gaming is that the pastime is losing its stigma. In the midst of the global health crisis, playing video games is becoming more socially acceptable than it was even 12 months ago. This newly acquired status translates into creative entrepreneurship, thriving gaming communities and investment-worthy companies.
Video gaming will remain a key component of digital entertainment's future. It offers opportunity for investment and also helps billions of players stay more socially connected during stay-at-home orders, social distancing and self-quarantines.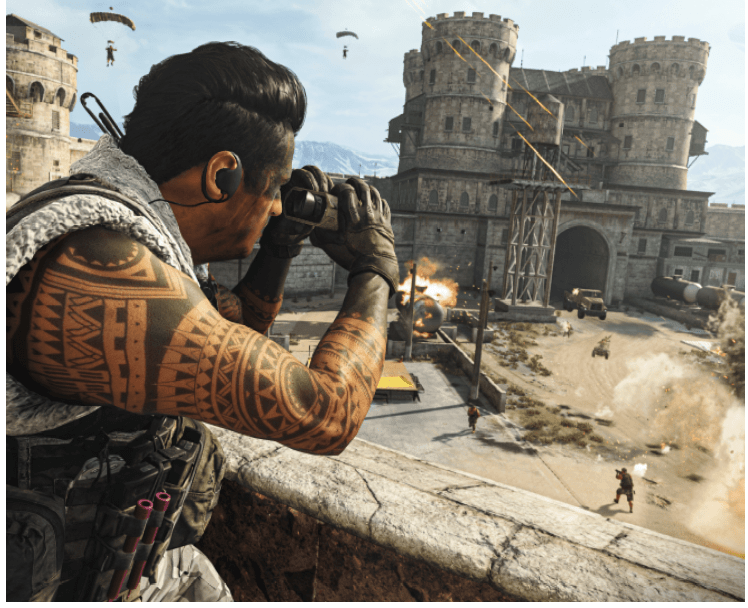 Call of Duty: Warzone
Call of Duty: Warzone, a free-to-play battle royale-style game published by Activision, attracted more than six million players almost immediately upon its March 10 release, and that number ballooned to well over 60 million before the game turned two months old. It features cross-platform play that enables gamers to compete whether they prefer a PC, Xbox One or Playstation 4. Activision Blizzard (ATVI), parent company of Activision since 2008, posted GAAP net revenue of $1.79 billion in Q1 of this year, beating projections.
Josh Chapman, a managing partner at Konvoy Ventures, a Denver-based venture capital fund, specializes in esports and video gaming. @joshchapmn