Beyond Rational
Don't bother pondering the faulty fundamentals of Beyond Meat. Just watch out for short-sellers and follow the money.
Despite myriad financial woes, stock in Beyond Meat (BYND), a maker of plant-based "meat," is still trading. In fact, it's one of today's most widely "shorted stocks." That means investors line up to borrow the stock from another shareholder, typically a big financial institution.
Borrowers (short sellers) then sell the stock into the market, hoping the price will move lower. If they sell the stock at $20, and it falls to $15, they can buy it back, keep the $5 difference and return the stock to the original owner (the institution).
Beyond Meat, the fifth-most "bet against" stock, has 64.23 million shares outstanding. Of those, the float (shares not held by company insiders that are available to trade) sits at 60.51 million.
Of those 60.51 million, short interest (the number of shares being sold short by investors) sits at a stunning 21.86 million. So, more than 30% of shares have been borrowed and sold into the market, and investors are trying to profit from their demise.
All this short selling makes sense. Despite the company's terrible fundamentals, its stock has rallied two times in 2023—by more than 65%.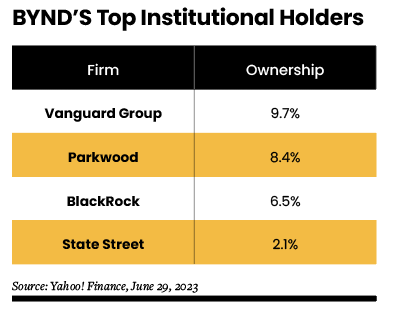 Beyond Meat's stock has surged twice because of a "short squeeze." When short selling, the markets can go the other way for short sellers.
The shorting equation doesn't include interest paid on those shares to the institution that lends them. Short sellers pay a fee—3% a month, for example—to the original shareholder. Meanwhile, the original shareholder can make money by lending shares to short sellers while maintaining a long position in the stock.
So, who owns a lot of the stock that investors can borrow? Three of the four largest institutional owners are Vanguard, BlackRock and State Street.
Those companies don't care how the stocks do. They've sold investors on the idea of holding their exchange-traded funds (ETFs) forever, based on differing themes. With Beyond Meat, maybe it's an ETF dedicated to "solving climate change."
But here's more to the story. Large institutions help feed the shorting of equities with high short interest. BlackRock earned nearly $600 million in short lending in 2018, according to Elon Musk. That figure has grown dramatically recently, and the funds continue to expand their holdings. And that creates conditions for another problem in the markets.
Stock prices increase when liquidity increases—whether the influx comes from central banks, private sector firms or cross-border flows. But the problem is that it's not just pouring into companies with great fundamentals. The algorithms that drive trading have identified opportunities to fuel big squeezes on highly shorted stocks.
So, if momentum turns positive, liquidity flows and the funds buy up shorted stocks. They can fuel a big run on the stock by the investors who need to "buy" the stock to close their short position.
Look at the performance of Beyond Meat's stock on two occasions when liquidity rose this year. In both cases, the daily reading for MACD (moving average convergence/divergence) turned positive.
From Jan. 3 to Feb. 2, Beyond Meat stock rallied from $12.50 to over $21.00 for a 68% return. Once momentum soured, it was a sell.
Then on May 31 (when momentum turned positive), shares rallied from about $10.00 to $18.00 or 80%. Then the momentum started to fade.
But nothing is driving the underlying performance of the stock. The company's not improving shareholder value. It's just screaming higher and lower entirely on equity momentum readings, short squeeze targeting and the never-ending cycle of balance sheet expansions by central banks.
Currently, momentum is negative, and shares have plunged from $17 to $12 in less than two weeks. Here's the equation: Global Liquidity + Momentum + Shorted Stocks = The Great American Casino.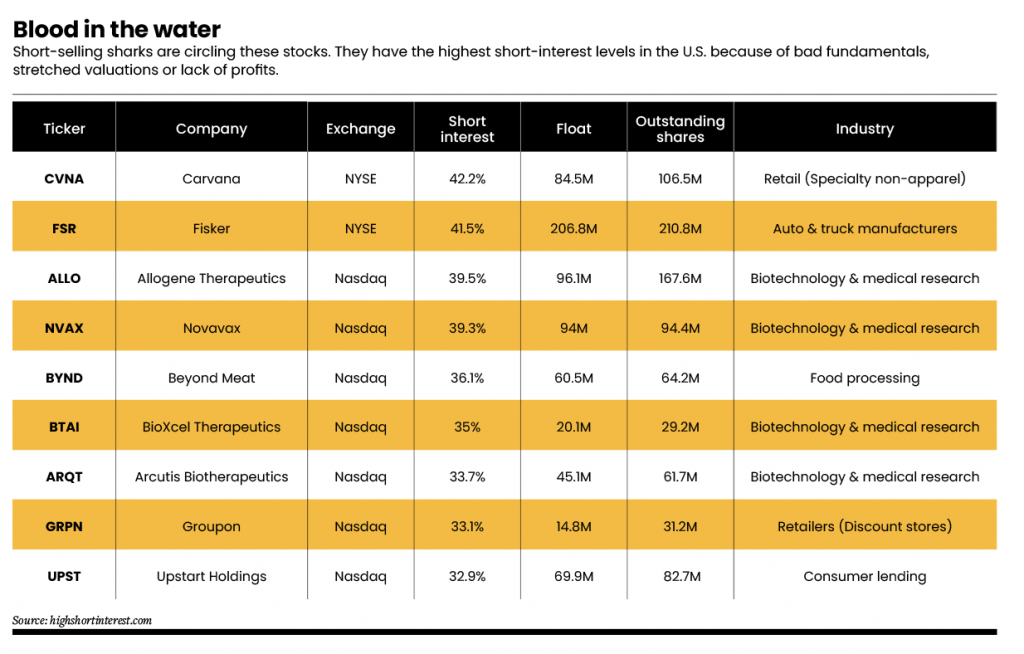 Click here to read the related post "The Next Wave of Alternative Protein."
Subscribe for free at getluckbox.com.
For daily financial market news and commentary, visit the News & Insights page at tastylive or the YouTube channels tastylive (for options traders), and tastyliveTrending for stocks, futures, forex & macro.
Trade with a better broker, open a tastytrade account today. tastylive, Inc. and tastytrade, Inc. are separate but affiliated companies.