Surprise Rally in the Video Game Sector
The video game industry has outperformed this year, with the VanEck Video Games and eSports ETF (ESPO) already up 19% year-to-date.
Before Tennis For Two was first developed in 1958, there were technically zero video game players on Earth.
Today, most estimates suggest there are upwards of 3 billion active gamers on the planet, with over half of those hailing from Asia. Some projections suggest that active gamers could grow to 4 billion by the end of the decade.
As evidenced by the recent success of The Super Mario Bros. Movie and the opening of Super Nintendo World inside Universal Studios in Japan, gamer culture is thriving. However, as with most consumers, gamer preferences are ever-changing, especially in a post-pandemic world.
During the COVID-19 pandemic, most gamers found themselves in a familiar and comfortable environment—isolating at home. With fewer social obligations, gamers were arguably living their best lives. Video game-related software sales jumped by 25% in 2020 and another 8% in 2021.
Unfortunately, the return to work and school in 2022 served to weaken the gaming environment, with global sales dropping by about 4% in 2022. As with the broader technology sector, video game stocks experienced a rough patch last year. For example, the VanEck Video Games and eSports ETF (ESPO) dropped by about 8% in 2022.
This year, however, the video game sector is back in vogue. ESPO is already up 19% in 2023, and some of the best-known companies levered to the gaming industry have rallied even more.
For example, Nvidia (NVDA)—which produces high-end graphics processing units (GPUs) for the gaming industry—has seen its shares climb by nearly 100% in 2023. Roblox (RBLX), which is another big player in the video game sector, has seen its shares rise by 40% so far this year.
At the end of last year, most analysts were projecting only a nominal increase in revenues for the gaming industry in 2023. But despite that gloomy outlook, the video game sector has been thriving, and it appears to stem from two key trends.
There has been strong reception for some highly anticipated AAA games, high-budget and profile games, in 2023. Moreover, positive developments in the Chinese gaming sector, which is one of the largest on Earth, have also contributed to improved sentiment in the sector.
Big-name game titles
One of the safest bets in the video game industry has always been blockbuster releases from tried and true franchises.
For example, a new game from the Call of Duty franchise—Call of Duty: Modern Warfare II—was the top-selling new title in 2022. Call of Duty is also one of the top-selling video game franchises of all time, with total sales of over 400 million units, according to Statista. The game ranks 4th on the all-time list of greatest video game franchises.
In 2023, the gaming industry has benefited from the release (and future release) of several additional big-name franchises. For example, the latest chapter of Nintendo's (NTDOY) The Legend of Zelda series just launched on May 12.
The game is titled The Legend of Zelda: Tears of the Kingdom and is available on Nintendo's popular Switch platform. Early reviews of the game have been extremely positive, with Metacritic grading it 96/100.
Since this iconic gaming franchise was first introduced back in 1986, The Legend of Zelda franchise has sold over 139.63 million copies worldwide, and the latest installment is among the most highly anticipated. The series focuses on an elf-like boy named Link and his adventures in the fantasy realm of Hyrule.
Tears of the Kingdom represents the sequel to The Legend of Zelda: The Breath of the Wild, which was first released in 2017. Breath of the Wild was considered a revolutionary offering, and is widely regarded as one of the greatest video games of all time.
During its first week on the market, Breath of the Wild racked up over one million units in sales, and as of March 2023, the game has accumulated over 29.8 million unit sales. Tears of the Kingdom sales are expected to match, or even outpace, those figures.
In addition to The Legend of Zelda, Star Wars Jedi: Survivor hit the market on April 28. The game was developed by Respawn Entertainment, published by Electronic Arts, and is the sequel to Star Wars Jedi: Fallen Order.
Star Wars Jedi: Survivor has only been available for a couple of weeks, but it's already shaping up to be a hit within the gaming community. Christopher Dring at GamesIndustry.biz estimated that early sales of Star Wars Jedi: Survivor have outpaced Star Wars Jedi: Fallen Order's by more than 30%.
Robust sales in the Star Wars Jedi series indicate that demand for video games—especially from AAA franchises—remains strong.
Two other highly anticipated releases in 2023 include Diablo 4 from Activision Blizzard (ATVI) and Starfield from Microsoft's Bethesda studio. Diablo 4 could hit the market as soon as June 6, while Starfield is expected to launch on Sept. 23.
Persistently strong demand for big-name releases throughout 2023 could help sustain, or even extend, the current rally in the video game sector.
Chinese gaming industry
One key overhang in the global gaming industry has been a year-long crackdown by Chinese regulators.
In 2021, the Chinese government tried to curb gaming activity by asking gaming companies to delete content that was violent, deemed to celebrate wealth or foster the worship of celebrities.
Then, in 2022, China's National Press and Publication Administration instituted new rules that restricted kids under the age 18 from playing online games for more than three hours per week.
These actions effectively laid waste to a once booming industry in China, with total gaming sales dropping for the first time on record last year. However, much like the government's broader crackdown on the technology sector, there's hope that the Chinese government may be stepping back from its approach.
Case in point, industry analysts now expect Chinese regulators to approve between 800 and 900 new games in 2023, which would be a significant increase from the 512 titles that were approved last year.
Moreover, the government recently cited progress in its effort to stifle addictive gaming behavior amongst the country's youth, recently reporting that 70% of children in China were adhering to the three-hour weekly limit.
The China Game Industry Group Committee also recently lauded efforts by Tencent (TCEHY) and NetEase (NTES) to protect the country's youth. Both companies now utilize facial recognition software to ensure that players exceeding the three-hour weekly limit are adults.
Considering China's massive influence in the global gaming market, these positive developments have undoubtedly contributed to upbeat sentiment in the sector.
Shifting gaming industry trends
Historically, the video game sector has been somewhat recession-proof because home entertainment becomes more attractive when consumers are tightening their budgets.
For example, the video game industry exhibited relative strength during the 2008-2009 Great Recession. Along those lines, Chris Beer of GWI told Digiday, "The [Nintendo] Wii was actually quite successful during the 2008-2009 recession, because people were sacrificing out-of-home entertainment, and it seemed like a more cost-effective form of entertainment."
However, the industry has changed dramatically since the Great Recession, and there's now more free gaming content available to the global community. As such, the onset of a fresh recession could have an unpredictable impact on the industry.
In terms of the gaming industry's current ability to withstand a recession, Beer added, "But given that consoles are expensive now, and gaming has changed a lot, I'm not entirely sure that'd be the case."
Previous industry research has shown that gamers tend to gravitate toward familiar titles when their finances get tight. With a possible recession looming, that type of buying behavior favors large, established gaming companies, as opposed to emerging entrants.
The exact type of trend that's been observed in 2023, as gamers have flocked toward AAA games like The Legend of Zelda: Tears of the Kingdom and Star Wars Jedi: Survivor.
However, due to shifting preferences in the sector, it's unknown how the industry winners and losers would shake out in the event of a recession.
One can't overlook the fact that increased connectivity and the advent of smartphones/tablets have added another dimension to how games are accessed and played. The ubiquity of smartphones has allowed for the increase of mobile gaming.
In fact, the mobile gaming market is now larger than the console and pc markets put together.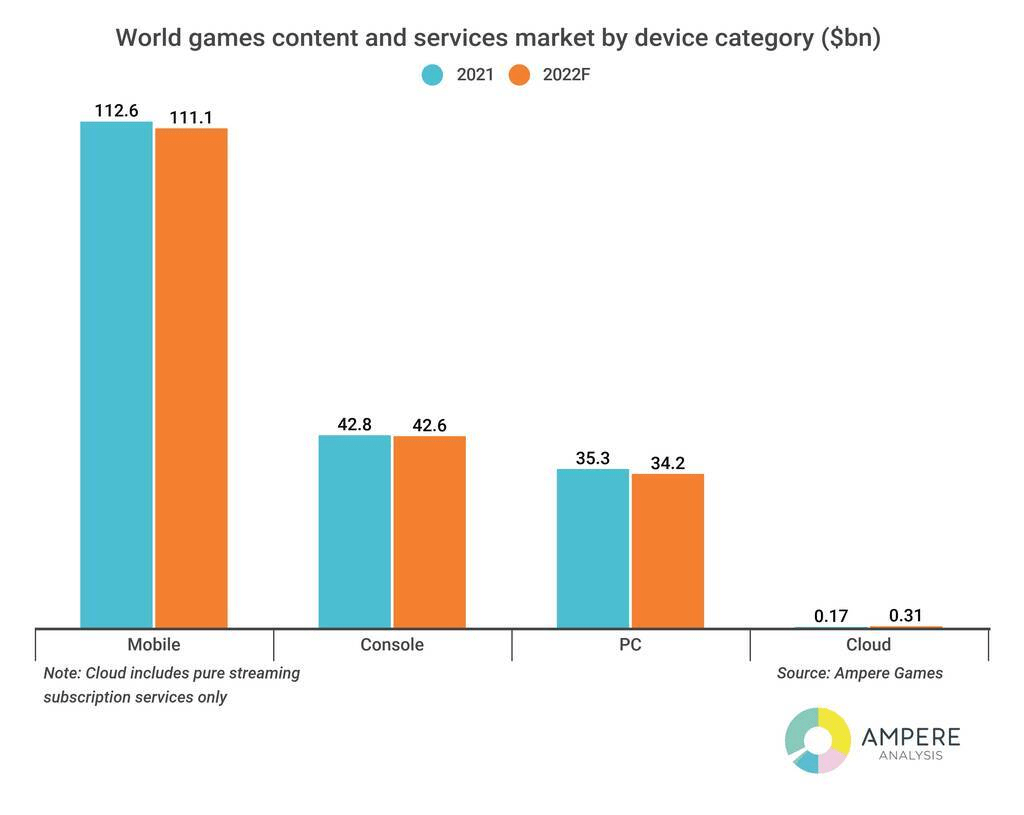 Mobile gaming has contributed to a huge increase in the number of active gamers, but it has also transformed the way in which games are distributed. Today, most games are digitally distributed via broadband internet. And that has spawned new niches within the gaming industry, such as free-to-play and live service games.
Free-to-play video games give players access to a significant portion of their content without paying. This format is distinct from traditional commercial video game software because it doesn't require an upfront payment before starting the game.
This format is sometimes referred to as free-to-start or pay-to-win because, in the case of the former, one must pay to complete the game. And in the case of the latter, one can pay to obtain competitive advantages over other players in the game.
The most common free-to-play format is known as a freemium game model which encourages the use of microtransactions to access extra content. Games that are entirely free of cost are referred to as "freeware" games.
On the other hand, live service games are those that are constantly being updated in order to retain existing players, and to attract new players. These games are designed to keep players engaged for as long as possible, without having to make a sequel.
Some early examples of live service games include World of Warcraft, Team Fortress 2, and League of Legends. But the format really exploded after the release of Fortnite and PUBG: Battlegrounds in 2017. During its first year, Fortnite raked in an estimated $5.4 billion.
Many mobile game publishers were forced to offer their wares for free because competition in the market can be so fierce. That naturally led to the pay later approach, which provides a monetization mechanism for mobile game creators.
The free-to-play and live service niches have undoubtedly increased the total revenue potential of the industry, but they have also arguably disrupted it. As such, it's somewhat difficult to predict how an economic recession might impact the current industry dynamic.
So far in 2023, demand for video games—especially among big-name titles—remains robust. Moreover, the economy has yet to enter a recession, and video game stocks have been soaring.
However, the onset of a recession could have an unpredictable impact on the industry, which is why investors and traders involved in this space may want to keep an eye on prevailing economic conditions going forward, as well as earnings guidance from key players in the industry.
To track and trade the video game sector, readers can add the following symbols to their watchlists:
Activision Blizzard (ATVI)
Advanced Micro Devices (AMD)
Electronic Arts (EA)
Microsoft (MSFT)
NetEase (NTES)
Nvidia (NVDA)
Roblox Corp (RBLX)
Sony Group (SONY)
Take-Two Interactive (TTWO)
Tencent (TCEHY)
To follow everything moving the markets in 2023, tune into tastylive—weekdays from 7 a.m. to 4 p.m. CDT.
Sage Anderson is a pseudonym. He's an experienced trader of equity derivatives and has managed volatility-based portfolios as a former prop trading firm employee. He's not an employee of Luckbox, tastylive or any affiliated companies. Readers can direct questions about this blog or other trading-related subjects, to support@luckboxmagazine.com.