iHeartMedia: Radio's Long Game
Creative destruction displaces obsolete products and services—along with the aging companies that provide them. Austrian economist Joseph Schumpeter, who coined the phrase, called it "the essential fact about capitalism."
It's a process that explains why Tesla exists and the Durant-Dort Carriage Company doesn't. But a late 19th century contemporary of Durant-Dort remains alive and well today: broadcast radio.
Despite its advanced age, radio hasn't lost its economic virility. The medium has remained nearly as relevant today as ever, seemingly immune to the power of creative destruction inherent in its own progeny—digital music streaming and podcasts. In fact, radio and its descendants have even helped each other grow.
That fruitful symbiosis of the generations is reflected in iHeartMedia (IHRT), a publicly traded company that began in broadcast radio but has also moved into digital streaming and podcasts.
Reach
Radio reaches a super-majority of adult Americans every week—
92% according to the Nielsen Total Audience Report.
So, radio's reach beats the reach of TV and smartphones. Plus, the multitudes listening to radio tend to tune in for a substantial amount of time. Americans aged 12 and up report listening to nearly two hours of radio every day.
Disruptive technology
New technology is helping radio, not hurting the venerable medium. Some 25% of smart speaker owners frequently use them to tune into an AM or FM music station, and 15% use them often to hear news or talk radio, Jacobs Media's annual Tech Survey found last year.
So radio's reach is great, and the relevance is readily apparent, but is it effective as an advertising tool? That data is clear.
Why radio?
Return on investment for radio ads ranges from $6 to $12 for every
$1 spent. While that's competitive with other media, radio also offers additional advantages.
First, radio advertising often costs less to produce than other types of ads, as LeadsRx demonstrates by combining objective evidence with professional opinion.
That makes sense. TV advertising requires a script writer, professional actors, and a team to record audio and visual and to sync it with music or animations. Radio requires a script, someone to read it and someone to record it.
Second, radio isn't subject to the plague of ad fraud, primarily an internet phenomenon. Fake clicks and downloads, hijacked hyperlinks, and malware bots that imitate human interactions cost advertisers billions of dollars annually. This criminal behavior upends the premise of advertising: "You have to spend money to make money." Ad fraud whittles the slogan down to, "You spend money." With radio, it's nearly guaranteed that when an ad emanates from a set of speakers at least one set of human ears will hear it. Ad fraud is largely avoided.
Third, radio offers advertisers targeted marketing. Radio is programmatic, with niches that include conservative talk, country music, business news and many others. That enables advertisers to reach the people most likely to buy their products. For example, Luckbox could realize a considerable return on ad spend by airing an ad during National Public Radio's Marketplace, a program focused on economics and investing.
Fourth, radio listeners are often close to the point of sale when they hear an ad. Hearing a radio bit about a clearance sale at T.J.Maxx while driving by the store provides a case in point. A TV ad about the sale isn't likely to persuade anyone to get up off the couch.
Fifth, radio advertisers enjoy a captive audience because most people listen to radio in the car, where ad avoidance plays less of a role than in other media. LeadsRx stresses the importance of that fact: "Advances in technology have changed the way people interact with media. Ad avoidance now plays a bigger role in advertising decision- making than it did just 10 years ago."
Ad avoidance poses problems online because consumers can adjust their attention to other parts of the screen or use ad blockers to avoid commercials, LeadsRx says. But avoidance occurs in print and on television, too. In fact, 74% of survey respondents tell LeadsRx that they feel more attentive listening to NPR than when watching television.
With all of these advantages, investing in the likes of iHeartMedia, the largest owner of radio stations in the country, starts to make sense.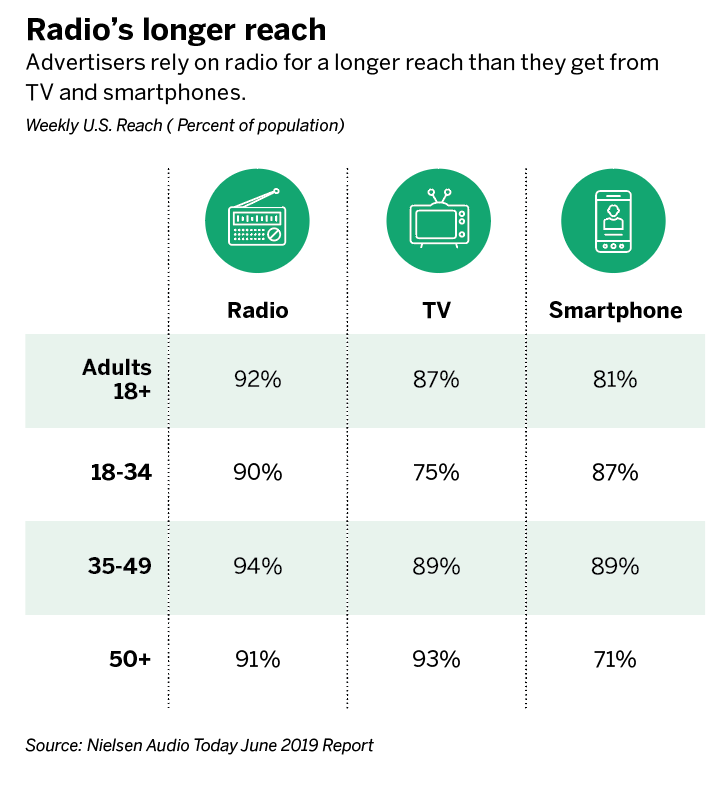 iHeartMedia
iHeartMedia owns 848 broadcast radio stations scattered throughout the United States, and that vast scale puts it far ahead of competitors. The company's 10-K explains the competitive advantage. (See "How iHeartMedia views itself, below.)
Notably, iHeartMedia is building a presence in digital streaming and podcasts. That growth has been accelerating lately—in part because of the pandemic—with a year-over-year revenue increase of 22.2%. Digital now makes up 13% of total revenue. With a diversity of revenue streams, the company is taking advantage of every aspect of the sector.
True, iHeartMedia went bankrupt in 2018 after shouldering a massive load of debt. Following a leveraged buyout in 2008, the company was paying $1.5 billion annually just to service the interest expense. With the restructuring, its debt load has become far more manageable but still significant. Fortunately, no meaningful maturities arise until 2026.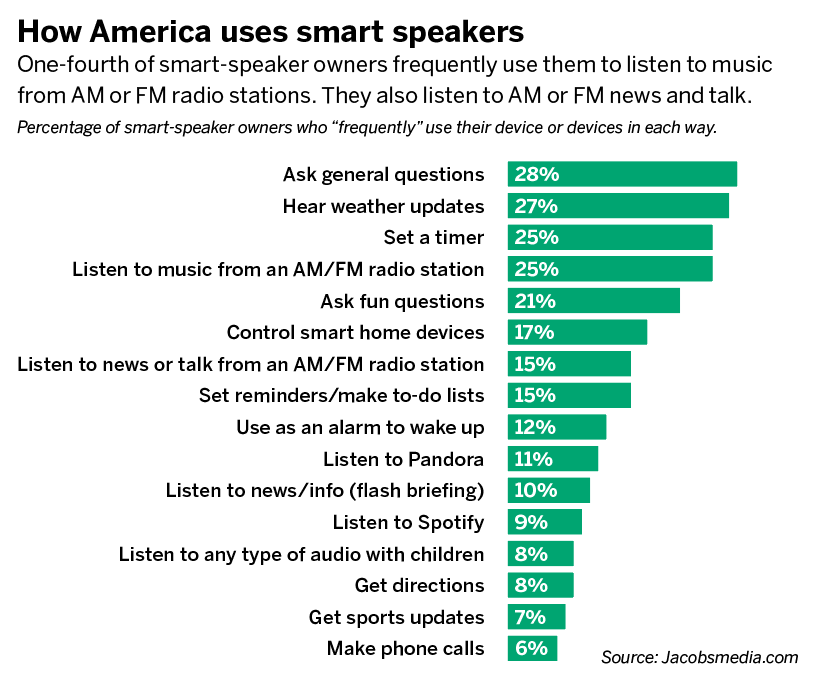 Valuation
iHeartMedia stock has languished ever since the company emerged from bankruptcy. It re-listed at $17.50, traded sideways for a while and never broke above $18, only to plunge beneath $5 a share during the coronavirus panic. At press time it sits at around $9.
In the 11 months between bankruptcy and the valuation at the end of its 2020 first quarter, iHeartMedia generated $3.17 in free cash flow (FCF). That puts the price/FCF ratio at only 2.6X, and that's without a full year's worth of operating results.
While that sounds like a steal of a deal, remember the company's debt load amounts to about $40 a share. But, for anyone willing to play the ultra-long game, iHeartMedia could become a cash machine.
First, incremental payments on debt will lower iHeartMedia's interest expenses. Second, the company has negotiated terms that bring down its weighted average interest rate resulting in $40 million in savings. Third, any improvement in operating results will boost cash. Fourth, 2019 was the company's first profitable year in a decade.
Finally, even before Covid-19 struck, the company announced modernization initiatives that will help save $100 million in expenses annually. In response to Covid-19, it pulled several other levers, including slashing executive compensation and furloughing non-essential employees. That's expected to help save $200 million this year.
The power of radio has, in fact, been strengthened by Covid-19. While iHeartMedia had an absolutely horrific quarter with total revenues down 47%, the revenue trajectory per month at the company has slowly improved: down 50% in April, down 49% in May, down 41% in June and down 27% in July.
So investors with a time horizon of five years or more should consider iHeartMedia. Cash generation is good and will get better as interest expense goes down. Big corporations have begun shunning social media advertising, which gives iHeartMedia an opportunity to capture market share. What's more, the company is in a position of profitability because it can use any of its platforms to advertise the others for free. It can, for example, use its radio stations to advertise its live events, streaming app and growing library of podcasts.
An investment in iHeartMedia casts a vote of confidence in the continued power of radio and audio media in general.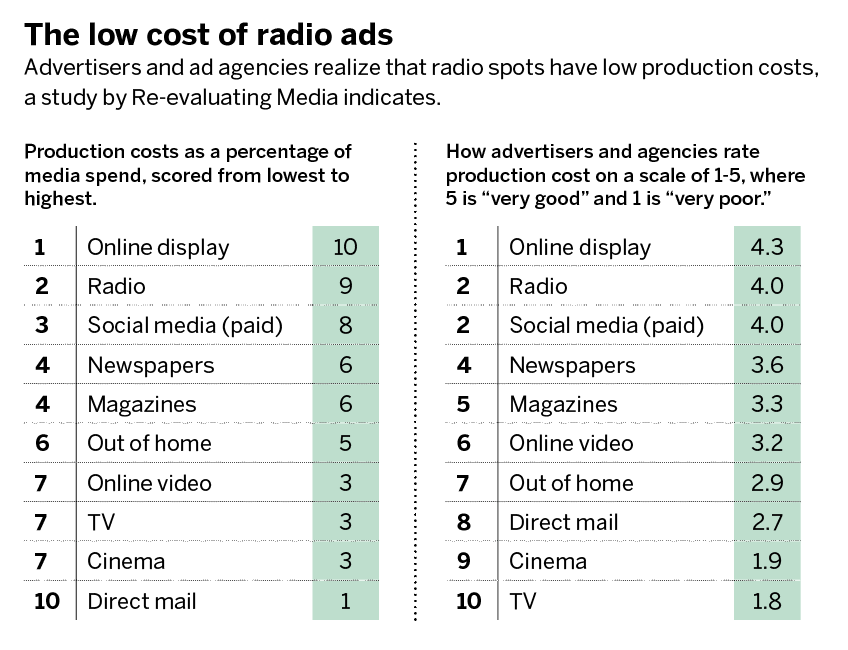 How iHeartMedia Views Itself
Broadcast radio: We have a strong relationship with our consumers, and our broadcast radio audience is almost twice as large as that of the next largest commercial broadcast radio company, as measured by Nielsen.
Digital: Our iHeartRadio digital platform is the No. 1 streaming broadcast radio platform—with five times the digital listening hours of the next largest commercial broadcasting company, as measured by Triton.
Podcasts: We are the No. 1 commercial podcast publisher—and we are two times the size of the next largest commercial podcaster as measured by downloads, according to Podtrac.
Social Media: Our personalities, stations and brands have a social footprint that includes 215 million fans and followers, as measured by Sherablee, which is nine times the size of the next largest commercial broadcast audio media company. This social footprint was at the heart of delivering 310 billion social media impressions of our 2019 iHeartRadio Music Awards and its associated activities.
Events: We have over 20,000 local live events per year and eight major nationally recognized tentpole events, which provide significant opportunities for consumer promotion, advertising and social amplification.
Note: This information is quoted directly from the company's most recent 10-K report.
Kevin Mackie is a financial coach and an analyst at Seeking Alpha.