Restaurant Shocks: Maximum Impact of the Minimum Wage
Raising the federal minimum wage has long been near the top of the agenda for the Democratic party. It's remained stagnant at $7.25 for more than a decade, and Joe Biden wants to more than double it to $15 if he's elected president.
That increase would have a disproportionate effect on the profits of businesses that employ minimum wage workers and, unsurprisingly, a huge cohort of minimum wage workers are employed in the food-service industry.
"Just under three-fourths of workers earning the minimum wage or less in 2019 were employed in service occupations, mostly in food preparation and serving-related jobs," according to the Bureau of Labor Statistics.
Let's examine the general implications of the minimum wage changes for restaurants across the board and then dig into a couple of specific publicly traded companies to elaborate on potential effects.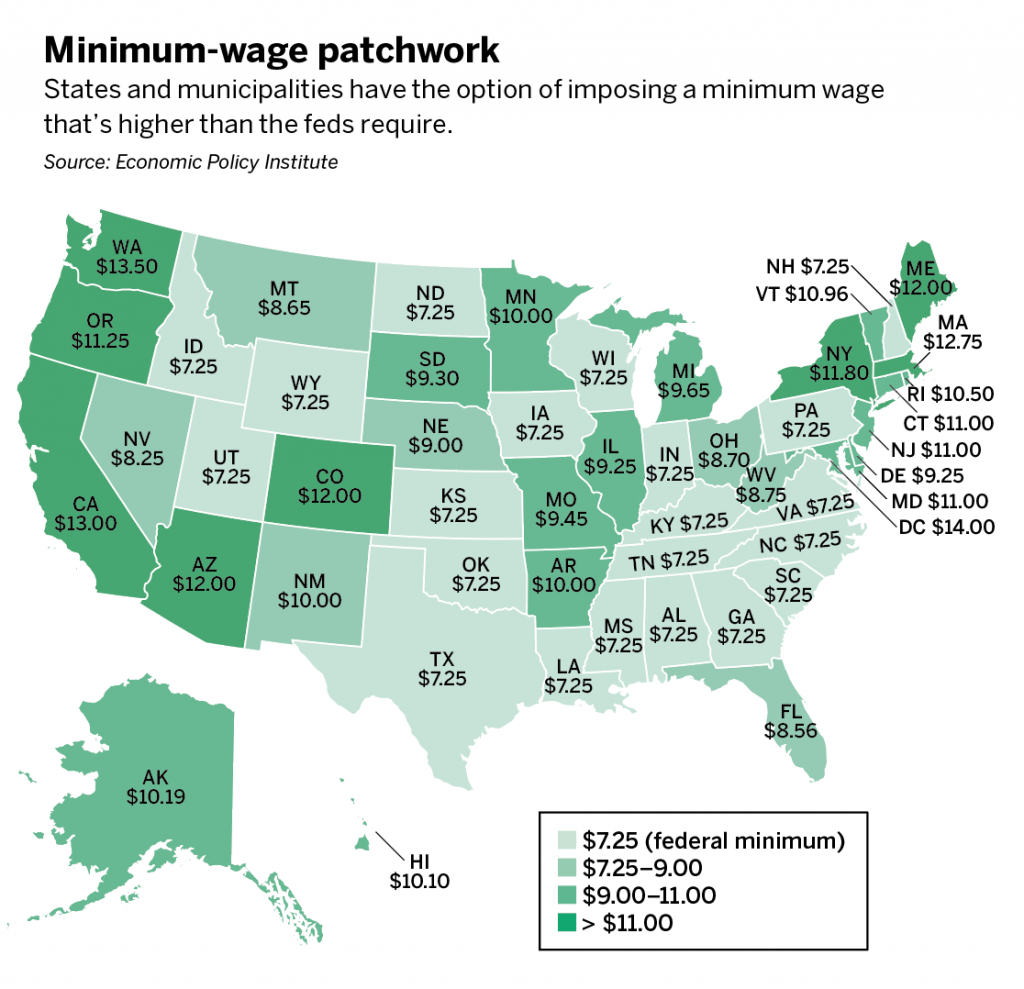 Just the minimum
The federal minimum wage notwithstanding, cities and states retain the right to set their own minimum wage. Seattle, New York City, Washington and San Francisco are already at $15. Many other places have made smaller increases in the minimum wage. (See Minimum-wage patchwork, below.)
On the other end of the spectrum, some 21 states have stayed with the federally mandated $7.25.
A federally mandated $15 minimum would slice into the profits of food-service businesses operating restaurants in states that currently require only the federal minimum. Businesses in California have already been dealing with higher wages for a while and wouldn't experience a swift decline in profitability if this change went into effect.
Companies that rely on the franchise model and operate in low-wage states might have difficulty dealing with an increase in the minimum wage. The fees the franchisor pulls from each franchisee would probably remain the same regardless of a minimum wage hike. That would protect the franchisor's profits but leave franchisees shouldering the increase. That pressure could make it more challenging for franchisees to expand, says David Tarantino, an analyst at Baird Wealth Management.
"Franchisors would have less direct exposure, but profitability pressures for franchisees could hinder investments and growth," Tarantino says. "If franchisees aren't growing, the franchisor will have a hard time growing, too. So, the downside is somewhat insulated for franchisors, but the upside from expansion could be throttled."
A company that's mostly franchise-based and has a strong presence in states that already have higher state or local minimum wages would feel the least impact from a federal minimum wage hike. Conversely, any restaurant chain that owns and operates most of its stores and has a high concentration of locations in low minimum wage states could be walloped.

Getting specific
Let's look at how some specific restaurant chains might cope with an increase in the minimum wage.
A higher minimum might hit hard at Texas Roadhouse (TXRH). The company has only a few franchised locations and does business in states with low minimum wages.
The chain's top four states by location concentration are Texas ($7.25 minimum wage), which has more than double the locations of any other state; then Florida ($8.56), Ohio ($8.70) and Pennsylvania ($7.25). Gross profits would be slashed severely if starting wages more than doubled in Texas and Pennsylvania, which account for 18% of the company's restaurants.
Also, Biden advocates barring eateries from counting tips as part of wages. In full-service restaurants, employers might pay servers only $2 or so hourly, expecting tips to make up the difference. Without the ability to rationalize wages in that manner, servers would make at least $15 an hour, plus tips.
Having to allocate a great deal more money toward payroll would crush some full-service establishments where servers make up a high percentage of the employee base. With plummeting profits, the share price will go down. Lower profits also mean less capital for growth or at least growth that comes with a debt or share issuance price tag. Lower or more expensive growth will result in investors assigning a lower growth multiple to the stock, causing the share price to suffer."
Relative Immunity
Jack in the Box (JACK) could more or less shrug off a higher minimum wage. Of its 2,243 restaurants, only 137 are company-owned-and-operated. In other words, 94% are franchised. The company will continue to collect franchise fees regardless of hikes in the minimum wage. What's more, Jack in the Box locations are mostly on the West Coast and a few other states such as Arizona where minimum wages are already high.
Naturally, Jack in the Box would feel some pressure, especially with a big presence in Texas, but compared with Texas Roadhouse its exposure would seem minimal. Plus, as a quick-service restaurant chain, Jack in the Box has no wait staff and wouldn't have to deal with the wage increase for servers.
Del Taco (TACO), another restaurant chain that works on the fast-food model, also operates without servers. It's been working hard recently to move locations to franchise mode, and only 50% of its locations are now company-operated. But with 62% of of the chain's locations in California, the company and its franchisees have experience in coping with higher minimumwages. That places Del Taco and Jack in the Box among businesses that would be affected less by minimum wage increases.
More trouble
While it makes sense for investors to consider franchising, location, and format when evaluating how an increase in the minimum wage would affect stock prices in restaurant chains, that doesn't tell the whole story.
Companies that supply food and equipment to restaurants would also face pressure with a rise in the minimum wage. In response, they might charge higher prices for the products they sell, striking another blow to restaurants' gross margins.
Bearing all that in mind, investors may want to look at some additional restaurant empires.
Yum Brands (YUM), which includes Taco Bell, KFC and Pizza Hut, has established a sizable international presence beyond the reach of United States minimum wage laws.
Wendy's (WEN) also operates internationally.
Restaurant Brands International (QSR) owns Burger King and Popeyes.
Darden Restaurants (DRI), runs Olive Garden and Longhorn Steakhouse.
Weigh the likelihood of Biden winning the presidency and the likelihood he would make good on his promise to raise the minimum wage. Then position the portfolio accordingly.
Kevin Mackie is a financial writer, analyst and coach.