BUILDING OUT
The pandemic convinced homebound homeowners to extend their living space out onto the lawn
Americans are transforming their lawns into outdoor living spaces by adding self-contained backyard kitchens, designated lounging areas, gas-powered fireplaces and freestanding "she sheds."
The trend exploded when COVID-19 forced most of the nation to stay home. Feeling confined, homeowners were inspired to extend their living space into the outdoors by planting bushes, cultivating turf, building decks, installing patio pavers, creating garden ponds and splurging on weather-resistant sofas.
"We all spent so much time at home during the pandemic that space became the ultimate luxury," said Amanda Pendleton, home trends expert for Zillow Group, a real estate marketplace. "Outdoor space is where we relaxed and where we played and where we entertained."
Life spilled out of the house and into the yard, agreed Drew Reading, homebuilding analyst for Bloomberg Intelligence.
"The pandemic certainly fueled a massive wave of investment into the home because it was viewed as a safe haven—a sanctuary," he said, "and, importantly, it took on more functionality. Over the last two years, the home became the school, the office, the gym, the restaurant and everything else."
The longing to capitalize on outdoor space is reflected in the outdoor segment's growth at Lowe's (LOW) and The Home Depot (HD), the nation's two biggest publicly traded home center chains, Reading noted. The Home Depot's sales related to outdoor home improvement increased 5% in 2019, 29% in 2020 and 8% in 2021, while Lowe's posted sales increases in those categories of 4% in 2019, 33% in 2020 and 5% in 2021, he said.
Sales remain strong
Even though home-center outdoor sales are climbing at a more modest pace these days, they're still climbing. Plus, they're building on an ever-growing base. What's more, homeowners' interest in outdoor improvements appears unabated.
In fact, the desire for outdoor amenities shows no sign of slowing, according to statistics provided by Malcolm Conner, vice president and group general manager of Porch, a company that connects homeowners with movers, contractors and home insurance companies.
Outdoor services accounted for 16% of the requests received on the Porch home services platform during May 2019 and 34% in May 2022.
Those figures roughly correspond with the observations of Chris Egner, president of the National Association of the Remodeling Industry and owner of a Wisconsin-based design, build and remodeling company that bears his name.
"Outdoor improvements have been gaining popularity for a number of years now, and the pandemic kicked that up two-, three- or four-fold," he said.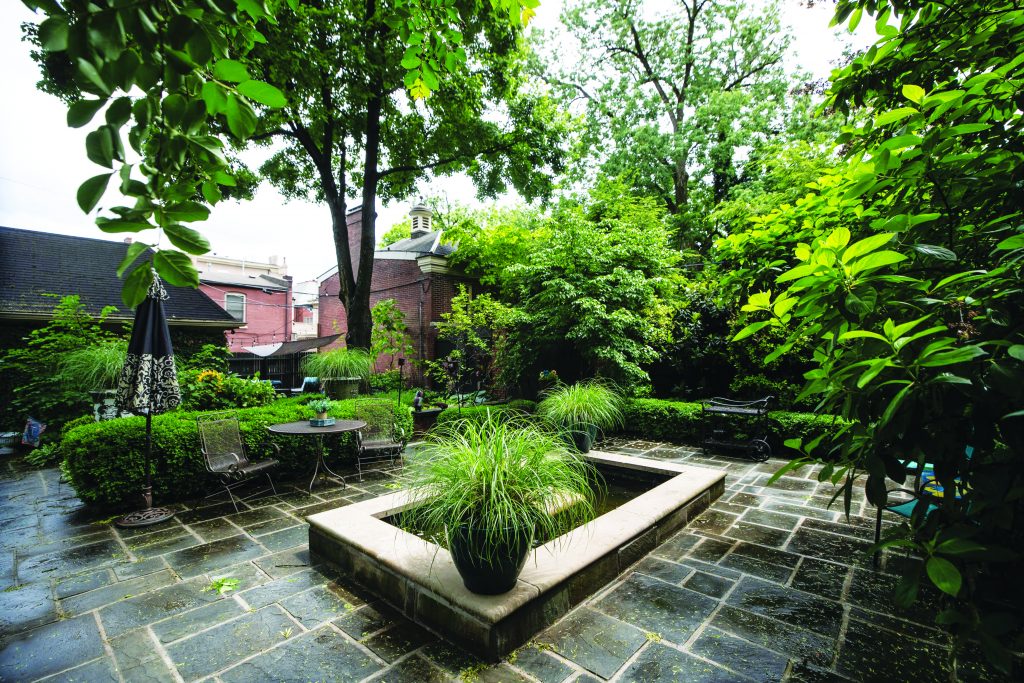 Outside in, inside out
There's plenty of talk about expanding the house into the yard with outdoor facilities that mimic indoor kitchens, sitting rooms and party spots, but Egner noted that the reverse is occurring, too. Homeowners are asking contractors to install bigger doors and windows to bring the outdoors inside.
Accordion doors and multi-panel sliding doors can open 12 feet to 20 feet of wall space, making an outdoor "room" feel even more like part of the house, he said. Homeowners can link an outdoor in-ground pool to the house by building a roof with retractable screens for walls.
Spectacular remodeling projects like these remain pricey, but the cost is coming down and the quality is improving because of the continuing boom in the sector, Egner said.
If those improvements still seem like a bit much, they raise the question of exactly what outdoor luxuries have become most sought after during the pandemic.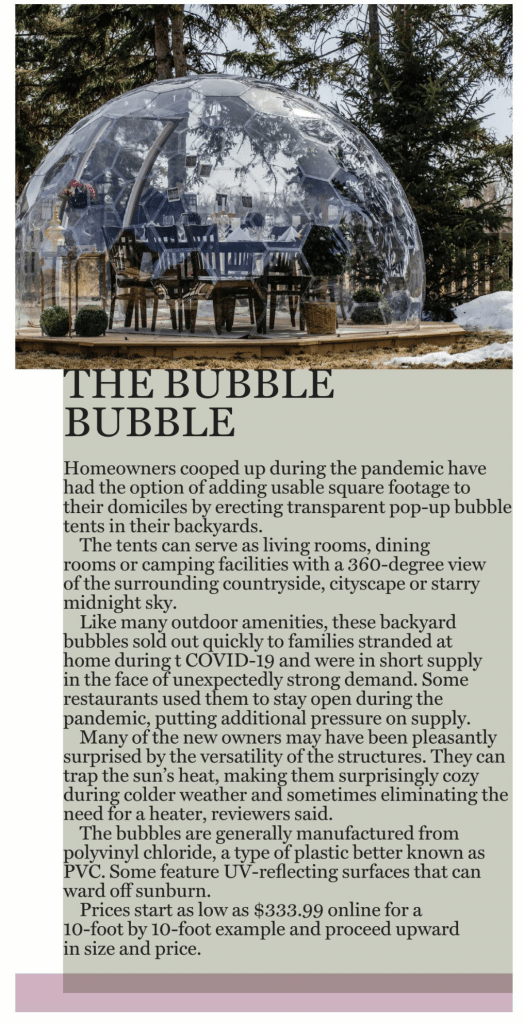 Popular improvements
Quantifying the most popular outdoor projects and purchases isn't easy, according to Reading. "There's not a whole lot of great data readily available on the project level within the outdoor segment," he said.
But solid numbers for Trex and AZEK, two types of composite decking, indicate sales of those products grew by 20% in 2020, climbed 35% in 2021 and are on track to increase by double digits this year, Reading observed.
Everyone close to the industry develops a feeling for trends, and Egner cites outdoor kitchens as highly prized, provided they go beyond putting a charcoal grill on a deck. They should have a gas-fired grill and perhaps an oven in a permanent structure with counter space, cupboards, a sink and often some stools. Other popular outdoor features include fire pits, fireplaces and pizza ovens, he noted.
Home trends reflect the times, including what's hot on cable TV home improvement shows, said Zillow's Pendleton. That includes growing interest in "she sheds"—small backyard outbuildings. "It's the female equivalent of a man cave," she said. "It's an example of a retreat space [just outside] the home where you can go out, you can get some quiet time, you can read a book, you can unwind and relax."
Discretionary dollars
Consumers have had more money than usual for outdoor purchases and projects, thanks to stimulus checks and child tax credit payments provided courtesy of the federal government, Reading said. What's more, homeowners redirected the funds they might otherwise have devoted to travel and dining out, instead using them to improve their homes, he said.
Early on, the pandemic spawned a do-it-yourself craze as homebound amateurs took on projects they'd been putting off, Reading maintained. Besides having time on their hands at home, COVID-shy homeowners were reluctant to open their doors to contractors.
That sudden high demand for DIY materials took suppliers by surprise because they'd cut back production in anticipation of the exact opposite—a COVID-19-induced slowdown. Prices skyrocketed. From the beginning of the pandemic in early 2020 to the middle of 2021, lumber prices soared 500%, Reading noted. They declined around the start of this year and then began another ascent in the spring.
The Producer Price Index for a basket of goods used in residential construction has increased by 40% since the
start of the pandemic, and it's up 7% in 2022, he said. But at
the beginning of the COVID-19 outbreak, not many foresaw
that surge.
"Everybody froze, and there was just so much uncertainty in the world," Pendleton said of the days before the DIY phenomenon ignited. "People didn't know what their lives were going to be looking like in six weeks or six months or six years."
By now, DIYers have apparently accomplished a lot of what they set out to do, and the emphasis is shifting to professional installation. Sometimes, the switch is occurring because bigger jobs require a professional's expertise. Installing a door that opens 20 feet wide, for example, requires structural engineering that wouldn't be needed to pop in a 36-inch exterior door, Egner said.
Some DIY projects can grow into jobs that require a pro, he noted. Lots of homeowners who are handy with tools might have tackled a deck project in the old days, but decks are getting bigger, multiple layers are becoming popular and handrails are taking on ornate qualities. Then there's the issue of complying with building codes.
But economics may have a lot to do with the shift to professional installations, too, according to Reading. Many homeowners who could recently afford DIY projects have hit the wall of what they're willing to pay for materials as costs continue to rise because of inflation, labor shortages, supply chain issues and the law of supply and demand.
Economic conditions also favor a shift to higher-end outdoor home improvement. With high prices for houses and rising interest rates, some homeowners are choosing to stay in their homes and make improvements instead of trading up to a more expensive house.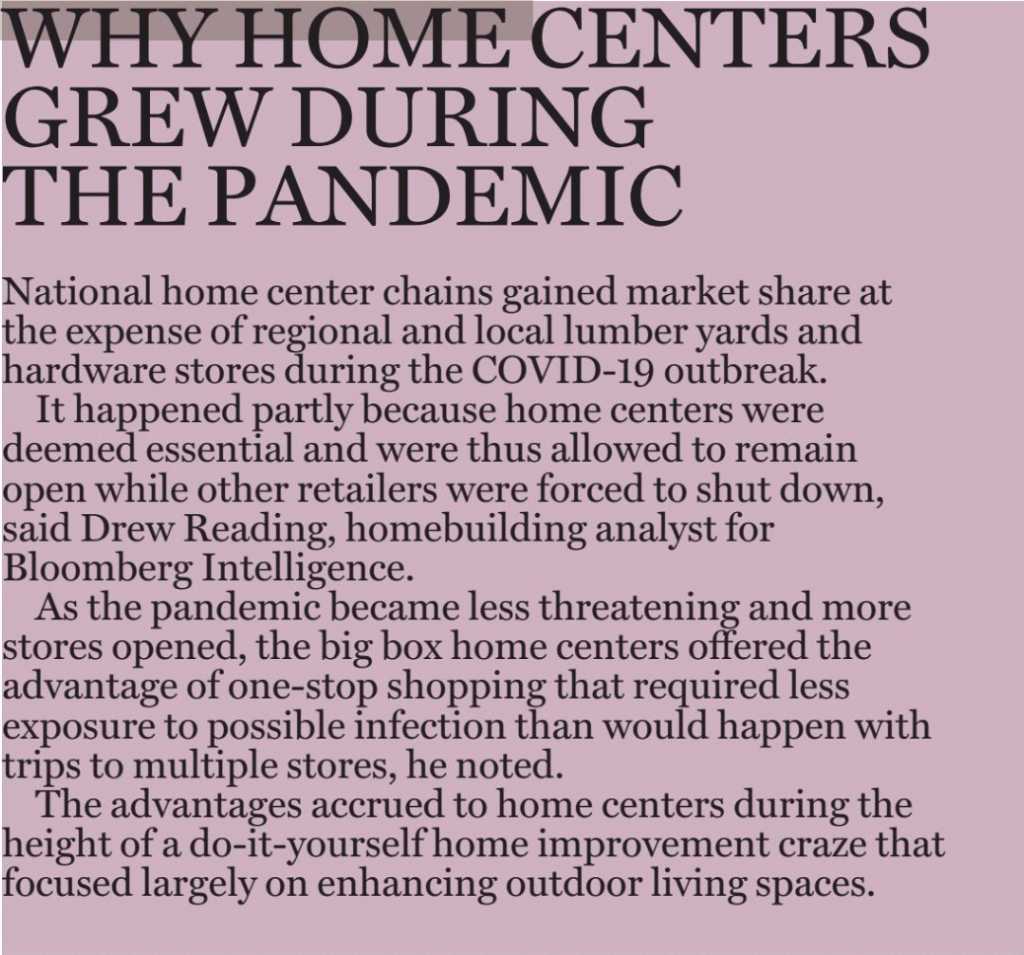 Outdoor projects might even seem inexpensive compared to house payments in today's market, Pendleton noted. "The cost of a monthly mortgage now is more than 50% higher compared to where it was a year ago," she declared.
"Our most recent figures show that home value appreciation has hit a record high in April—it was up more than 20% year-over-year nationwide," she continued. "That signals an incredibly hot market. We've never seen that before."
Home prices may remain high, too. Zillow is forecasting they'll increase another 11% over the next year. Millennials, the nation's largest demographic group, are entering their mid-30s, the prime age to buy their first homes. By 2025, the contingent will form 6.4 million new households.
Home value appreciation provides owners with more equity to draw upon to finance big improvement projects, contributing further to big-ticket outdoor amenities. In addition, sales of new and older homes have weakened, which also bodes well for the remodeling industry.
The urban exodus to the suburbs that many believed was taking place during the pandemic would have supported the outdoor home improvement market. But with a couple of notable exceptions, like New York and San Francisco, it was largely a myth, Pendleton said, based on Zillow's tracking of home sales.

Continuing demand
Strong demand for outdoor improvements doesn't appear likely to end as the pandemic recedes. Many workers may never return to commuting to their offices five days a week. Besides, many have rediscovered the joys of home and family.
But spending on outdoor home improvements may moderate, according to Reading. "Some of the tailwinds we've had over the last couple of years are starting to fade."
Inflation discourages outdoor home improvement, especially in the middle and lower end of the market, he noted. But so far, the high end is keeping the sector alive and growing. If recession strikes, pessimism could tamp down spending in all parts of the sector.
The ROI
Like just about all home improvements, outdoor amenities don't pay for themselves when a homeowner sells the house. On average, home upgrades offer a return on investment (ROI) of 60%. (See "Clear the Decks!" p. 13.) But Egner noted that homeowners will recoup an increasing portion of their investment as the public's fascination with the category continues to grow.
Even if they lose money, the right improvements can increase the value of a home. A fire pit costs less than an outdoor fireplace but adds more to the price of a house when the property sells, Pendleton noted. That means it pays to think about home improvement spending if the house may go on the market soon. But improvements are often about the here and now instead of some unknown future, she said.
"If you're thinking about resale in the near future, you're going to want to be a little bit more strategic," Pendleton advised. "If you're making improvements to make your home more enjoyable, go for it and do it."