Harley-Davidson is finally producing bikes that environmentally conscious younger riders could love. But is it too late for another comeback?

Any list of prominent companies that have been around more than 100 years would probably include Coca-Cola, Kellogg's and Harley-Davidson. Coca-Cola started as a temperance drink, cornflakes as an "anti-masturbatory" cure and Harley-Davidson as America's original freedom machine. Um, I know which one
I'd pick.
The brevity of such lists demonstrates the trials and tribulations of century-long success. Harley's latest earnings report shows its global sales are up 2%, but its sales in North America are down 5%. It's been a rocky road for the bar and shield brand.
Harley is suffering from the same woes that plague loan officers, corporate boards and both political parties: They're running out of rich, old, white men. Harley helped create the biker way of life beloved by many in that dwindling demographic, but can it expand its audience?
Starter culture
Harley-Davidson was founded in 1903 in a barn in Wisconsin. The company will celebrate its 120th Anniversary next summer in Milwaukee, but while thinking about the future, company executives can't help but be reminded of the past.
Harleys didn't truly enter the American zeitgeist until after World War II. The company sent 160,000 bikes overseas to aid the war effort and then brought them back stateside, used and abused. Harley sold them to vets for cheap. You could chop off the FUBAR stuff and do a victory dance all over town with your sweetheart on the back.
These so-called choppers solidified their place in American history during the 1960s. Easy Rider stars Dennis Hopper and Peter Fonda heading across America on their custom bikes, abetted the indelible, iconoclastic image of bikers as individualistic, violent and dangerous.
In the film, Jack Nicholson says to Hopper that "they're not scared of you, they're scared of what you represent." To which Hopper responds, "All we represent to them is someone who needs a haircut." Nicholson offers a delicious reply: "What you represent to them is freedom."
According to Business Insider, "from 1945 to 1970, the number of registered motorcycles on the road jumped from 198,000 to 2.8 million." Harley doubled down on these core customers of disaffected bad boy boomers but it left the rest of the market wide open.
Honda stepped in to market small, easy-to-use motorcycles to people from all walks of life. Ads showed colorful, peace-loving hippies, moms wearing tennis whites and businessmen in suits. "You meet the nicest people on a Honda," the ads chirped.
By the end of the 1970s, Harley wasn't just selling bikes, it was selling a lifestyle. It was Harley bikers versus the world.
American muscle
In 1969, the same year Easy Rider was released, Harley-Davidson was facing bankruptcy and needed a lifeline. AMF, a company known for making bowling equipment, took over the production of Harley-Davidson. Yeah, that makes sense. Take a gander at the AMF Harley snowmobile. Yikes!
During the 1970s, as America was gripped by recession, low-cost bikes from Yamaha, Kawasaki, Honda and even Triumph became popular with Americans, especially the 750cc Hondas. In 1981, a group of senior executives bought Harley back from AMF, but they still needed help.
In 1983, Harley persuaded then-President Ronald Reagan to impose a 49% tariff on imported bikes over 700cc. Harley's net income rose from $2.9 million in 1984 to $4.3 million in 1986. Harley went public in 1986 and continued to rake in cash until the millennium.
In 2006, Harley sold more than 260,000 motorcycles, netting over $1 billion in profit as its core consumer reached middle age. Then came another recession. By the end of 2009, Harley reported $55 million in losses. So the company doubled down on what the core consumer wanted: big, heavy, loud bikes. It worked. Profits ramped back up to $844 million by 2014. But the double-down and a series of stock buybacks really just masked the brand's long-term issues.
OK, boomer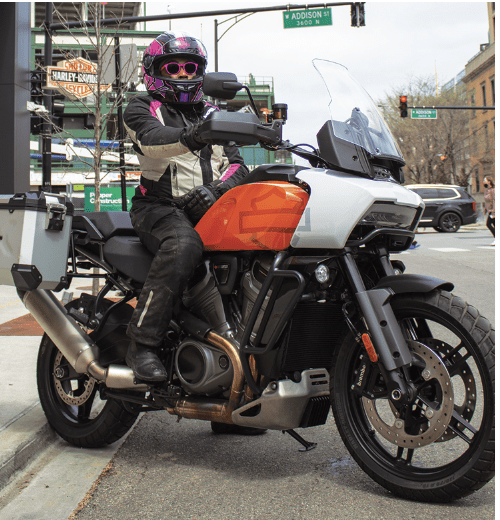 Harley hasn't suffered from a catastrophic decline, but instead a tedious and persistent erosion of a once-great brand. Harley-Davidson has always sold a "lifestyle," but what was cool 40 years ago isn't cool today. We've shifted from The Wild One, starring a delectable young Marlon Brando, to Wild Hogs starring Tim Allen and John Travolta doing Harley cosplay.
What was once the answer has now become the punchline. According to the Motorcycle Industry Council Bureau of Statistics, "In 1985, a motorcyclist's median age was 27 years old. In 2003, it was 41, and by 2018, the median age for a motorcycle rider was 50 years old."
One of Harley's current top-selling brands is a Trike that for all intents and purposes is a chromed-out mobility scooter. After the recession, Harley doubled down on the company's core consumer base of middle-aged white men, but while trying to appeal to millennials, the company has become the New Balance sneaker of the motorcycle world.
In 2018, when then-President Donald Trump levied tariffs on steel at 25% and aluminum at 10%, the world responded by kicking us in the American jewels and imposing retaliatory tariffs on Kentucky bourbon, Levi's jeans and Harley-Davidson motorcycles. Harley had to eat $2,200 on every bike it sold in the EU, so it ramped up production in India, Brazil and Thailand, but that just made the core demographic angry that all of the bikes weren't made inAmerica anymore.
So, what's a brand to do? Remember Honda and the nice, smiling lady on the motorcycle?
The future of the funnel
A YouTube commenter wrote, "Harley-Davidson: Buy the technology of the past at the price of the future." Harley is known for big, heavy bikes that weren't even on the performance spectrum but carry an average price of more than $20,000.
So what's antithetical to old, rich, white guys?
It's me, I'm the solution! I am young (relatively speaking), female and a minority. I'm a triple threat! Did you know that women are the fastest-growing rider segment in power sports? Female riders now account for more than 20% of motorcycle riders.
I have always loved bikes, and my current bike, a Triumph Tiger 800, is light and has a reasonable seat height. It's all tricked out with aluminum panniers but still cost less than $10,000.
Get your motor running
I had never ridden a Harley until last week because I was never in Harley's crosshairs. I'm manufacturer agnostic, just looking for the best bike that fits me and helps me attain my goals as a rider.
But, I got to test ride Harley's brand new Pan America 1250 Special, and I'm still picking my jaw up off the floor. First, a short primer on Adventure (ADV) motorcycling. Most people can name only two types of motorcycles: Harleys (cruisers) and crotch rockets (sportbikes). But there are other types of motorcycles.
The fastest-growing market is the ADV or adventure segment. It's a class of bikes, not one specific bike. ADV bikes have various displacements, on- and off-road capability, and luggage or bags for traveling great distances and carrying camping gear.
If Harleys are the bad boys of the motorcycle world, ADV bikes are the nerds. Seriously, my bike looks like a riding mower and a robot had a baby.
Pan America has been a stunning success in a segment of the industry prepared to hate it on sight. Harley-Davidson Senior Public Relations Manager Paul James told Forbes: "Really, we were aiming at customers who had never set foot in a Harley-Davidson dealership before—and saw no reason to. This is a motorcycle aimed at them—something they see themselves on and will give us a shot because it is an outstanding motorcycle and very competitive in the space."
The way Harley turns itself around is not to lean more into the brand, but to lean away from it. The branding on the Pan America is minimal. There's not a lick of chrome, and the bike features Harley's new 1250 revolution max engine. Finally, it's a Harley that shows up on the performance spectrum. This bike puts down 150 hp, and the company shockingly sold more than 2,500 units last year.
Chicago Harley-Davidson Wrigleyville was kind enough to loan me a bike for a day, and I was super impressed by the fit and finish of the bike. It's heavy at 570 pounds but that's almost Kate Moss-like compared to Harleys that can weigh over 900 pounds.
BMW leads the ADV market, and its R 1250 GS Adventure bikes set the standard. But BMW apparently believes that everyone is a tall German man, and the seat height is alarmingly high, at around 35 inches. ADV bikes are tall to maneuver over off-road terrain such as rocks.
Harley's Pan America adaptive ride height (a $1,000 option), allows the bike to "sink" one to two inches when the bike comes to a stop. Then the bike raises itself as you gain speed. I am 5 feet 2 inches tall with a 31-inch inseam, and I had no problems mounting the bike and stopping with confidence.
The weight of the bike disappears when you start moving. The engine is buttery smooth, and riders can choose among modes to customize how much power the bike puts out.
The bike has all the technical features of other premium ADV bikes, and the reviews have been outstanding. The only caveat is it's still pricey at an average, out-the-door price of $24,000.
An electric future
Electric motorcycles are an integral part of Harley-Davidson's "Hardwire" plan to restructure the company. Last year, Harley announced it was spinning off its LiveWire bikes as a new brand called LiveWire One.
Harley dealers will offer the new standalone nameplate in kiosks to separate the bikes from the gasoline-powered models. The company is also reducing the price of its first electric bike from $29,979 to $21,999 (not including state and federal EV credits).
I took a trip down to Chi-town Harley-
Davidson in Tinley Park, Illinois, to test one out. The bike is small, but classic looking, with a stylish round headlight, sleek design and a comfortable seat. Because the bike is electric, there's no gear shifter or a clutch. Hop on, twist the throttle and you're off.
The"po-tato, po-tato" sound of a classic V-twin is gone, replaced by a zippy whir. The bike has a reported range of 140 miles per charge, but reviewers found that number varied based on how they rode. The bike can recharge within an hour on a fast charger or in eight to 10 hours using the 110-volt outlet at your house.
I brought my GoPro with me to record my ride and the first five minutes of my footage is just me going "ahahahahahaha wheeeeeeee" in my helmet. It seriously feels like you're in Tron. This is the closest thing to a perfect urban bike I've ever ridden—no tired clutch hand from stop-and-go traffic, or boiling temps between your thighs as your bike overheats in traffic. It's torque-y and fast and, honestly, a total delight.
So now what?
During the dealership visits for my demo rides, I was by far the youngest person looking at bikes. But motorcycles bring people together, and I had a blast talking about Harley with dudes who have been riding longer than I've been alive.
The Pan America and LiveWire should encourage lots of riders to look at the company's bikes for the first time. The new Harley-Davidson revolution engines at 975cc and 1250cc displacement are also on track to put the bar and shield back in the spotlight.
We hope the company hasn't tried to pivot too late, and what was once sacred won't become sacrilege. It's not easy being 120 years old, but Harley is sincere in its desire to change. These may have been the first Harleys I've ever ridden, but I'm sure they won't be the last.
Vonetta Logan, a writer and comedian, appears daily on the tastytrade network and hosts the Connect the Dots podcast. @vonettalogan