Happy Glamper
A longtime camper ditches her rustic tent for a more luxurious take on enjoying the outdoors
When most of us drive home after work, the thoughts running through our minds are mundane at best: "Ope! I gotta run by Target real quick." But for entrepreneur Irene Wood, a drive after work led to the creation of the Midwest's premier destination for glamping.
When she noticed a 30-acre blueberry farm with the Black River bisecting it was up for sale, she knew her after-work stop would cost more than a trip to Target. Wood had always wanted to capture the nostalgic feeling of camping in a way
that connects visitors with nature and the outdoors, and that's how she created an idyllic
oasis called The Fields of South Haven, Michigan.
Slightly scarred from childhood camping trips with her brothers cooking cans of beans over an open fire, Wood's version of glamping comes with 400-square-foot luxury tents equipped with electricity, a
king-sized bed, an en suite bathroom with a rain-style shower and an electric fireplace for heat.
She opened The Fields in 2018 and this year doubled the number of luxury tents to 19. The Fields operates on that working blueberry farm and features a communal food hall, two massage huts, a communal fire pit and a newly planted lavender field.
Setting up glamp
As a longtime camper, I decided to up my game and try glamping. In early June, I rode my Triumph motorcycle the 125 miles from Chicago to South Haven, a jewel of a lakeside town in Michigan's Harbor Country. After parking my bike in a field overlooking rows and rows of blueberries, I was greeted by friendly staff members who chauffeured me and my belongings to a tent.
We drove up a path lined with cedar chips to the spacious and well-appointed tents from Montana Canvas. In front of each tent is a private fire pit surrounded with Adirondack chairs. A cute bistro table and chairs are positioned on the deck, complete with a plaid tablecloth and a Mason jar filled with local wild flowers. My tent faced the river and my first thought was, "OK, she did the damn thing. This is super swaggy."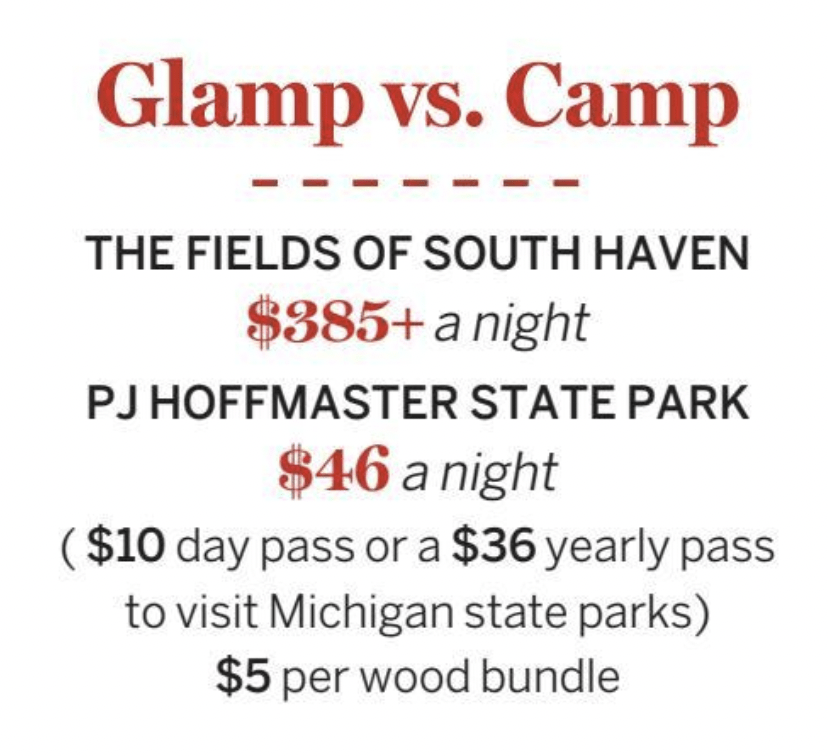 Unzipping the tent, I stepped into a world of luxury. The enormous bed was swaddled in rustic-chic linens. A small leather chair was nestled in the corner, perfect for curling up to read a book. A secretary desk was filled with board games and other thoughtful touches, like fire-starters. The tent also comes equipped with a bathroom and shower. Guests are free to unplug and unwind in a variety of ways, but there's no Wi-Fi, and that's intentional.
I'm an experienced camper and probably camp an average of 25 nights a year. I had never been glamping because I like to be miserable so I can brag about it later. But now, as I age, I'm considering staying at places like The Fields more often. Wood and her husband, Cary, have been very deliberate about the atmosphere they design for guests, but they're also determined to make sure everyone has a unique experience.
"We put back every cent we make into the resort," Cary Wood said. "It's not a labor of profit for us—it's a labor of love."
The resort was fully booked during my stay, and most of the guests were repeat visitors. A couple from Chicago had visited the property four times and was accompanied by friends who had been twice. Another couple had just flown in from the West Coast on their private jet to visit The Fields for a second time. A group of four ladies who were enjoying a girls' weekend were also repeat guests.
A visitor named Hilary compared it with other glampgrounds: "We did Under Canvas in the Smoky Mountains," she said. "It was more rugged than this. The finishings here are more luxurious, but the setup is similar."
A Midwestern feel
The vibe was friendly and open at The Fields. It's the Midwest after all, so while the guests are well-heeled, they're more Detroit than Davos. Dinner is served at a communal table under the stars while a local musician softly plays acoustic guitar. The Fields' chef, Cameron, is a culinary virtuoso. He got the gig by promising: "Let me cook what I want, and you won't be disappointed." The Woods agreed.
My four-course dinner included Cameron's burrata caprese salad with raspberry jam and a deconstructed chicken ballotine wrapped in its own crispy skin and served with a beurre blanc so rich and delicious that I almost licked the plate. It sure beats the freeze-dried backpacker meals I normally consume on my camping trips. I'm never camping without Prosecco or goat cheese and broccolini again.
At dinner, as the temperature dropped, Irene reminded guests they could preheat their beds and everyone giggled with delight. After devouring a scrumptious slice of cheesecake, I bid adieu to my new friends and headed back to my tent.
I camp in temps down to the 20s, equipped with a heavy duty sleeping bag, insulated pad, base layers and bag liner. At The Fields, I simply pushed a button, and even though it was in the 40s, I was toasty warm. I will forever be a fan of not having to do the "boot scoot" out of a warm sleeping bag and into the frigid morning temps to answer "nature's call."
Breakfast is served on-site, and it's just as good as dinner. I asked other guests about their plans for the day, and they mentioned the many amenities The Fields has to offer. Some guests were going to ride bicycles on the Kal-Haven trail to Lake Michigan, others were getting massages and one group was attending a wine tasting.
Every inch of the property is custom-made for Instagram. Yes, some catch-phrases are tossed around, such as "farm-to-table," "locally sourced" and "environmentally conscious," but none of it is forced down your throat. It's a curated—yet, wholly authentic—outdoor experience.
Studies prove nature rejuvenates, and trips closer to home are appealing to stressed-out urban dwellers seeking "travel-revenge" for the time lost to the pandemic.
I can honestly see why people keep coming back to The Fields. It isn't merely a field full of blueberries—it's a gateway to the outdoors filled with unique experiences.
Learn more about glamping at Thefieldsofmichigan.com.
Vonetta Logan, a writer and comedian, appears daily on the tastytrade network. @vonettalogan