Meet Flippy—White Castle's Most Agreeable Employee
The burger chain's robot gets the onion rings right every time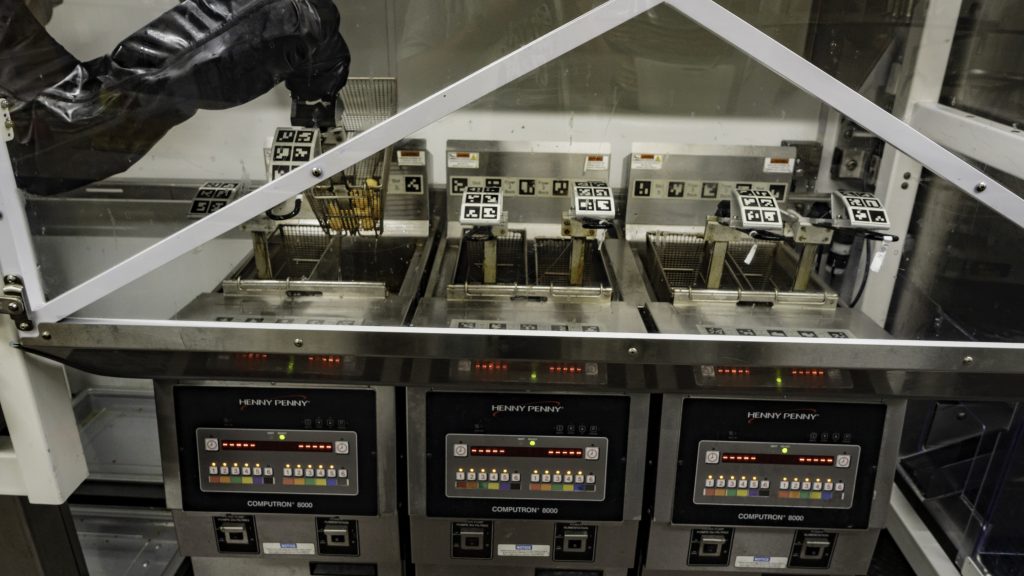 When you think of food innovation, the mind naturally wanders to Silicon Valley tech bros wearing lab coats over Patagonia vests and calculating ways to hack nutrition.
Remember Soylent, the "food" horribly or brilliantly named after the cannibalistic movie? It was marketed as a "meal in a can" so you'd never have to think about meal prep.
The point is you align your thoughts on food innovation with young experimenters at the nexus of the tech universe. You don't think of White Castle, America's first fast food chain, which has been making hot and tasty sliders since 1921.
But you should. For the Luckbox food issue, we traveled to a White Castle just outside Chicago in Whiting, Indiana, to eat food fried by a robot.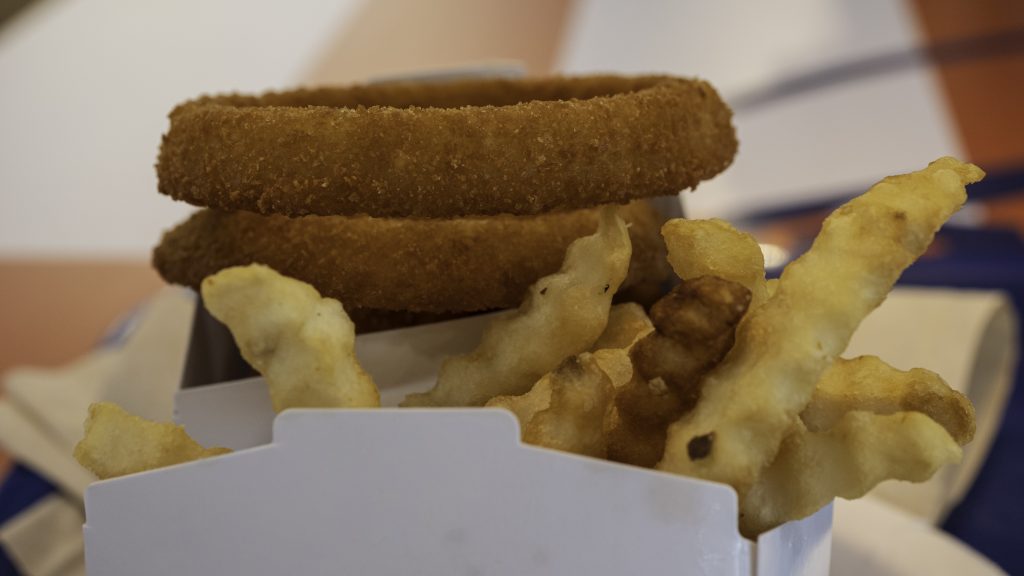 Flip Club
In 2022, White Castle, a family business based in Ohio that owns and operates more than 350 stores, announced it was rolling out the Miso Robotics robot arm called Flippy to 100 of its locations.
Now in its second iteration, Flippy 2 (electric boogaloo) "takes over the work for an entire fry station and performs more than twice as many food preparation tasks compared [with] the previous version, including basket filling, emptying and returning," Miso Robotics said in a statement.
Flippy 2 uses AI to identify White Castle sides, such as chicken rings, french fries, mozzarella sticks and onion rings, which it then autonomously prepares for customers.
Jamie Richardson, White Castle vice president, told Luckbox how a historic company became the leading edge of food innovation. "I think for White Castle, innovation is something that we embrace because it allows us to better express our heart for hospitality," he said.
The first version of Flippy, tested in a Chicago-area restaurant in 2020, required a lot of steps and needed the assistance of two human team members. Flippy 2 is less obtrusive and more independent, freeing the team to focus on other tasks.
"Flippy's really grown tremendously in terms of just versatility and being able to better manage orders and get more done quickly and gives us a certain level of absolute consistency that we're really thankful for," Richardson noted.
The human league
Some 65% of restaurant owners say finding workers is their main issue, according to Fox Business. Take a stroll through any mall, and you're likely to see help wanted signs fluttering forlornly in the breeze as potential workers stay home to focus their webcams on their feet for their Only Fans hustle.
Richardson is adamant that Flippy 2 is a workplace enhancement, not a replacement for human workers. "It's been amazing to see the warmth with which Flippy has been welcomed to the team," he said. "Team members say, 'Hey, this is like any other investment you make. It makes our jobs and our life easier.'"
Standing in front of a scalding hot deep fryer and getting popped on the forearms by hot oil for hours on end is not a super fun time. Flippy 2 is an enclosed robotic arm that liberates workers from the deep fryer. Richardson says the integration of Flippy at White Castle has "been amazing to see the warmth with which Flippy has been welcome to the team."
Most White Castles operate 24 hours a day, and a robot never calls in sick only to show up later in Instagram photos on their cousin Jeff's jet ski.
Fry me a river
In the interest of science? Journalism? The munchies? I decided to hit the road and see Flippy 2 in action. The White Castle in Whiting was built in 1935 and recently remodeled to showcase the chain's new foray into technological innovation.
The drive-thru features an AI-powered menu board that takes customer orders and a Flippy-equipped fry station. The newly designed store is sleek, modern and the cleanest fast food restaurant I have ever set foot in.
The open concept kitchen enables customers to see Flippy in action. White Castle District Supervisor Dianna Williams served as our guide into the world of Flippy. In 2020, during White Castle's pilot test, Williams oversaw the first Flippy and helped provide feedback to upgrade the capabilities of Flippy 2.
After a customer's order is taken, the information is displayed on Flippy's graphic interface, and a human team member selects the corresponding food from drawers just to the left of Flippy. The team member places the food in Flippy's metal bins and the fry sequence begins.
No more human intervention is needed. Flippy takes the food from the bins and drops it into a metal fry basket. Deftly placing the basket in the deep fryer, Flippy patiently waits the precise amount time for the food to cook, never getting distracted by TikTok or some hot office gossip.
Flippy plucks the basket from the oil, gives it a shake and deposits it onto a warmer tray to be packaged by a human. I watched, enraptured, like a kid seeing an automated car wash for the first time.
Indefatigable, the robot arm reaches for bins full of customer food time and time again, never needing a break. A black, rubberized sleeve protects the robotic arm from the hot grease, and an enclosure protects employees from the robot.
Williams remarked that White Castle's side item/deep fry menu has more than 21 possible combinations of sizes and options, but Flippy cooks each one with precision.
What's it like working with Flippy? "Oh, he has an attitude sometimes," one employee noted with a laugh.
I went all in with my order and asked for onion rings, chicken rings, mozzarella sticks and classic french fries. Flippy prepared my feast, and the food came out hot and fast. Everything was perfectly fried.
Anyone who has ever reached into a soggy bag of fries or grabbed a fry browner than George Hamilton knows fast food prep can be a hit or miss. But at White Castle, the crinkle-cut fries were crisp on the outside but fluffy on the inside. The chicken rings' outer breading was crunchy and well-seasoned, and the chicken on the inside was juicy and tender. The mozzarella sticks were fried to perfection, while still allowing an Instagrammable pull of gooey, melted cheese. Imagine having this experience every single visit.
Future of fast food
According to the Miso Robotics website, Flippy's pricing starts at around $3,000 a month. As labor costs skyrocket, $36,000 a year seems like a good investment.
Miso Robotics is also working with Buffalo Wild Wings (BWLD) on a wing-cooking robot named Wingy. Sweetgreen (SG), the salad chain, has launched an automated restaurant in Naperville, Illinois. Reporters at the 2022 Beijing Winter Olympics had some of their meals prepared and served by robots.
And, taking a page from White Castle's book, franchisers like Sonic (SONC), McDonald's (MCD) and Checkers are looking to AI to streamline orders. No word yet on whether there will ever be a sushi-making robot, but I've got mozzarella sticks to tide
me over.
Vonetta Logan, a writer and comedian, appears daily on the tastylive network. @vonettalogan