Relentless ambition turns a solo act side hustle into a multi million-dollar business
A dream job wasn't enough for Emily Vaca—she always had a part-time entrepreneurial project underway, too. Eventually, the St. Louis native who became a Chicago transplant hit upon a side hustle that fit her so well that it grew into her full-time pursuit. In fact, her startup expanded by 1,500% last year and looks to explode by more than 3,000% this year.
Vaca discovered her life's work on the rooftop deck of her apartment building. Her desire for a swimming pool light enough that it wouldn't fall through to the floors below led her to design, manufacture and market an inflatable model. It's not a little kiddie pool with cartoonish embellishments. Instead, it's big enough for grown ups and attractive enough to suit sophisticated tastes.
But MINNIDIP didn't happen overnight. Vaca came to the Windy City 15 years ago to pursue a bachelor's in art and design at DePaul University. The day after she graduated she began working at an agency where she helped breathe life into brands by producing TV commercials and designing everything from logos to packaging. Clients included Anheuser Busch, Goose Island, Kraft Foods and General Electric.
Vaca's creative bent came naturally, almost by inheritance. Her mother created studio art and lettering. Dad urged her to study law but actually nudged her toward following him into graphic design by teaching her Photoshop in the 7th grade. She even flirted with singing and songwriting in high school.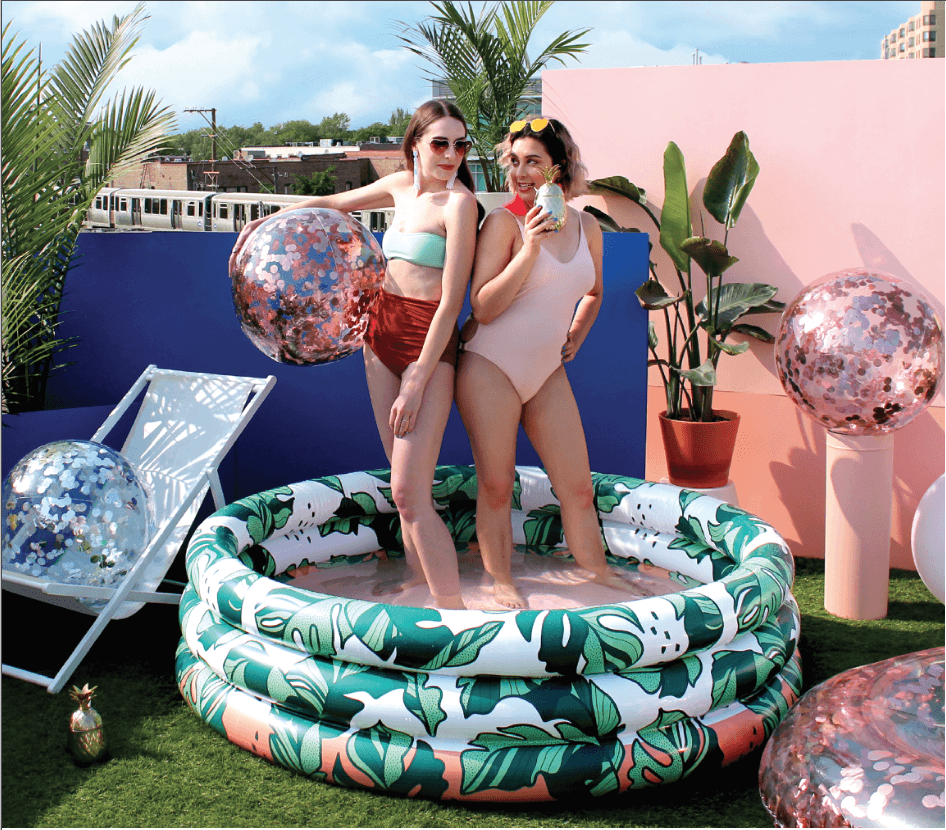 Creative drive fueled Vaca at work and in her sidelines. For years, she's scrimped on sleep, waking at 4 a.m. to freelance or create her own businesses before showing up for a hectic day at the office. "I live off of coffee to this day," she admits, adding that entrepreneurs have to be self-starters driven to search for more than a 9 to 5 job can provide.
In 2012, Vaca started a business called "Sugar & Gold," which combined her father's nickname for her with a symbol for the precious results she sought. The name changed to "La Vaca" because it seemed more "ownable" and incorporates her married name—even if it does translate to "cow" in Spanish. The business centered on weddings, providing designs for everything from invitations to hand-made piñatas. She even started a blog to share ideas and projects she used in her own wedding. La Vaca services also include creative direction, art direction, product design, content creation, styling, branding, photoshoot styling, website design and help with invitation suites.
Nothing's wrong with those design-house businesses, but a lot of people engage in them. Vaca wanted to be first to market with a product. And she dreamed of seeing something she designed find a place on the shelves of one of her favorite stores: Target. Like so many designers, she's enthralled by the Target look. "I'm obsessed with Target," Vaca says. "I spend at least three days a week there. I wanted (my product) to be something I would want to see there when I walk the aisles as a customer."
But what would Vaca offer Target? Then it came to her. Even though she hadn't grown up on a farm, she had fond memories of soaking in an outdoor metal tub designed to hold water for livestock. But her husband cautioned her that a metallic tub filled with water might test the strength of a Chicago roof. So she decided to design an inflatable pool that she'd be proud to display when entertaining friends. Once she thought of it, it seemed obvious. "How is this not being done yet?" she asks when she looks back.
Thus began a two-year search for a manufacturer willing to take on the project. Secrecy demanded that Vaca avoid companies that already manufactured pools because they could pre-empt her idea and beat her to market. Other manufacturers either laughed off her project or admitted they weren't capable of pulling it off. "Nobody in the U.S. would do it," she recalls, noting that companies she contacted wanted to work on medical equipment or defense contracts.
Finally, Vaca found a manufacturer with operations here and abroad to take on the pool project and get her to market with a soft launch in 2017. That helped prove there was a market before approaching retail buyers. She later moved on to another overseas manufacturer that could handle the job.
Vaca was savvy enough to know she had to determine which departments were appropriate for her pools at her No. 1 store choices, Target and Bloomingdale's. That way, she'd be talking to the right buyers. Her expertise in television, photography and design yielded product shots that piqued the interest of the buyers, and her email messages to buyers showed the appropriate understanding of branding and affection for the stores. She was speaking the right language—visually and verbally—to find coveted space in big name stores.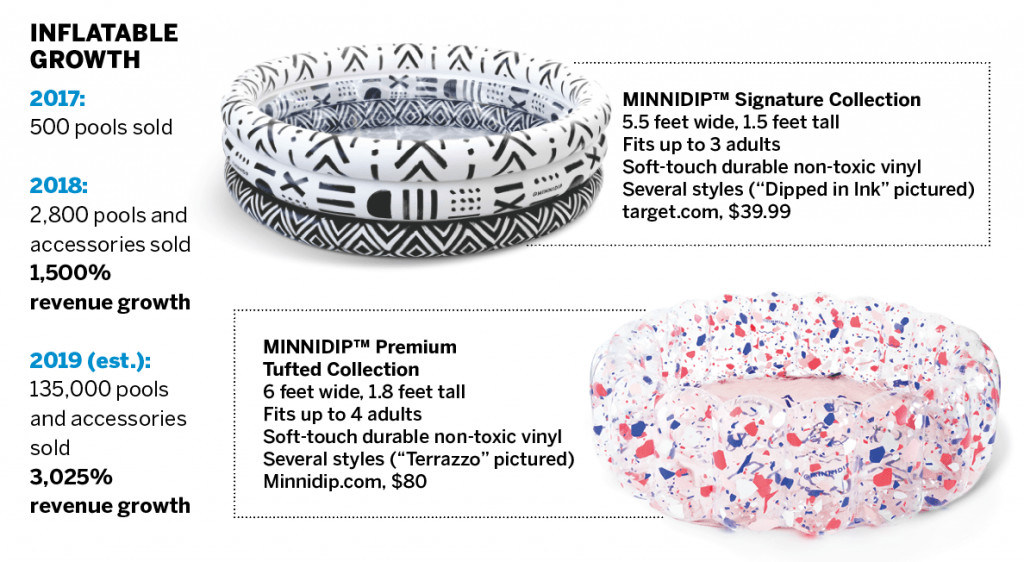 And Vaca had the right product to sell. Her pools fit the design-conscious ethos of Target, and her premium line matched the style esthetics of Bloomingdale's. And the store buyers soon learned they were talking to the right person. Buyers weren't spending time with a sales rep. They were communicating with the designer who had made ideas a reality.
After working on MINNIDIP for six months, Vaca quit her job at the agency and went full-time with her company. She had launched the business with loans from family and friends and managed to retain full ownership of her enterprise. Understanding the underlying accounting of the business helped ensure the fledgling company had the financial backing to sustain it.
"As soon as I quit, it really was a game-changer," Vaca maintains. "I could focus and everything opened up really quickly and I could scale so much faster. You have to go in like this is it. It's going to happen."
Last year, Vaca added lines of beach balls and swim rings with festive confetti inside. "It's really easy to party with these products," she notes with a smile.
Birth of a Product Line
MINNIDIP, the first designer collection of inflatable swimming pools for grownups, has grown from nothing into a multi million dollar undertaking in just two years, thanks to founder Emily Vaca. She knew she'd enjoy entertaining friends in and around a pool light enough to adorn the rooftop of an apartment building but serious enough to appeal to discerning adults.
Apparently, consumers and retailers think the same way.
More than 100 stores nationwide are carrying her pool and pool-related products, which range in price from $39.99 to $80.00. Some of the larger U.S. retailers that offer her wares include Target, Bloomingdale's and American Eagle Outfitters. In Canada, Indigo sells her products. Independent boutiques and smaller department stores across the country are also displaying the pools.
So far, sales on the MINNIDIP website account for 10% of the company's volume, with 90% flying off the shelves of bricks-and-mortar stores, according to Vaca.
In 2017, the company sold 500 pools, but sales volume rose to 2,800 units last year, when pool accessories joined the lineup. This year, the company had manufactured 135,000 units before the end of May, a figure that reflects the number shipped to retailers and those still in her inventory.
Designing and marketing the pools came naturally enough to Vaca, who came of age in the advertising business. But naming her creation almost stumped her. Working from a list of 500 potential monikers, she sweated out the name game for three months.
"MINNIDIP kept coming up," she says of the naming challenge. "I started to think about the branding and what I loved most about MINNIDIP, she recalls. "I decided to go with it (because) it worked as a noun and a verb, which I think it is very important when you think about branding a product." Another slant on the name MINNIDIP also appealed to Vaca. "It is a play on the phrase 'skinny-dip,'" she says, noting the double "N."
The first three designs for the pools were called "That's Bananas (Leaves), Just Add Water(melon) and "Donut Forget Your Sunnies." Seven designs didn't make the cut and thus weren't produced. Currenty the signature pool collection has seven designs.
Now, the MINNIDIP collection has expanded to the pool party aids that are becoming available this summer at Target stores and online at MINNIDIP.COM, along with the other independent boutiques and stores. They include inflatable coolers, beverage coolies, beach balls, inner tubes, towels, balloon garlands and party invitations under $26. MINNIDIP also has a new Tufted collection with 3 designs that will be sold at Bloomingdale's and selected retailers for $80.
Rocio Villaseñor is an editorial assistant at luckbox magazine. She holds a master's degree in journalism from Columbia College Chicago.