Blink-182 Edges On Classic Pop-punk
The band, reunited with founding member Tom DeLonge, releases their latest single Edging—a classic, yet matured, punk anthem
A definitive Travis Barker drum effect kicks off Blink-182's newest single, Edging, leading right into the first verse sung with the pop-punk accent of a mature Tom DeLonge. It's a setup purposefully reminiscent of the band's self-titled era song, Feeling This, giving fans exactly what they'd hoped to hear after 10 years since DeLonge was last in the band.
Earlier this week, Blink-182 made the long-anticipated announcement of their reunion with DeLonge, founding member who left the band in 2012 after their album Neighborhoods. Since DeLonge's departure to focus on his projects Angels & Airwave and To The Stars, Alkaline Trio frontman Matt Skiba has filled in for the past seven years. DeLonge thanked Skiba in an open letter on socials and recognized him as "enormously talented."
Last year, bassist and co-frontman Mark Hoppus announced he was diagnosed with a serious case of lymphoma cancer and underwent treatment for several months. The announcement seemingly rekindled DeLonge's relationship with Blink-182 band members when he posted on Instagram that "Mark's cancer really put things in perspective."
With Hoppus' cancer-free announcement toward the end of 2021, rumors emerged of an original Blink-182 return. DeLonge continuously posted random throwback photos of the band on his socials and added Blink-182 back into his bio on Instagram which had been absent since he left 10 years ago.
Along with the reunion, the band announced a world stadium tour in 2023-2024 and a full album release. The band's news came via a video on all of their socials surrounded by a long-standing joke: "We are coming." It captured the essence of a 1999 Blink-182 where immaturity and an I-don't-give-a-fuck punk attitude is at the core of their ethos. Even the title of their first single stays true to what made Blink-182 a pioneering force in pop-punk in the early 2000s: Out of pocket sex jokes.
Last year, during my interview with DeLonge before his Lollapalooza Chicago performance with Angels & Airwaves, he remembered when Blink-182 headlined their first arena show in San Diego. All sweaty and amped up after his show, he walked backstage to where his mom was standing and watching the performance.
"I was expecting her to run and say, 'Oh my God, I'm so proud of you.' Instead, she runs up to me and she goes, 'I have never heard someone with such a foul mouth in my entire life.' And I was just like, 'It's what we do,'" DeLonge said.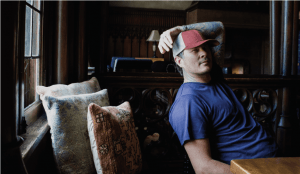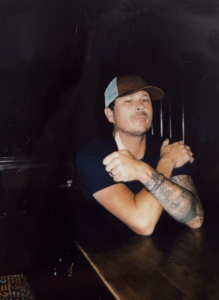 As for the essence of Blink, DeLonge noted that their lifestyle and aesthetic was that of dirty, punk skateboarders, yet their music was a bit more upbeat.
"You'd hear the music from Blink, and it sounded poppy. It's catchy, but people didn't understand, except the core fans, that it was a rebellion against really broken homes. All three of us came from really bad homes. And so when we played music, it was about extreme fun, extreme humor, play as fast as we can to just bust out of our fucking homes and get the fuck out of there. And because if we ever talk about what was happening, it's a bummer," he said. (Read the full interview here: Punk-rocker Turned UFO Researcher)
Although older now, that attitude toward making music hasn't quite changed for the band. It's an escape from the ordinary day, and a reason to step outside of one thing and walk into something completely different. In Edging, DeLonge's opening lines "I'm a punk rock kid, I came from hell with a curse," are no different from lyrics of their 2001 song Give Me One Good Reason, "I like the ones who say they listen to the punk rock / I like the the kids who fight against how they were brought up."
Blink created a lifestyle around their music and the pop-punk genre, and although Edging has a more mature and clean production sound, it doesn't stray far from their typical antics.
The song is an ideal blend of their angsty 2003 self-titled era and their 2016 California album, which was written and recorded with Skiba. After years without hearing the classic DeLonge and Hoppus duo bounce vocals off one another, it's also a nostalgic tearjerker.
Listen to Blink-182's latest single Edging, and you might hear similarities between that and the band's 2003 song Feeling This.
Pay attention to the layers of the song. It's poppy. It's catchy. Their songs are rhythmic, but they're using real instruments rather than synthesizers or overdubs. This is what made Blink-182 a driving force in the pop-punk genre, which the music industry is seeing a revival in.
Keep up with the band's upcoming world tour and new album release here.
Kendall Polidori is The Rockhound, Luckbox's resident rock critic. Follow her reviews on Instagram and Twitter @rockhoundlb.