Kurt Vile Lets His Guitars Do The Talking
The Beatles, Stones and Zeppelin were awesome—but rock lives on. Why not break out of the classic rock cocoon and give new music a chance? Rockhound is here to help. Think of it as a bridge from 1967 to today and beyond.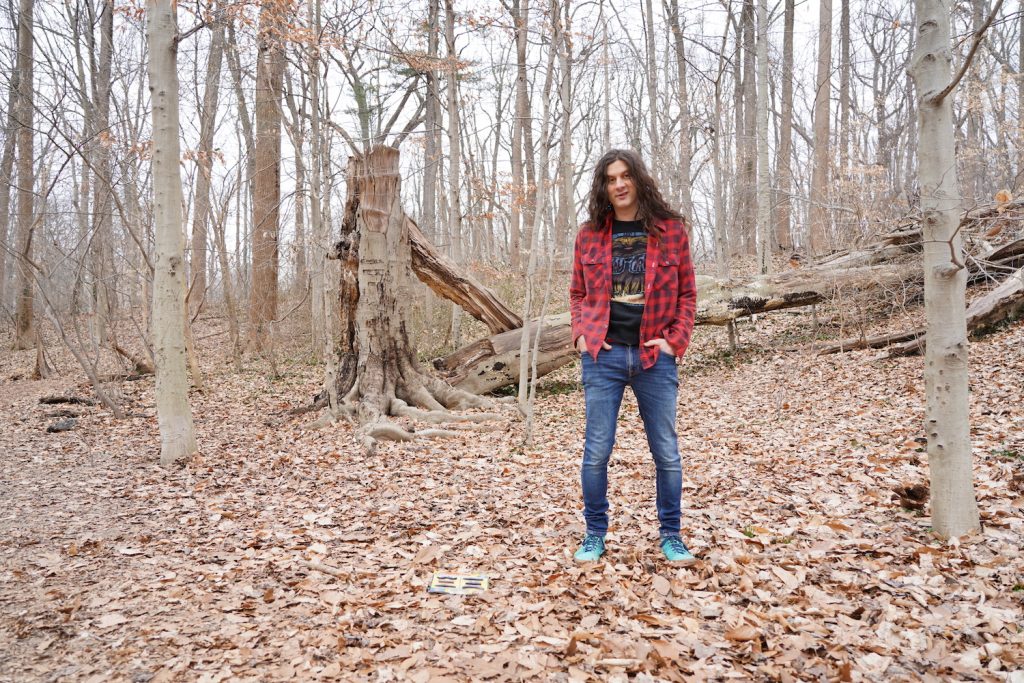 Adorned in a black T-shirt, a denim-like long-sleeve shirt, relaxed blue jeans and vibrant teal sneakers, Kurt Vile saunters on stage as though it's a familiar room in his own home. His long, curly hair shades his face as he looks down at his feet, bringing his lips to the microphone, pausing, and then letting out "woo!" He looks like a dad ready to play a set for his kids in the living room, which is likely what he's been doing for the past two years.
On his last night of a three-day residency at Chicago's Thalia Hall music venue, part of his Kurt Vile and The Violators' Watch My Moves tour for his latest album (watch my moves), the dad of rock delivered an hour and a half performance full of delicate guitar work, signature woo's and mellow talk-singing. 
A Vile show is one of the most relaxed and comfortable experiences a music-lover can attend. Although he urges the audience to Watch My Moves, his moves often result in a slight sway of his hips and head. Watching makes one think, "Huh, is this what my dad would look like on stage if he kept up with music?"
His fingers, though, are a whole other story. Those are what really put in the work. The shoegaze rock sends the audience into a trance, rocking in rhythm from side to side, eyes locked on Vile's rapid fingers as he picks the strings of his various guitars. His inspirations lie with the likes of Lou Reed and Guided By Voices, both driven by guitars and mellow vocals soaked in the anxieties of life. 
Throughout the show, Vile switched instruments he pulled from his vast collection of guitars, using a different one for nearly every song. Acoustics, Martins, aged Gibsons and pre-CBS Fender Jazzmasters—Vile cares as much about the style of his instruments as he does the sound. 
The Philly-based musician has a deep knowledge of music history, progressions, chords and technique. He uses every single part of his guitar, from the effects nobs and wavering tremolo arm, down to pedals that manipulate the sound, often layering wavy or echo effects. 
Guitar technique aside, what makes Vile such an interesting musician is his absolute normality, with a heaping splash of quirkiness. He likes to state the obvious and spew realism. It's like attending a musical lecture taught by a long-haired guitar God.
Similar to Aussie musician Courtney Barnett, his sometime collaborator, Vile uses a twangy talk-sing style to walk listeners through a mundane story of everyday life. He's not into melodies and doesn't try to pretend he is. He has something to say—whether it's a recounting of a random day he had or an outpouring of anxiety about life. But child-like demeanor lightens up any story. 
Vile's sound, lyricism and ruggedness is reminiscent of the likes of Pavement, Neil Young, Dinosaur Jr., and John Prine—another former collaborator. He's a rocker who lets his music do the talking, and he doesn't care for it to be any other way. During an acoustic set in Chicago, fans began slowly clapping along to a song, only for Vile to respond in between lyrics jokingly (although slightly serious), "Don't do that." 
Start with Vile's song Mount Airy Hill (Way's Gone) from his album (watch my moves) to get a feel for his mellow storytelling style. Listen to Check Baby from Bottle It In for a more rugged punk-like guitar groove. 
Pay attention to how much the chords vary from song to song. He doesn't repeat the same rhythm each time—every song holds its own weight, with Vile's twangy vocals as the only similarity. 
Kendall Polidori is The Rockhound, Luckbox's resident rock critic. Follow her reviews on Instagram @rockhound_luckbox and Twitter @rockhoundlb.