Peach Pit Put on a "Crazy Rock Show"
Before their set at Levitate Music and Arts Festival, the band reveal what they've learned from playing live shows, before slaying their opening with "Raining Blood"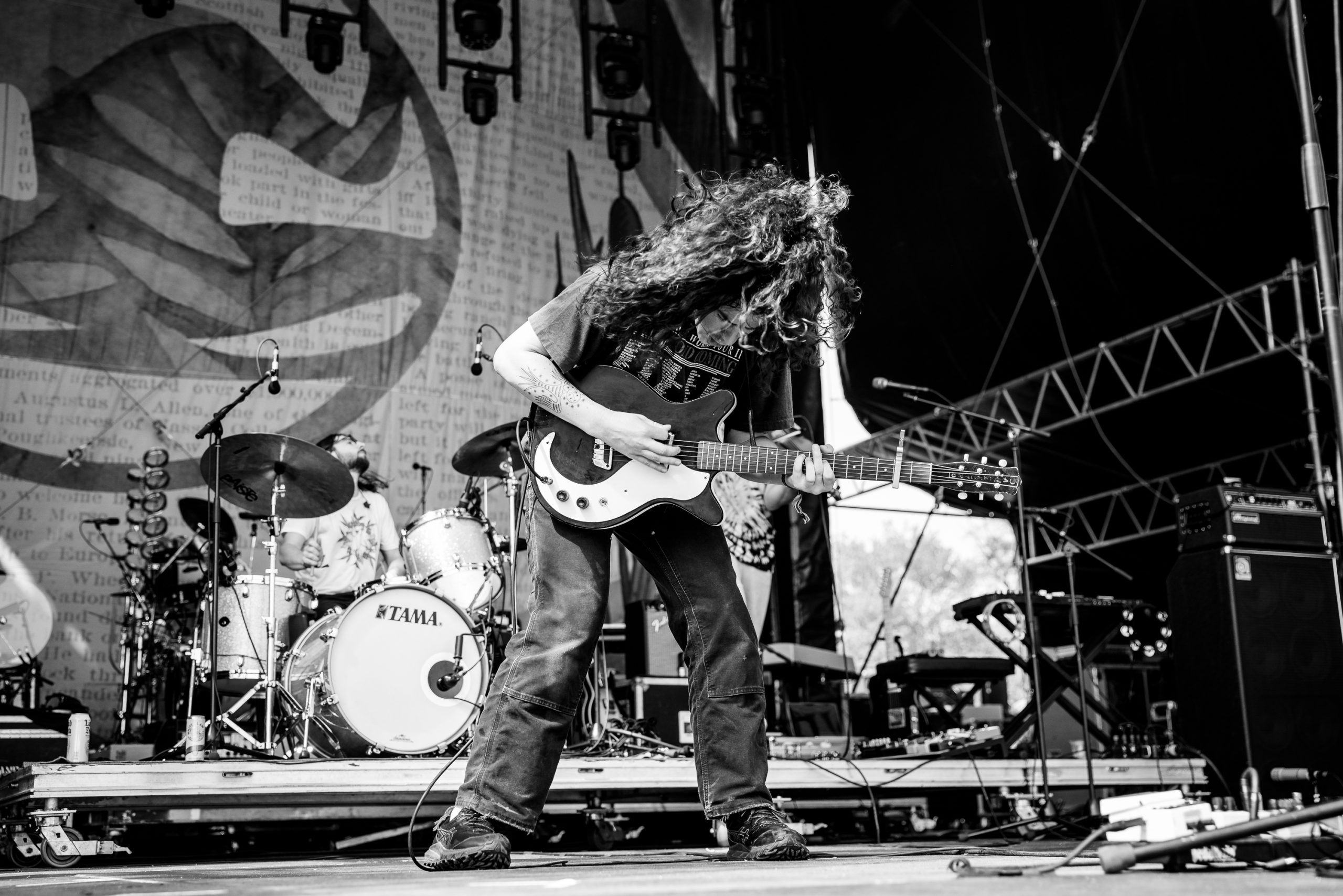 Earlier this year, I saw indie pop-rockers Peach Pit for the first time after being a fan since their 2018 EP Sweet FA—and I was shocked more than I had ever been at a live show.
The Vancouver natives walked onstage and immediately opened with Raining Blood by Slayer, an energetic thrash-metal song that is on the opposite end of the spectrum from Peach Pit's typical pop-rock tunes. Peach Pit's singer and rhythm guitarist Neil Smith dove directly into the crowd where he screamed as the hands of fans supported him on his back. It was the best introduction I've witnessed—an epic jaw drop.
"It's really hard not to open with Raining Blood at every show now, but we won't be playing it today. You kind of need crazy red lights for that song and at an outdoor festival [during the day] it won't happen," Smith says before Peach Pit's performance at Levitate Music and Arts Festival on July 8.
Opening with Slayer and other covers was a new thing the band tried on their last tour, and it received a great response.
"I invited my stepsister out to the Vancouver show, and she brought her two-year-old for her first concert," says guitarist Christopher Vanderkooy. "She has this hilarious video of her and her two-year-old and in the background, we're playing Slayer."
In general, Peach Pit has a discography of laid-back songs, despite their knack for guitar solos. Vanderkooy says the band typically goes into the studio and records slowly with a relaxed and loose vibe. But when they play live, and the energy from the crowd bounces off what they're playing, they tend to play their songs faster.
"It's a common thing for people to come to a show and be like, 'Oh, this was a lot less chill than I was expecting.' And that just happened naturally," Vanderkooy says.
That difference in energy and tempo highlights the beauty of live music. It's unexpected and doesn't sound like a carbon copy of their recordings—giving listeners something special to hold onto.
With years of live shows under their belts now, Smith says he's learned a lot on stage, including how to play it cool even when he makes mistakes. He gets so wrapped up in the adrenaline of playing that he often forgets lyrics. But that's the fun of playing live and putting on a different show each night.
"When I was younger, and one thing would go bad while performing, I'd get super in my head and the show would just go downhill," Smith says. "We're pretty good at rolling with the punches now. [The comedian] Ron White once said when you're bombing, your instinct is it speed up and go fast—you want to get through it. But the real thing you need to do is slow down, which is great advice for live music. If things are going bad, just stay in it and enjoy yourself."
As with many artists I've listened to throughout high school and onward, I've grown up with Peach Pit. I was 19 while listening to their single Seventeen and have experienced my own maturity through their music—which has marked their growth as people and musicians.
"That has been cool for us and we've felt that. Fans of ours were in high school when we first started out, and now they're done with college and living their own lives," Smith says. "We're also not in our early 20s anymore, we're 30 and people are getting married."
Vanderkooy notes that Peach Pit's music has changed over the years but is unsure how much of that to attribute to age. He says songwriting is always affected by age, but the band's sound has changed mainly because their tastes in music constantly change. The band has gotten more into classic rock, and they're more seasoned in their craft.
Their latest album, From 2 to 3, marked what was evidently a period of growth for Peach Pit, as it combines the best of their previous albums and EP. The album incorporates more progressions, with a dynamic, fuller sound.
"We recorded our second album after having a successful first one, and we didn't really know how to do it under different circumstances," Vanderkooy says. "That second record was well-received, but it felt a little disjointed to us. There were a lot of different themes all over the place, but I think it worked, too. But From 2 to 3 we were more focused and clearer on what we were trying to make."
Artists spend so much time writing, recording and producing an album, that I often wonder if by the time it comes out and bands tour for it, it already feels outdated. Smith notes that, yes albums feel like parts of the past but that the songs still feel fresh when playing live.
"Even songs off our first EP that I don't identify with as much now still feel new because everyone gives us so much energy," Smith says.
The band's sound has evolved as they tap into different influences. Vanderkooy says they've been listening to more of The Beatles, and George Harrison and Paul McCartney post-Beatles. He says that'll likely change soon, though, as he likes to have different influences going into a new record. Smith also notes the band's attraction to psych rock and classic rock names like Harry Nilsson and Jim Croce—which shines through in the band's groovier songs like Techno Show and Brian's Movie.
But drummer Mikey Pascuzzi points out that they all need a break from music when they're home from touring. Like most people, they need some separation from their work and personal lives, too.
At the mention of discovering and listening to new music, Vanderkooy says it was so easy to fall in love with everything he heard in his early 20s, but now it's more selective. Still, the band has a broad range of tastes, and for new Peach Pit listeners, Vanderkooy suggests starting with their song Tommy's Party. It starts out mellow with Smith's vocals as the focus but transitions with a fierce guitar solo from Vanderkooy.
"It highlights our [introspective] lyricism and slow approach," Vanderkooy says. "But it has the guitar playing and strong band feel towards the end of it."
And though Smith wouldn't reveal his poker winnings this year before heading out for their festival set, he says he has been quite the Luckbox.
Kendall Polidori is The Rockhound, Luckbox's resident rock critic. Follow her reviews on Instagram and Twitter @rockhoundlb.