Shakey Graves Enters New Era with "Movie of the Week"
The album, set for release Sept. 15, is a lush cinematic take on a soundtrack. With more alternative rock influence, it's the band's heaviest and most animated album to date.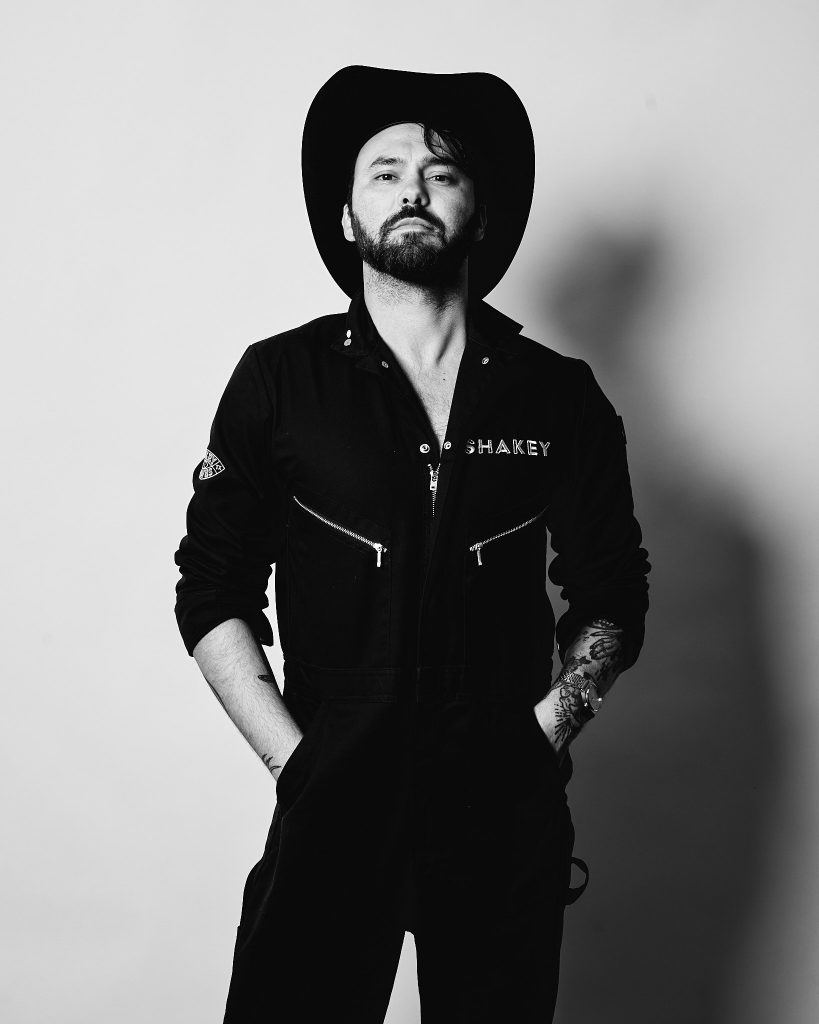 Shakey Graves' upcoming album Movie of the Week is a spooky, cinematic journey through the world around frontman Alejandro Rose-Garcia. And it's only one snippet of an imaginative project that takes the band to new heights.
Set for release Sept. 15 via Dualtone Records, Movie of the Week is a body of work that came out of Garcia's approach to writing a movie soundtrack. In 2019, Garcia started working on a soundtrack for a friend's film, but after turning in some tracks and realizing he and the director saw the movie very differently, Garcia decided to build off of those ideas for what's now a new Shakey Graves era.
Starting as a solo project for Garcia back in 2011, Shakey Graves has gone from a stripped-down folk sound to drawing more influences from alternative rock, nodding to artists such as The Kinks, Elliot Smith, Broken Social Scene and Built to Spill. But Movie of the Week isn't a typical rock album. It's an animated extension of Garcia and his backing band, The Problem.
After Garcia and his longtime collaborators parted ways, he found himself putting together a group of all new musicians for this album. But it quickly turned into something Garcia had always hoped for: a pure creative collaboration in real time.
Recorded at Echo Lab in Denton, Texas, the band set up a bunch of mics around the studio space, with the hope of recording it like a jazz session—picking up every interaction and sound. Any jamming or random musical ideas were then caught on the mics, left to be sifted through later on. When recording on cassette tapes a few years ago, Garcia learned how to edit, and he used that same bizarre method of editing to go through the recordings. He'd find those interesting nuggets in their recording sessions and make something out of it.
The song Playing Along is a great example of this form of editing, as it features a layered jam section that rapidly goes in different directions sonically—but that somehow fits together all the same.
Across three weeks of recording sessions, Shakey Graves stepped away with about 100 different recordings. And though only 13 tracks are listed on the album, those other recordings can still be heard in their own unique way on a website that will go live the day of Movie of the Week's release.
The website will allow fans to generate an "album of the day" with different variations of 13 tracks. In a recent press release, Garcia says, "out of these 80 to 100 different tracks, somewhere in there is an album that I couldn't even put together in my thoughts."
Imagination has always been a direct tool for Garcia, but Movie of the Week sees him at peak creativity. Just listening to the album, I can already picture Garcia's animated performance on stage, met with emotive facial expressions, expressive arm movements and the occasional yells in between lyrics.
Songs like Limbo remind me of Danny Elfman soundtracks featured in Tim burton movies like The Nightmare Before Christmas. The tune is blanketed with a spooky undertone. It's a sound that creeps up on you and that takes a big band, cinematic turn. Garcia's songwriting places listeners in a film of their own.
What a surprise / You'll end up in the lost and found / What goes up, comes down / How low can you go?
Movie of the Week features a heavier sound for Shakey Graves, one that is complete with layered instrumentation and intricacies in vocals, giving it a playful, almost circus-rock vibe. And the interludes in between full-length songs give the album a retro TV-show feel, similar to the approach Lord Huron took on their album Long Lost,which featured audio snippets from old radio segments.
By coming up with the plot of a movie as the drive for the album, Movie of the Week is an eerie exploration of the world through Garcia's eyes—songs touch on the ideas of fame, current events and the unpleasant curveballs of life. As for the music, the album blends psych-rock, light folk and groovy lo-fi rock.
In July, at Levitate Music Festival in Marshfield, Massachusetts, Shakey Graves performed Century City off Movie of the Week, and it was clear the entire band was ready for the new music to be out in the world. It was my first time hearing the song, which prompted all of us fans in attendance to gasp in excitement. It's been a while since we've heard new Shakey tunes, and the band's involvement on stage invigorated the quality of their music.
Century City, and other songs on the album, will convince listeners they're the main characters in some big production, due to Garcia's ability to tell a story through his lyrics. He tends to write lyrics after the music and chords are fleshed out, making them fit like a glove.
Imagination is the key ingredient in Movie of the Week, reimagining Shakey Graves' musical path, as well as listeners' perception and consumption of the music.
Because The Problem wrote and recorded with Garcia, the songs translate seamlessly live, and after the album release, Shakey Graves is set to head out on a headlining U.S. tour Sept. 21.
The album is draped in lush instrumentation, making it fresh on each listen. Movie of the Week marks a new chapter for Shakey Graves, one that pays attention to the visuals, emotion and rawness behind the music.
Keep up with Shakey Graves' upcoming album and tour dates here.