Slow Pulp Invites You to their 'Yard'
The Chicago band's second full-length album isolates the best of Slow Pulp's indie Americana and rock sound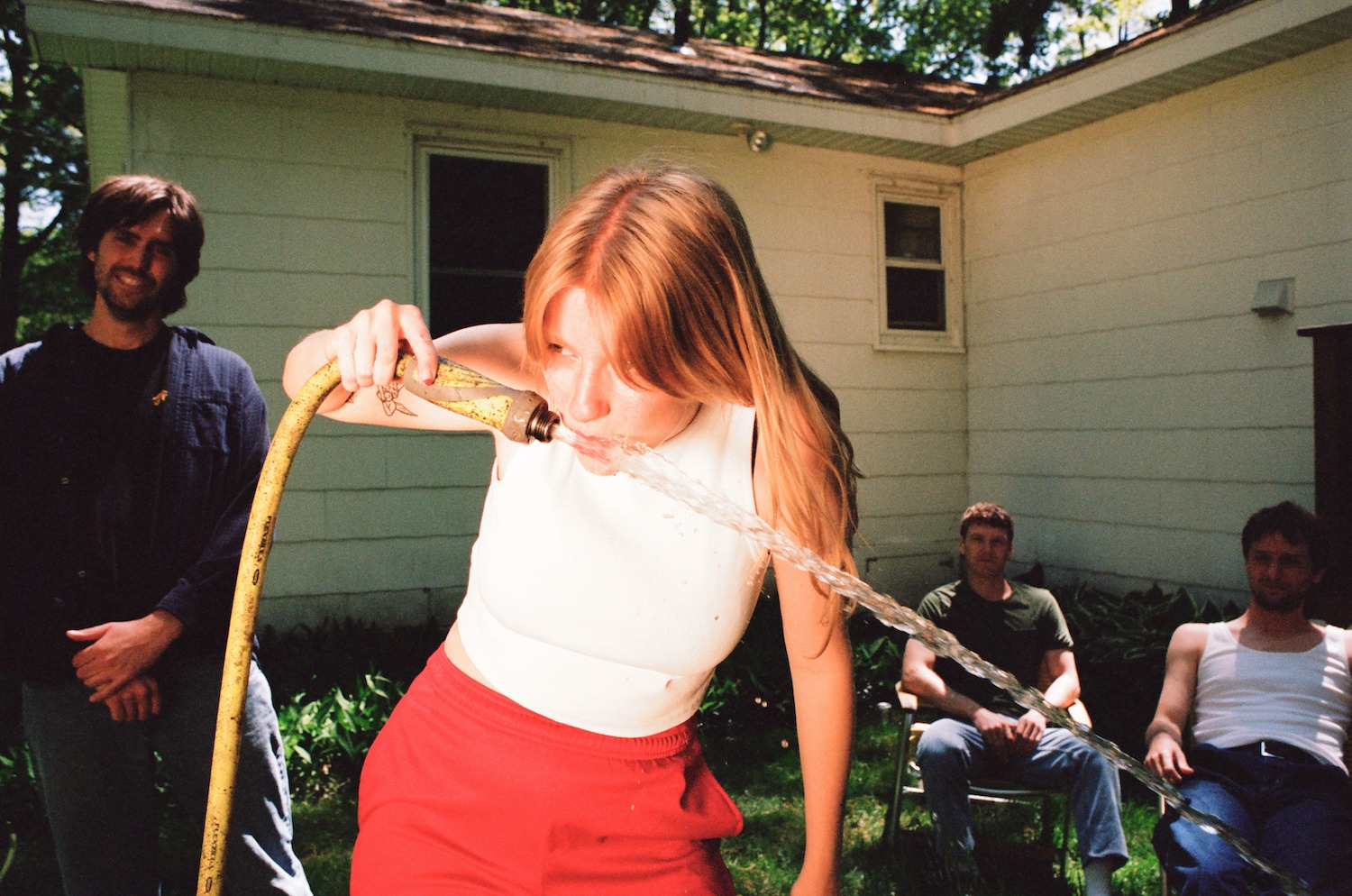 Slow Pulp's upcoming album Yard shows that the band understands the power of isolation. Recording some vocals and chords individually, the band also knows when to bring it all together—intentionally balancing the process to create an album full of nuances.
Yard, out Sept. 29 via ANTI-, is Slow Pulp's second full-length album and puts the band's growth together on display. Singer Emily Massey takes a leap with her vocals on the album, highlighting her ability to let go a bit. Hitting a higher pitch on some songs, her voice is almost reminiscent of folk-rock singer-songwriter Phoebe Bridgers.
The new album comes after the success of their first album Moveys in 2020, which garnered recognition for Slow Pulp in the indie scene. Because of the pandemic, Massey grappling with Lyme disease and a chronic mono diagnosis, and helping look after family, much of Moveys was recorded in isolation. Massey recorded her vocals for the album in her dad's small home studio—which she ended up doing again on Yard, because it went so well the first time.
As a musician, Massey's dad Michael provided personal, insightful feedback on her vocal delivery. And it's noticeable on Yard. The album feels comfortable in a way that listeners haven't heard before.
Slow Pulp takes new approaches to writing and recording Yard. The album shows off a more Americana spirit than previous efforts, including more pedal steel, harmonica and banjo. But Slow Pulp doesn't drop its pop-punk tendencies completely. It maintains a sound that suggests the gritty, yet folk punk of Superchunk, The Breeders and Liz Phair.
One of the singles, Doubt, shows Slow Pulp at its best. It's upbeat, with a booming intro right off the bat. It's catchy and aims for a bigger sound than Slow Pulp had in the past. The song notes the summery-ness of the rest of the album. It's warm and airy, touching on a theme of nature and its connection to life and sound.
Yard is an album that doesn't get stuck in repetition, as every song takes on a new life of its own. Cramps brings forth the band's knack for a fuzzy, muffled punk sound through effect pedals. In past songs, Slow Pulp has tended to start songs with guitar-driven intros, but Yard sees variety in instruments to get the band's point across all the same.
Slow Pulp members see their music through color. In one example, the album opener Gone 2 was renamed and rerecorded after they watched Red Hot Chili Peppers' music video for Scar Tissue on mute.
Slow Pulp wanted the song to sound exactly how that music video looked. After watching it, Massey says Gone was a silver song, and bend members turned it into a brown and purple song: Gone 2. Growing up together as friends and bandmates in Wisconsin, then moving to Chicago, Slow Pulp members have a deep understanding of each other. Their relationships are heard clearly through their music, inviting listeners into their world.
I live for introspective music—let me into your world! With bands like Slow Pulp allowing themselves to delve into their own vulnerabilities, it allows me to dive into my own, seeing myself in their songs. What is the point of music if listeners can't connect to it, right?
I don't take albums like Yard for granted. As a Midwesterner, I can feel myself floating through their tunes. I'm sitting on a suburban lawn, ripping up pieces of dried grass. It's itchy, but the comfort of summer rests like a blanket around my shoulders. On the sidewalk, there are worms and slugs trying to avoid the sunlight. The air smells like rain is on the way.
Yard demands you to be present, or to go back to a moment in time—it's about showing up for yourself.
The smooth, relaxing acoustic guitar on Carina Phone 1000 opens for an easy listen, with lyrics that make it an easily relatable tune.
You called and you wondered how I've been / I told you I've been trying all my best / I knew it wasn't just in my head / That's life I guess
And like life, Slow Pulp throws a curveball with an energetic, fuzzy love song to switch up the pace with Worm.
The variety on the album brings the band's sound full circle. Yard walks listeners through the ups and downs in life, what it's like to learn to trust, love and lean on others, as well as yourself.
Keep up with Slow Pulp and their upcoming North American/EU/UK headlining tour this fall here.