Take Time with Courtney Barnett
The Beatles, Stones and Zeppelin were awesome—but rock lives on. Why not break out of the classic rock cocoon and give new music a chance? Rockhound is here to help. Think of it as a bridge from 1967 to today and beyond.
When lovers of classic rock listen to singer-songwriter Courtney Barnett, they may feel as though they've walked into a recording session where Bob Dylan is picking up a few tips from Kurt Cobain. She draws upon the classics but makes them her own.
Exceptional music requires more than certain notes on a guitar paired with the right pace of the drumbeat. The lyrics evoke reactions. But lyrics alone don't make a song or album exceptional, either. The way the music and words fit together makes a song extraordinary. Barnett has always succeeded in connecting her lyrics with the necessary instruments, but on her latest album, Things Take Time, Take Time, she has perfected the art of ensuring each section of a song can stand on its own and support every other section.At a certain point in every artist's career, burnout becomes a danger. Barnett's bout with that malady took place in 2019 after her album Tell Me How You Really Feel. Exhausted by life in general, she found touring and writing new music felt impossible. Anger clouded her mind, and her attempt at writing new songs reflected that. In need of a change, she switched things up and toured alone in the beginning of 2020, which slowly allowed her to feel content in her own skin again. With a new sense of being, Barnett found a vulnerability in herself that allowed for looser and more open writing, ditching the anger for kindness.
Things Take Time, Take Time, released on Nov. 12, was written at the onset of the COVID-19 pandemic, when Barnett found herself living alone for the first time. Instead of enduring a sour experience, she used that freedom to do things she couldn't as a touring musician, such as expanding her musical palette. She took the time to understand that things take time and that joy is at the top of the list.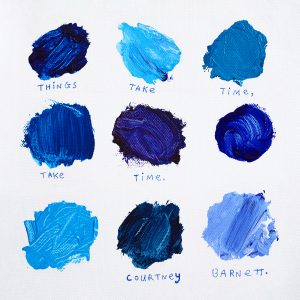 The album holds a certain lightness that Barnett's earlier works have not. It's airy and allows for room to breathe it all in for an extended time. It marks a shift in Barnett's outlook but remains true to her storytelling style. She is a conversational artist who often talks through her lyrics—and this time around she does it in a more positive light: with a bright lushness of Wulitzers, drum loops, warm acoustics and smooth harmonies.

Building off the influences of Liz Phair, Dylan and Cobain, Barnett confidently dives into the depths of her inner thoughts and with Things Take Time, Take Time, she opens up more than she has before, owning up to her vulnerability. The album is so brutally honest that it's impossible not to relate to it, especially when it's dealing with uncertainty.
The 10 tracks serve as a collection of love letters to Barnett's friends and family, as well as herself. But there's an understanding that one cannot say everything in a three-minute song and that most things are felt rather than said.
The album kicks off with Rae Street, an upbeat ode to acknowledging the power of time, recognizing the relentlessness of change and learning that expectations are pointless. For this record, Barnett brought in Australian drummer Stella Mozgawa to help reorganize her music, including how she uses drum beats. The role of percussion on the album is much more evident than in Barnett's past work. It's still a smooth, mellow beat, but it allows for a more rocking and positive tone.
Barnett has written and recorded her most cohesive, warm-hearted album yet. She transforms troubling experiences and daily struggles into opportunities and looks forward to the future. In the second song on the album, Sunfair Sundown, she addresses the importance of resiliency in the face of adversity. It's kind, and the acoustics are warm. It dances around in your head.
On each song, Barnett's mellow, monotone melds graciously with energetic drum loops and melodious guitar. The album is a feel-good, yet weary survey of the world, and it's the perfect remedy for a depressive funk. It sure helped Barnett get out of one.
Start with the song Write A List Of Things To Look Forward To, and you might hear a more upbeat version of some of PJ Harvey's pieces, such as You Said Something. Both lead with their lyrics.
Pay attention to the way Barnett sounds as though she is talking directly to the listener. She sings conversationally, delivering lyrics by talking and then smoothly transitioning into a melody.

Barnett is scheduled to to kick off her U.S. and Canada tour for Things Take Time, Take Time, November in California. Follow Barnett and her tour dates by visiting her website.
Kendall Polidori is The Rockhound, Luckbox's resident rock critic. Follow her reviews on Instagram @rockhound_luckbox and Twitter @rockhoundlb.