The Best of Pitchfork Music Festival 2023
The Rockhound shares highlights from her favorite annual Chicago music weekend
After three days of running around Union Park interviewing artists, taking photos and grooving to the music, here's everything you need to know about my Pitchfork weekend.
DAY 1
As someone who lives and breathes music, I like to consider myself "plugged in" to the indie scene. But at Pitchfork, I often find myself shocked by a handful of artists who I'd only heard of briefly before. Nation of Language was that band for me this weekend.
On Friday, July 21, anyone listening from afar would have thought The Cure was playing during Nation of Language's set. With only three members on stage, the band's full sound was brought to life through synth and a physically expressive frontman.
The '80s-esque synth and dance-rock drew a large crowd to the stage, as singer Ian Richard Devaney belted out lyrics and sporadically wriggled on stage. The shimmering lo-fi breathed life into the first day of the festival. It was the kind of music you wouldn't expect to be as good live as on the recordings because of its beckoning production, but it was.
You'd never guess they were using a cheap pawn shop guitar—they just knew how to use it well. Start with their song I've Thought About Chicago, and it'll feel like it was written for you.
The groovy pop-rock continued Friday with bands like Youth Lagoon, Perfume Genius and Alvvays.
The alternative indie-pop groups all carried some form of nostalgia with them, playing old songs that originally drew their primary audience to their music.
Toronto-based band Alvvays returned to the scene last year after nearly five years when they didn't release new music or play live shows. At Pitchfork, the band played several new songs from their 2022 album Blue Rev, but the real excitement oozed from the crowd when older hits like Archie, Marry Me and Dreams Tonite echoed throughout the park.
Day one ended with a headline performance from The Smile, the new English rock experiment with Thom Yorke, Jonny Greenwood and Tom Skinner. It's difficult to define the band as belonging to a single genre, as their songs are so different from each other—it's basically Radiohead but much more experimental. The best part was when Yorke would get on bass, bringing The Smile's songs to a deeper level.
DAY 2
The day kicked off with Chicago band Deeper (read my preview interview with the band here), but their set was cut a few minutes short as thunderstorms in the area caused a weather delay. For more than an hour, music was held up, and fans sat in groups sprawled across the park's lawns.
Once the music kicked back up, Black Belt Eagle Scout brought forth inspiring grunge tunes. Under the shade of the trees by the Blue Stage, the band's singer and guitarist Katherine Paul lost themself in the music—closing their eyes for every guitar solo and singing interpersonally.
The band's latest album The Land, The Water, The Sky highlights Paul's vulnerability, touching on their return to their home on the Swinomish Indian Tribal Reservation in La Conner, Washington. The album is a love letter to home, nature and spirituality—in whatever way one experiences it. It's also a powerful guitar-driven sound, with an energy that leaves you wanting more.
Saturday was more rock-focused and before another weather delay that kicked everyone out of the fest for over an hour, MJ Lenderman brought a varied rock set to the red stage. He jumped around from acoustic-driven folk-rock tunes to a post-punk energy that kept the audience intrigued. He even had Chicago's very own Spencer Tweedy on the drums.
A fan would yell, "Let's fucking go!," and Lenderman would dive into a slow ballad full of his twangy talk-singing voice, like Kurt Vile.
The most anticipated performance of the weekend for me was interrupted by the weather delay, but once the gates reopened at 5:50 p.m., I found myself sprinting to the Blue Stage with a slice of pizza in my mouth to catch Julia Jacklin play four songs. The Australian singer-songwriter doesn't tour the U.S. as often as American artists, so it was the first time I had the chance to see her live. Though she played only four songs, her set was one of the best of the festival weekend.
Jacklin's awkward nervousness was met with laughter from the crowd. She played solo on stage— "Julia's guitar" in hand and angelic vocals floating like clouds.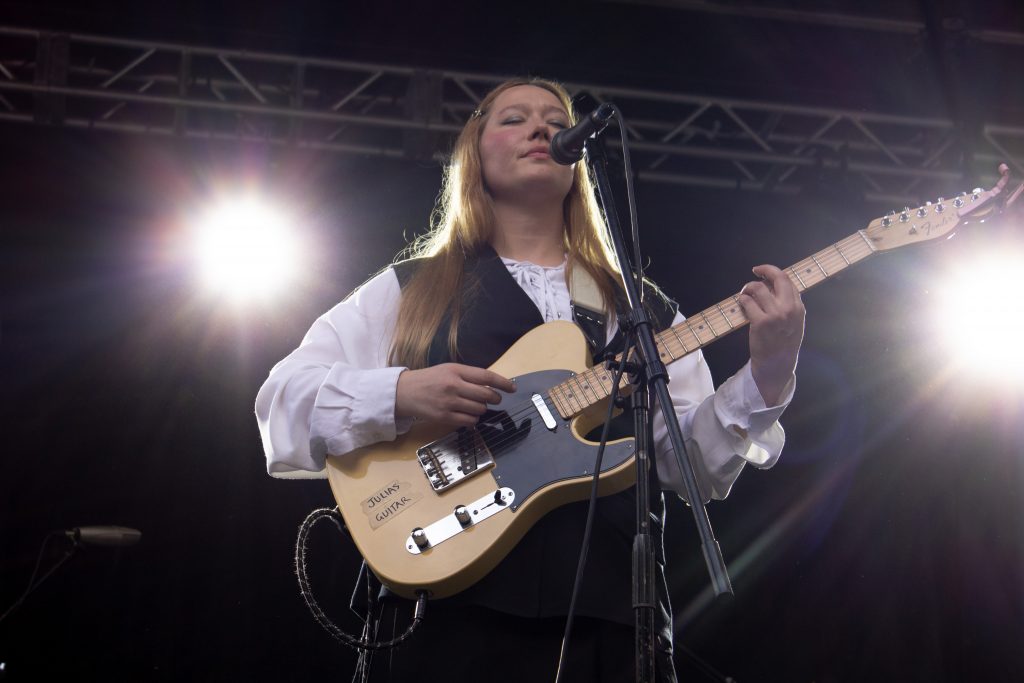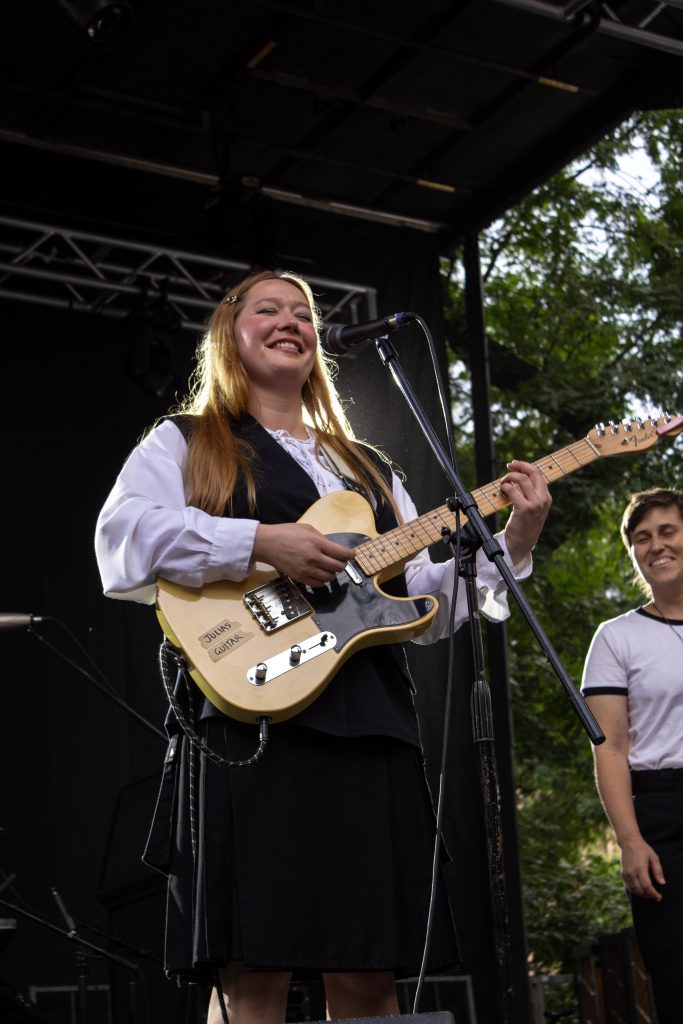 The day rounded out with alternative indie and rap artist King Krule, singer Weyes Blood and the headliner, alternative folk-rock group Big Thief.
Big Thief played on every stage of the festival, marking this year as their first-time headlining Pitchfork. It was possibly the quietest headline set I've ever heard. In between each song, you could hear the people crowded around you breathing. Most of the crowd gave the band their full attention, as they played most of their slow acoustic-driven tunes. The green-line CTA train going by made for interesting song transitions. Big Thief's Adrianne Lenker seemed a tad nervous to play on the big stage, but it was a beautiful performance, nonetheless.
Day 3
Since their Saturday set was canceled due to the weather delay, Philly-based band Palm kicked off the last day of the festival on the Blue Stage. Their islandy tunes, thanks to their use of the steel-drum guitar, brought The Beach Boys to mind—only Palm went harder.
Sunday had more variety in genres, and I hopped from a slow-moving and dreamy set of Florist to a chaotically sweaty set from rapper JPEGMafia.
JPEG walked on stage and immediately jumped onto one of the large speakers just off stage, in front of the large group of photographers crowding him. Fans squished up against the barricades behind me, screaming every word of his songs with him, with more emotion than I've seen at any other show.
JPEG raps over pre-recorded beats, but the heat kept getting to his laptops on stage, causing some pauses in between songs. He was forced to sing his cover of Carly Rae Jepsen's Call Me Maybe A cappella, which was even better than having the music in the background.
His interaction with the crowd and movement on stage made for an unforgettable performance.
The festival ended with punk-rockers Illuminati Hotties, alternative Americana band Hurray for the Riff Raff and desert blues rockers Mdou Moctar, before festival headliner Bon Iver.
The bands brought guitar riffs to the forefront in their own distinct ways. They catered to my different musical interests: punk, folk and groovy rock.
Inspired by Tuareg guitar music, Mdou Moctar almost had a jam-band vibe—breaking out into elongated guitar grooves between spurts of Tamasheq lyrics. The band wielded color to dramatize the music. Members were adorned in vibrant garments in orange, blue and green, and the lighting and stacks of bright orange amps heightened the effect.
And finally, Bon Iver's headlining set made for the most enlightening close to Pitchfork. I've been wanting to see Bon Iver for nearly seven years, and the wait was well worth it. With no photographers allowed in the pit, I was able to devote myself fully to the performance.
Standing behind his synth with a guitar draped over his shoulder and large headphones resting on his ears, frontman Justin Vernon dove right into his own world. Bon Iver's music is complex, with layers of backtrack and audio clips in addition to a full band of instruments. With multiple people on stage multitasking with instruments in hand and synth keyboards next to them, Bon Iver's music came to life more beautifully than it sounds on recordings.
Vernon basked in the ever-changing lights on stage, offering vocal complexity—changing his pitch and tone with ease. Seeing Bon Iver is like traveling through the years of his career. Vernon does old fan favorites like Holocene and Skinny Love, but he also makes sure to display his musical integrity through newer, more complex songs like 715 – CREEKS and Hey, Ma—which hear Vernon experimenting with autotune and more production.
It was the type of performance you can close your eyes and sway to, and still be able to see it clearly in your mind.
Pitchfork Music Festival Chicago is always the best weekend of the year. Compared with other Chicago music festivals, Pitchfork brings together a variety of genres and indie artists, with a local mindset. Anywhere you walk or anyway you turn, there's a good chance you'll run into someone you know—even behind the scenes of the festival. Other local Chicago musicians, who have played the fest before, are either there enjoying the music or helping to run the festival smoothly.
Aside from Chicago artists playing the fest like Deeper, Ric Wilson and Sen Morimoto, Pitchfork highlights the big names in indie, like Bon Iver, Big Thief and Alvvays, and the event offers fans the opportunity to explore music they've never heard of before.
Kendall Polidori is The Rockhound, Luckbox's resident rock music critic. Follow her reviews on Instagram and Twitter. @rockhoundlb