The Rockhound on Rock and Riot Fest
Luckbox's resident rock music critic enjoyed the last bits of Chicago's music festival season with acts in heavy rock, punk and emo. The best moments included chatting with up and coming Yard Act and seeing an emotional Foo Fighters set.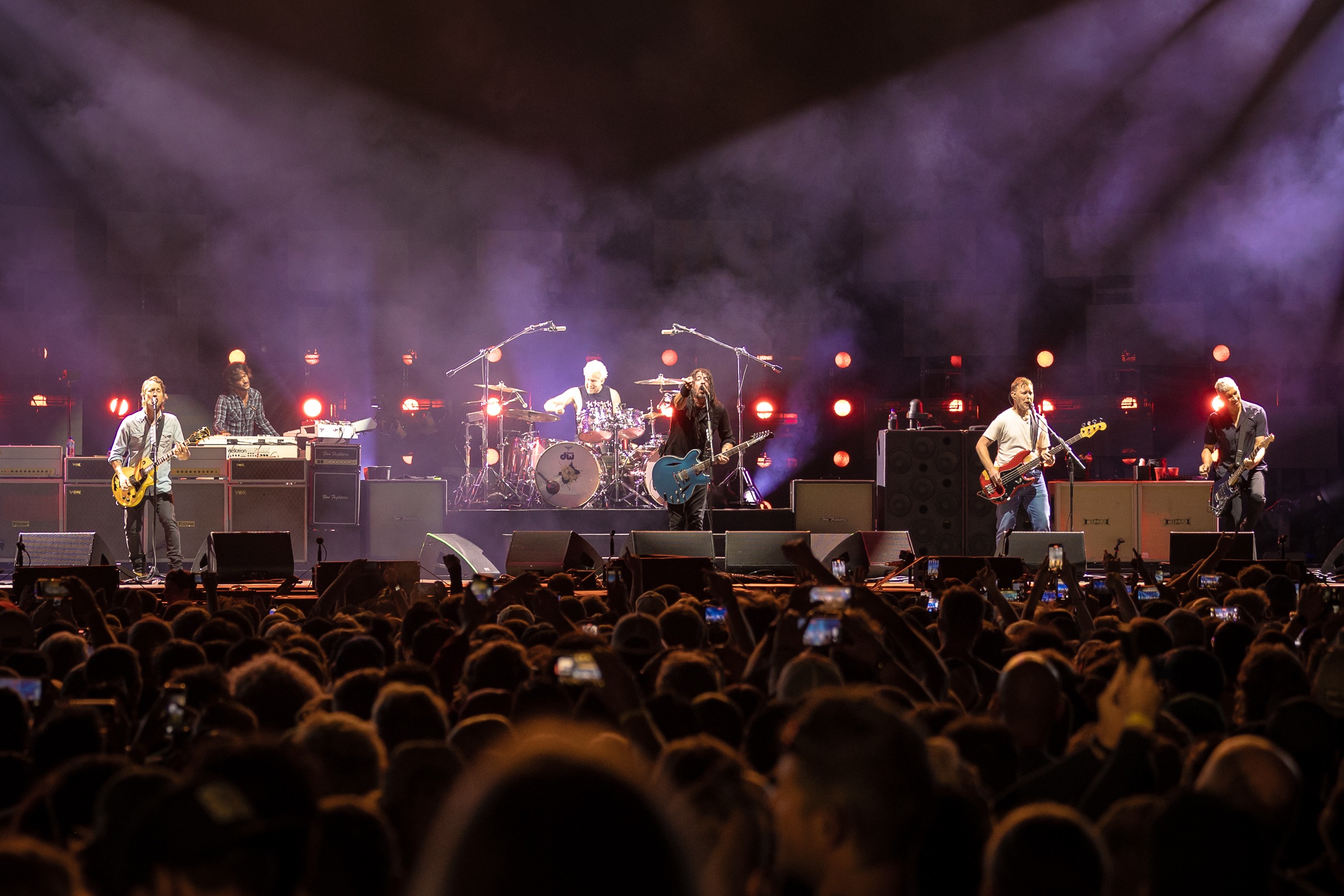 Riot Fest is a punk rock haven—featuring the best up-and-coming acts in punk, alternative, emo, metal, rock and punk rap. To round out musical festival season in Chicago, The Rockhound took on the festival in Douglass Park Sept. 15-17. "Riot" is also known for highlighting iconic rock names such as Foo Fighters and The Cure. And though the festival was set back due to rain on Sunday, Riot Fest yet again solidified its place as one of the best festivals in Chicago.
Here are some of the best moments and performances from the weekend.
British rock
Yard Act has been on my radar (thanks to editorial director Jeff Joseph) since the band's inaugural album release last year titled The Overload. If you like bands such as Idles and shame, Yard Act is right up your alley. Its cockney humor is laced with political angst and talk-singing through rock 'n' roll tunes. I had the chance to sit down with the band backstage before its Friday, Sept. 15 performance—the band's second time playing in Chicago—and it is riding high on the past 18 months of touring.
"In the UK, we had anticipated the reaction the album would get, but we had no idea what sort of reaction it would get in America," said frontman James Smith. "We've been consistently blown away by how well it has done everywhere."
The band's reach in America was clear at Riot Fest. It played on the main stage early in the day for what was likely to be one of its largest-ever crowds. And I was surrounded by fans singing along, even to their latest single The Trench Coat Museum, which came out in July this year.
Yard Act is a band you must see in person. While the band's music is quite niche (to appreciate it, you have to be into that talk-singing style), it's impossible not to love it when you see Yard Act perform live. Smith is psychically expressive, his emotions shining through his performance. Much of Yard Act's music from The Overload is driven by anger—Smith's neck flares up in a red sweat, his veins visibly popping out. When he's not prancing around the stage, flailing his arms, he's likely to be on the ground screaming into the microphone. And the band mimics his expressions. Guitarist Sam Shipstone jives his hips into a groovy guitar solo. They'll convince you to "take the money and run!"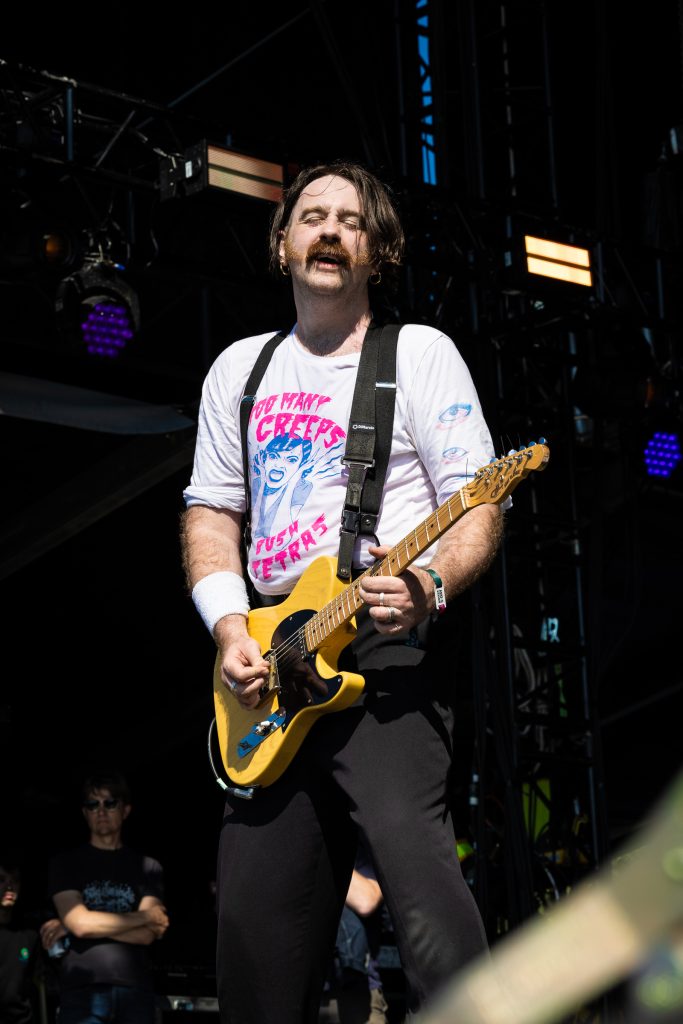 Keep an eye out for a feature interview with Yard Act in the upcoming December print issue, where the band discusses a new sophomore album, feeling more empathy through their music writing and their gratitude for anyone listening. The band also played an official after show on Sunday, Sept. 17 at Empty Bottle.
Modern punk
I've written about this a lot over the past year. Punk rock is having a moment in the music industry. It's never gone away, but up-and-coming bands like Turnstile have ridden the wave of mainstream punk, bringing a fresh approach to the genre. The first time I saw the band was at Riot Fest in 2019, when it played an early set that only a select group of fans attended. The band was a bit more hardcore then, but less developed.
Seeing the band on the mainstage right before Foo Fighters went on this year, I felt that Turnstile finally has come into its own. Lately, the band has used some pop characteristics that make the sound catchier, giving it the ability to connect with more music listeners. But that's not to say the members don't go hard.
For me, the draw to punk rock is the energy that bands release on stage. Punk is more than just the sound, it's also the physical expression. Turnstile members know how to get lost in the music, letting it run through their bodies. They don't just stand up there and play, they feel it.
The Foos are back
The last time I saw the Foo Fighters was at Lollapalooza in 2021—before former drummer Taylor Hawkins passed away. That performance hit home for me. I grew up listening to Foo Fighters. When I listen to its music today, I still get transported back to being a child, sitting in the back seat of my family's white minivan, singing my heart out to Monkey Wrench. Listening to music like that is funny when you're younger because you never know how much it will mean to you when you become an adult.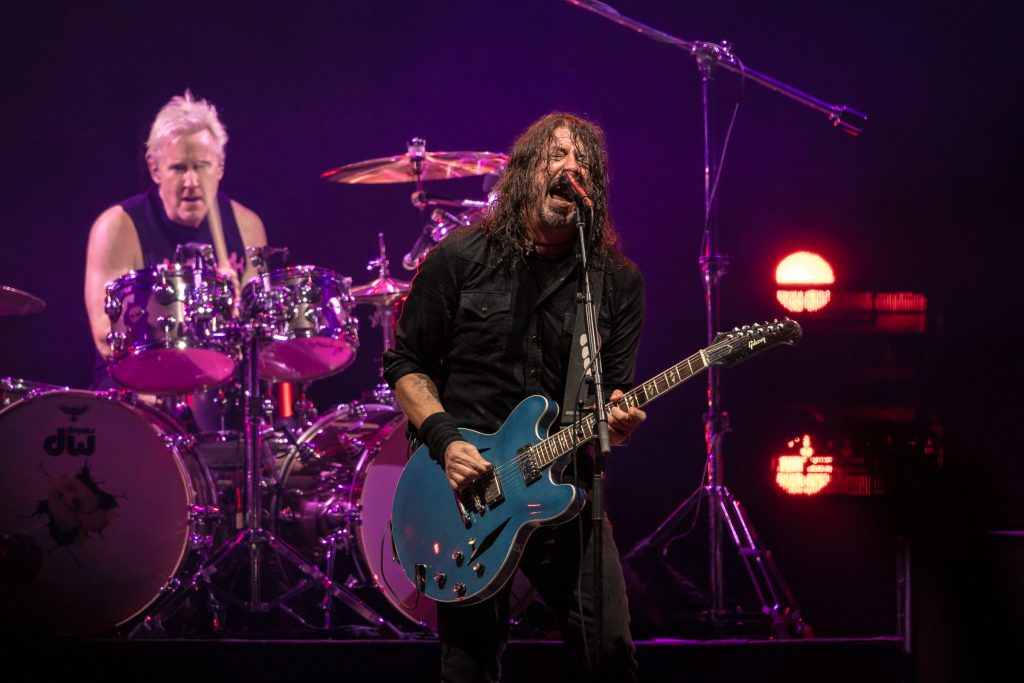 My brother and I used to make pretend music videos to songs like Learn to Fly, where I'd act like I was a penguin trying to fly like other birds. All of this considered, Foo Fighters are and always will be a band attached to my heart. Seeing the band without Hawkins was weird, but it was fulfilling.
At their headlining set on Friday, Sept. 15, my partner said to me, "I didn't know Foo Fighters were punk." Hell yeah, they go hard.
Dave Grohl's energy is unmatched, and the vocals he throws into a performance will blow you away. I always think how boring it might get for bands to play their same hits repeatedly, but Foo Fighters don't fall into that routine—it changes up songs live to give them more depth and attention. A three-minute song will turn into an eight-minute song, and it's emotionally entertaining.
In between songs, Grohl told stories such as his first-ever rock show as a kid being Naked Raygun at The Cubby Bear, and remembering Hawkins' favorite Foo's song, Aurora. One thing is for sure, I'll never forget the feeling of singing Hero in unison with nearly 50,000 strangers.
Swedish garage rock
Riot Fest is always a festival that features artists I hadn't already seen live, and Viagra Boys was the band I most looked forward to. The Swedish punk rockers are a sight to see. One song in, lead singer Sebastian Murphy took off his Adidas zip-up shirt to reveal a protruding stomach slathered in tattoos. Cigarette in hand, he jived around the stage loosely.
Viagra's music is fierce and raw, with beckoning energy. The saxophonist gets on the floor, flailing his legs in the air as a continuously plays. And the keyboardist whips out a keytar to strut along the big speakers in front of the stage. Their garage punk is met with dance-synth beats, all brought together by Murphy's scream-like vocals.
It also helped that the band had some personality—providing more layers of entertainment. At one point, Murphy grabbed his cell phone to double check lyrics to a song he messed up the night before. In between singing and taking a cigarette drag, he took a swig of beer, just to spit it out on himself, rubbing it around his belly. And songs like Sports displayed their humorous approach to writing music:
Beach ball / Volleyball / Naked girls / And naked boys / Do the dance / Down on the beach / Smoking dope / Short shorts / Cigarette (Wiener dog) / Getting high in the morning / Buying things off the internet / Sports
Pop-punk emos
Excited to perform at the festival for their second time, the Atlanta-based rock band Microwave attended the whole weekend—enjoying the music before its set on Sunday. But, unfortunately, due to a rain delay, Microwave's early set was cancelled. The band went on to play a free show at the Bottom Lounge later that night with Free Throw.
I sat down with Microwave on Saturday, Sept. 16 backstage, where we chatted about new music on the way, the anniversary edition of its 2016 album Much Love, and what drives members to write music.
The band released three new singles earlier this year—Ferrari, Circling the Drain, and Straw Hat—which all sound crisper and more produced than Microwave's earlier music.
"We got into the studio and just made random noises and played around a lot in Pro Tools, that was our goal," said lead singer Nathan Hardy. But it doesn't sound as chaotic as it might seem, those random noises brought the music to a new level of maturity.
Much Love was an album on repeat during my last few years of high school, and with the rerelease of the album in March bassist Tyler Hill said songs like Drown are getting more attention than ever before.
The pop-punk driven emo is lyrically driven, connecting listeners in many ways—but ultimately, it gives them a space to let go.
Women-led bands
While reading this, you've probably noticed a lack in women represented at Riot Fest, and it's true. Despite the number of women-led punk and rock bands, the fest still mainly highlights male-fronted bands. Of the few women there were two of the four members of Pool Kids.
The band falls within the math rock emo genre, with complex rhythmic structures and strong melodic vocals. Pool Kids remind me of Paramore, but with a more layered and harder rock back bone. It was the band's first time playing the festival if probably the biggest stage Pool Kids has played to so far. The women rocked hot pint leather pants.
We need to see more bands like Pool Kids at Riot Fest, and in other rock-centric spaces.
Easy-going pop-rock
I finally saw Bowling for Soup for the first time, and it's one of the sets anyone can get into, as they play hits such as 1985, and made a joke about Stacy's Mom being its most popular song (the band recorded a cover of the Fountains of Wayne song). The band doesn't take itself too seriously, making for an easy-going and funny live show. For all the millennials out there, the band even performed the theme song of Disney's TV show Phineas and Ferb, tugging at my childhood heartstrings.
Before the band's set on Saturday, I chatted with bassist and backup vocalist Rob Felicetti. Childhood dreams do come true!
Felicetti is a goofy guy who made the pressure of talking to Bowling for Soup slightly less intimidating. All these years later, he's more than grateful to create, play and share music with others.
"It's cool to just kind of fall in and do the stuff we've always been comfortable with. The more I play a song, the better I am at it," Felicetti said. "This band is not trying to reinvent the wheel. A lot of bands in our in our genre do that. And they do it well, like Blink-182."
Felicetti said Bowling for Soup's sound has remained pretty consistent, sound-wise, but all by design, because members want to do that and still like doing it. They're not bored of it.
When he's not playing live, Felicetti likes to tell Alexa to play some Glen Miller, a jazz artist we both gushed over. When asked what the band means to him, Felicetti said he couldn't imagine himself doing anything else.
"It's people like you that make it possible for us to do what we do," he said. "People that really care are the reason why we get to make a career out of it and get to continue to do it."
The band continues to put out music, including their most recent original albums Pop Drunk Snot Bread and Don't Mind if We Do, plus a Bowling for Sleep lullaby album.
As for his favorite song, Felicetti consistently goes back to Ghost's Spillways.
Hard rock
I didn't know too much about Queens of the Stone Age prior to its last set at the fest, when it opened for The Postal Service. Mostly, I knew that Queens' frontman Josh Homme has kicked some photographers in the face in the past. Ouch. But personally, after seeing Queens of the Stone Age I think it would have been a more fitting headliner than The Postal Service.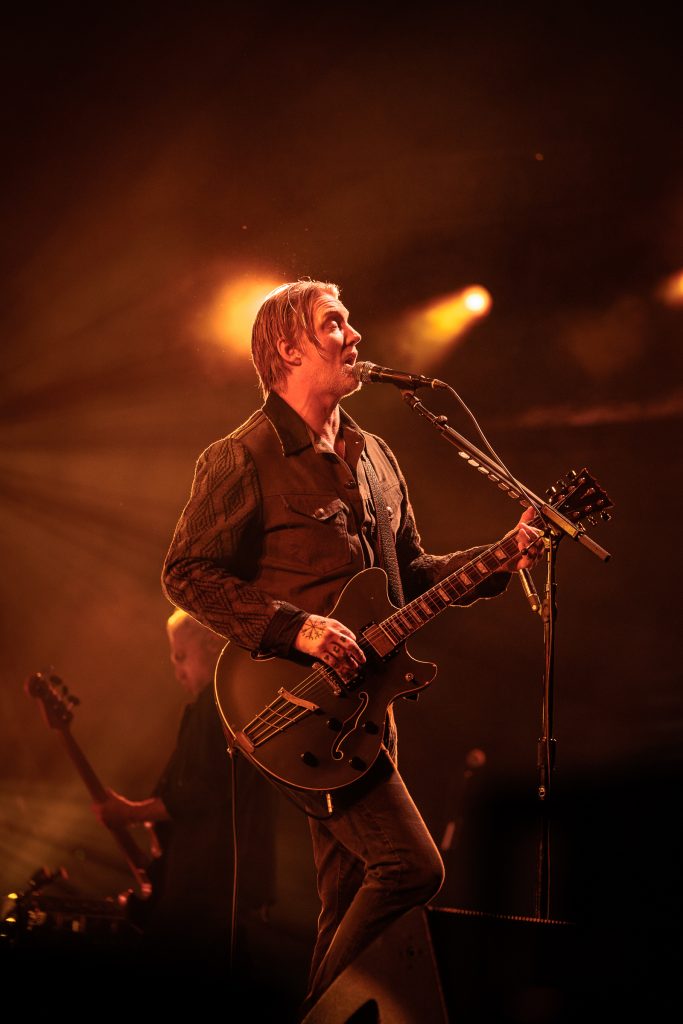 Queens of the Stone Age has a bass-driven hardcore-yet-bluesy rock sound, similar to the likes of The Black Keys. In the early 2000s Dave Grohl took a break from Foo Fighters to tour with the band on drums. It's guitar-driven music, with an emphasis on booming bass riffs—but they include a splash of Psychedelia with prominent synth sections throughout.
Queens of the Stone Age offers the perfect big-band rock vibe for a festival like Riot Fest.
Follow The Rockhound's rock reviews in every issue of Luckbox magazine. Get your free digital subscription at getluckbox.com.
Kendall Polidori is The Rockhound, Luckbox's resident rock music critic. Follow her reviews on Instagram and X. @rockhoundlb