Best at Rockville
After a weather delay, Texas-based blues rockers Tyler Bryant & The Shakedown gave Welcome To Rockville fans a reason to get back to the stage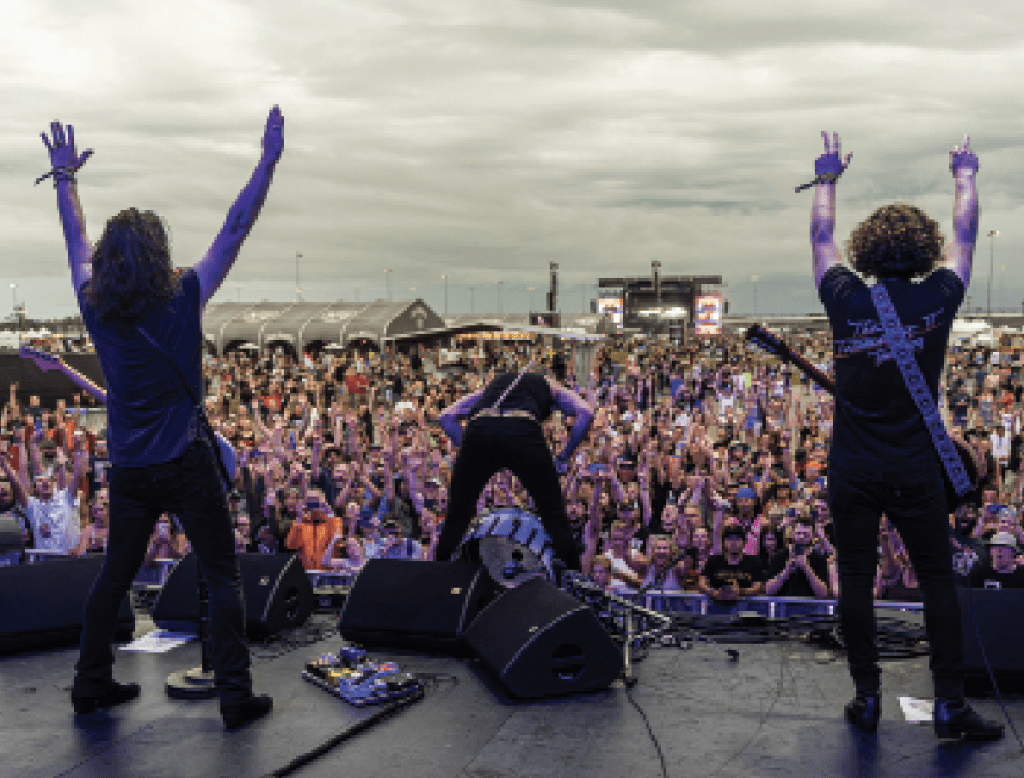 Tyler Bryant is fascinated by the way his fingers can graze the strings of a guitar. He picked one up when he was six and since then, a guitar has been like an additional limb. Playing is second nature.
On stage, he gets lost in the craft, effortlessly strumming a pink resonator or Stratocaster, eyes closed, head leaning back with his chin pointing skyward.
Bryant and his band—Caleb Crosby, drums; Graham Whitford, guitar; and Ryan Fitzgerald, bass—quickly garnered attention in the blues rock sphere after forming in 2009 and going on tour with the likes of Aerosmith, B.B. King, Eric Clapton and Guns N' Roses. Their sound holds a distinct southern rock twang with brassy, echoing guitar work.
Think of them as a mash-up of The Black Crowes, Sound Garden, Humble Pie, Bad Company, Tom Petty and the Heartbreakers, Muddy Waters, and The Rolling Stones.
"We like to follow that voice that feels inspiring to us, and we've cultivated a fanbase that knows we are going to be authentically ourselves," Bryant said before their set at the May music festival, Welcome To Rockville, in Daytona Beach, Florida.
They strive to create an authentic experience for their fans, with each live show different from the one before. For them, it's all about what feels right in the moment, Crosby noted.
The Shakedown likes to take a DIY approach. They've built the band's structure brick by brick, and Bryant recalls shows in the early years with six people in attendance. Their goal for the next one was to have 12 people in the audience, but it just kept getting better each time.
"These are people that are like us," Bryant said. "They listen to the same type of music that we do. We almost have a friendship with our fans. Something we have consistently done over our career is to try and have less of an ego."
They released their past four studio albums through labels Carved Records, Republic Records and Snakefarm Records but have recently created their own label: Rattlesnake Records.
Bryant said the band never found anyone who was willing to work as hard as they were, so they decided to keep recording in-house. He added that many rock fans want to support artists directly but don't realize they are often supporting the label more than the artists.
"The models have been changing for years, but especially in 2020, we realized that we were able to move forward on our own," Whitford said. "The music industry has shifted dramatically, and most artists are making that change."
Their next album, slated for fall, will be the first under their new label. There might be some hiccups along the way, but they're the type of band that will trudge through hell and high water to get what they want.
Tyler Bryant & The Shakedown are in their element on stage. It's as though nothing else in the world matters—it's just them, their audience and grooving to the music. At Rockville, the band created their own world within the limits of the stage. Bryant is intrigued with making the audience part of the show.
During their last song at the fest, Lipstick Wonder Woman, Crosby stepped out from behind his drum kit and marched forward with a large plastic-top drum, banging on it repeatedly in line with the guitars.
Although the performance looks like it comes to them easily, Crosby said they consider themselves students who look to be inspired and excited about music and new artists. They're all deeply interested in the technique behind music, studying other musicians and music progressions. They let their songs carry themselves, instead of relying on overdone guitar solos.
Passion is a factor, but Bryant noted that it takes a certain mentality to survive as a touring rock musician.
"You have to have a purpose that goes beyond what anyone else thinks of you," he said. "You have to have really thick skin, and you almost have to look forward to getting doors slammed in your face and people telling you 'no.' It's not something you get into if you're looking for a quick road to fame or success."
Common among modern rockers, Tyler Bryant & The Shakedown pride themselves on not being categorized. Each record and project feels like a new era for them. There's never a set structure: Sometimes it starts with the drum grooves, or a simple concept, and other times it's just a jam session.
"We're an interesting band because you can listen to one of our records and hear one thing and then listen to another and get something else," Crosby said. "Those moments are snapshots of where we were and what we were inspired by in that time frame."
Start with: Their song On To The Next, and you might notice the different elements that the band intends to convey in their lyrics.
Pay attention to: How guitar drives the song but does not drown out the varying layers of rhythm, bass and percussion. The song tips a hat to the band's bluesy influences.

Kendall Polidori is The Rockhound, Luckbox's resident rock critic. Follow her reviews on Instagram and Twitter @rockhoundlb.