After the Riot
The Rockhound offered her thoughts and reviews from Riot Fest 2023. Now it's the fans' turns.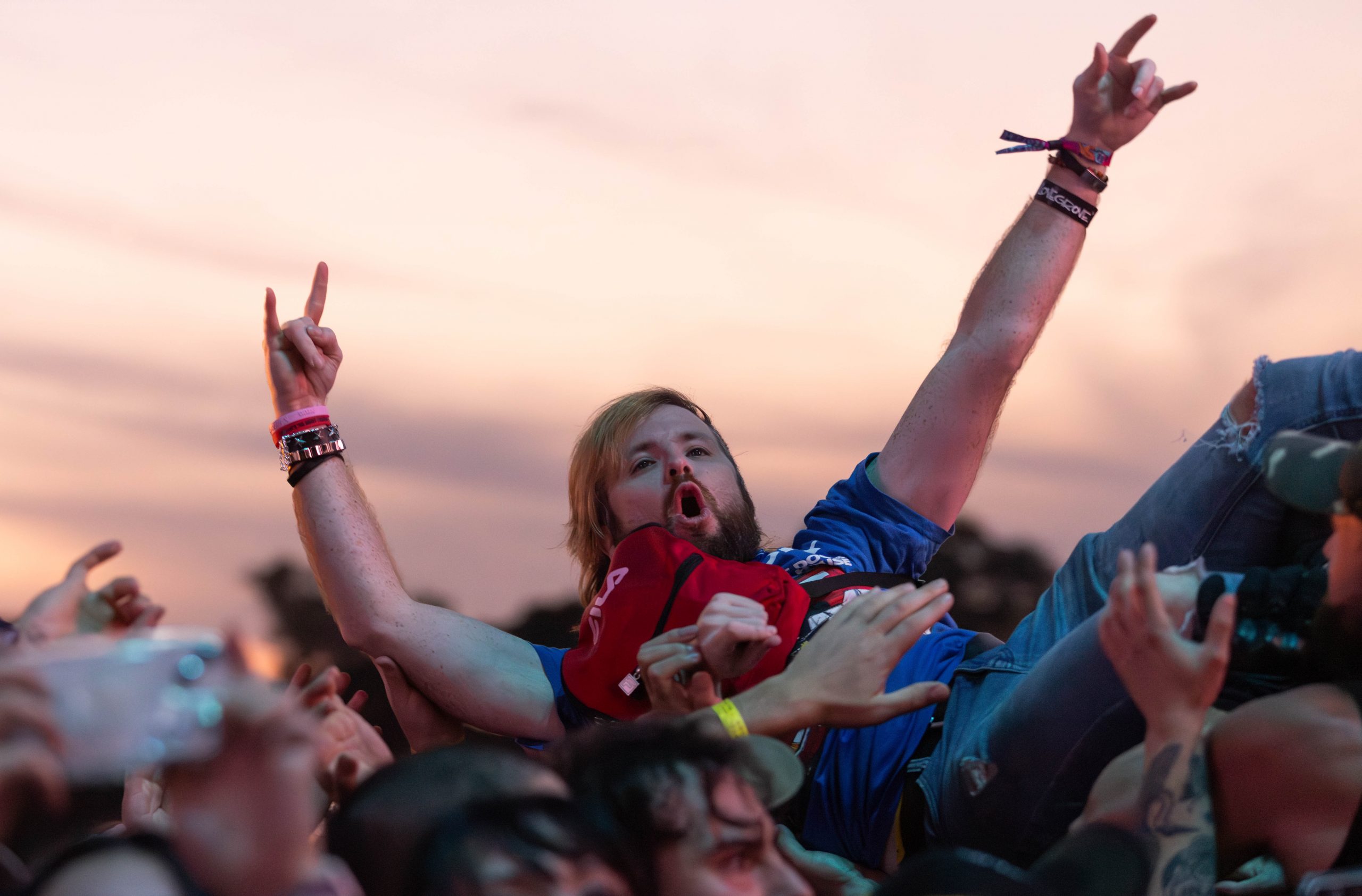 This is about the time when the post-music festival season depression starts to set in. Every year, I end the season with Riot Fest and it's the one I look forward to the most. This year was no different. The Chicago festival is the perfect mixture of rock, punk, emo nostalgia and artist discovery that allows me to walk away with some closure, as well as excitement for new music.
Most of my favorite music festival moments have been at Riot Fest: Seeing favorite indie bands such as Twin Peaks, The Districts, Bleachers, The Front Bottoms, Beach Bunny, and Matt and Kim (2018 had a fab lineup); that same year, I got to check off artists on my list who I never thought I'd get the chance to see, such as Blondie, Weezer and Interpol; In 2019, I covered the festival for the first time as a journalist and was so deep in the pit for my favorite band Blink-182 that I had to push my way out walking backwards, while still belting the words to Enema of the State in full; and that same year I participated in a Riot Fest wedding on the small baseball field across from one of the stages—tossing confetti as the bride-to-be walked down our makeshift aisle.
Riot Fest is more than a music festival, it's a community, and the ones who get it, get it. It's for the emos who are adults now, as well as the young music lovers looking for a place to belong.
I do hope to see more diversity on the lineup in the coming years, including more women and people of color with performance spots. Let's get Paramore, Boygenius, Palehound, Wombo, Illuminati Hotties and black midi on the lineup! Rock and punk are much more evolved than festival lineups make it seem.
This year's fest saw around 40,000 in Chicago's Douglass Park (which has generated community pushback for years), and had successful headlining sets from Foo Fighters, Queens of the Stone Age, The Postal Service and The Cure.
I know how I feel about the fest, but I've always been curious to hear what other people think—so I put together a survey to do just that. Here are some of the festivalgoers' reviews, comments and ratings of the event:
How many times have you attended Riot Fest?
For the first time — 25%
Two to four times — 31%
Five or more times before — 32%
Which days did you attend the festival?
Friday — 93%
Saturday — 89%
Sunday — 75%
Rank the headliners acts that you saw 1-5 (5=Great).
These are the performances that received "Great" ratings.
Foo Fighters — 50%
Queens of the Stone Age — 46%
The Cure — 36%
Turnstile — 29%
Death Cab for Cutie — 25%
The Mars Volta — 19%
Tell us about the "great" performances you saw.
Queens of the Stone Age killed it. Easily the best performance of the weekend. I wish their set was two hours long. Seeing Josh Homme live was a dream come true. Also playing Make It Wit Chu, I did not see that coming and it will be cemented in my memories forever. Foo Fighters never disappoint. Their two-hour set felt too short. The energy Dave Grohl brings is unmatched. After a slightly disappointing set from Death Cab for Cutie, that was cut short, Ben Gibbard redeemed himself by putting on an enthusiastic performance with The Postal Service. An absolutely wonderful way to end Saturday night.
—Divij Nagpaul, Chicago
Turnstile has become one of my favorite bands because they're new, yet I feel like they honor what rock truly is—high energy, passionate and clear. I put Mars Volta as a 5 because they stood out the most to me. They've been doing shows forever and I never really thought about seeing them live, but I did, and I love them even more now that I saw them.
—Abra Richardson, Chicago
Death Cab for Cutie and The Postal Service had such amazing energy! I know it's not what most people expect to hear at Riot Fest, but I think they owned the stage, and the crowd was majorly into it. Death Cab specifically is a band that means the world to me; I think I cried for over 90% of their set. Getting to hear them live was incredibly cathartic.
—Auburn, Tucson, Arizona
The Cure: Legendary band who bravely ignored stage banter to play as many songs as possible.
—Dan, Chicago
What was your overall opinion of the Riot Fest lineup?
1-5 (1=Not Good, 5=Great)
2 — 7%
3 — 18%
4 — 46%
5 — 29%
What is your favorite performance, or moment, out of all the years you've attended?
The Academy Is… and Yellowcard in 2022, or Death Cab for Cutie in 2023! Seeing bands from my youth who I was unable to see then has been a big motivator for me to attend Riot Fest.
—Auburn, Tucson, Arizona
Seeing Motion City Soundtrack and everyone singing Everything Is Alright the year after COVID.
— Collin, Portage, Indiana
The guest appearances! When Frank Turner brought out Jaret Reddick from Bowling for Soup and when Brian Fallon of Flashlight Anthem brought out Deanna Belos from Sincere Engineer!
—Adam, Tacoma, Washington
Do you plan to return next year?
Yes — 89%
How safe do you feel at Riot Fest?
1-5 (1=Not Safe, 5=Very Safe)
5 — 68%
1 — 0%
Check out The Rockhound's full Riot Fest roundup review here.
Kendall Polidori is The Rockhound, Luckbox's resident rock music critic. Follow her reviews on Instagram and Twitter. @rockhoundlb