Chinese Stocks & ETFs to Trade
Investing in China remains notoriously difficult, but here are some liquid options
With the second-highest gross domestic product (GDP) in the world—and a close second to the GDP of the entire European Union—China is indisputably a major player in the global economy.
Even though some Chinese stocks don't have great liquidity (ease with which investors can "enter" or "exit" a trade), there are smart ways to get exposure to the Chinese stock market.
The exchange-traded funds (ETFs) and individual company stocks in "10 most-liquid Chinese stocks & ETFs," below, have high levels of liquidity and enable investors either to speculate in China's market or diversify their portfolios. The table was created by multiplying the volume by the price to get an average dollar traded per day value. For example, the iShares Trust China Large-Cap ETF (FXI) trades more than $1 billion worth of shares per day.
The most heavily traded Chinese ETF, iShares MSCI Emerging Markets ETF (EEM), is only partially a Chinese ETF—only 35% of the companies in it are Chinese stocks and 11% are Taiwanese. But trading this ETF provides greater diversification in the sphere of China.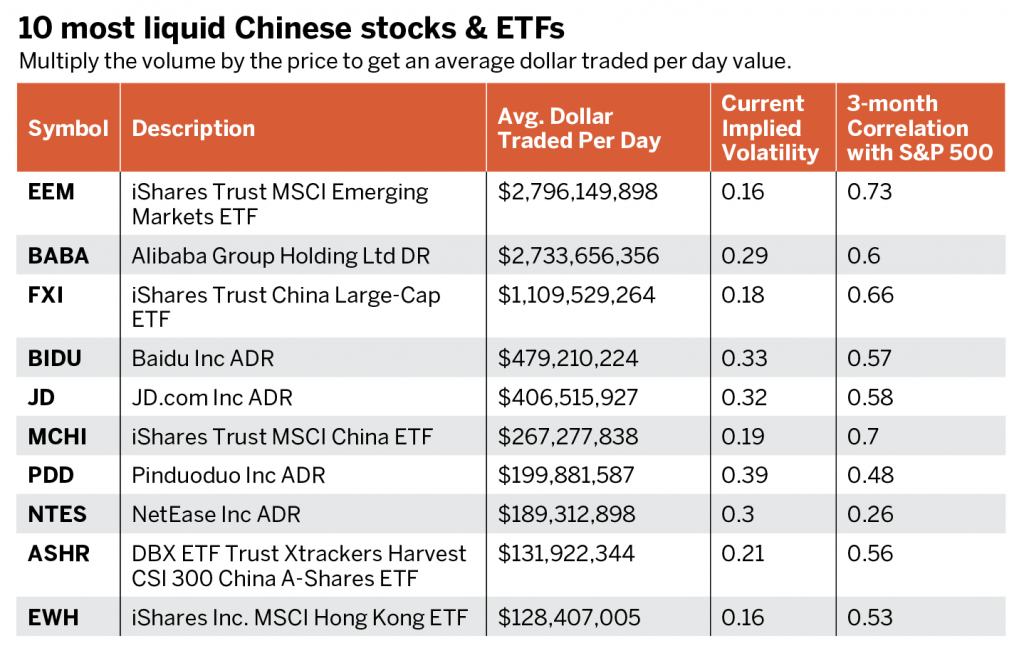 The table also presents a list of the top liquid Chinese stocks:
Alibaba (BABA) comprises multiple companies. It's an online middleman between buyers and sellers. Let's say a shopkeeper wants to stock up on cheap scooters. They can purchase one for $400 or purchase in bulk from Alibaba at $200 each if they buy at least 100. Alibaba also runs an online payment service, cloud services and mobile apps.
Baidu (BIDU) is the Google of China. It provides a search engine that controls 76% of the Chinese market and owns a number of other businesses, including Baidu Wallet, which has 100 million users.
Jingdong or JD.com (JD) provides marketing, logistics and financing to global brands trying to reach the Chinese markets.
Pinduoduo (PDD) helps users participate in group-buying deals of everything from cheap toilet paper to computers.
NetEase (NTES) is one of the largest internet and video game companies in the world, with 18,000 employees. One of its games, Knives Out, reached 250 million players.
The items covered here are liquid and have exposure to China. Investors who find one that seems like an interesting opportunity could consider a bullish strategy of selling a put several dollars below the current price up to several months away. Or for a more neutral strategy, consider a short strangle—a strategy that has the advantage of making money as long as the symbol doesn't move too much, staying between the two strikes.
Michael Rechenthin, Ph.D., aka "Dr. Data," is the head of data science at tastytrade. @mrechenthin