Looking for side-hustle ideas? Luckbox evaluates the challenges, barriers to entry and profit potential of some of the most popular second-income opportunities.

Ride Sharing
Income Potential $20/hr
Working as a rideshare driver via apps such as Uber and Lyft is a really great way to either make some extra income, or to make a full-time income. The customer market has exploded since Uber formally introduced the app-based ride-sharing platform in 2009, and despite the competition from new entrants to this market, there's still enough business to go around.
This side hustle is easy to start and makes money right away. After a
$1 rider fee, Uber drivers keep 80% of the fare.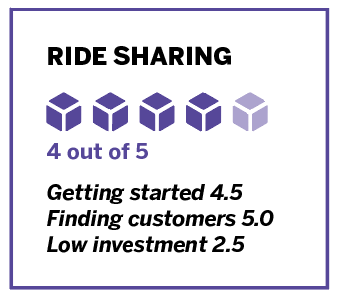 Applying to drive for Uber requires a visit to the Uber website to fill out some forms and agreeing to a criminal background check and vehicle inspection.
Ride-sharing's "getting started" score is lower for someone who doesn't have a car or plans to buy a new one to get into this side hustle. Ride-share drivers don't need commercial insurance to carry passengers—personal auto insurance suffices.
Ride-sharing offers a flexible time schedule and the opportunity to be your own boss. Drivers can maximize their earnings with Uber by working when prices surge during the busiest times. Ride sharing may be among the more lucrative side hustles, but comes with significant overhead. Operating expenses cover the cost of gas, maintenance and fees to the company. But don't forget the relentless wear and tear on the vehicle and the need to deal with some annoying passengers.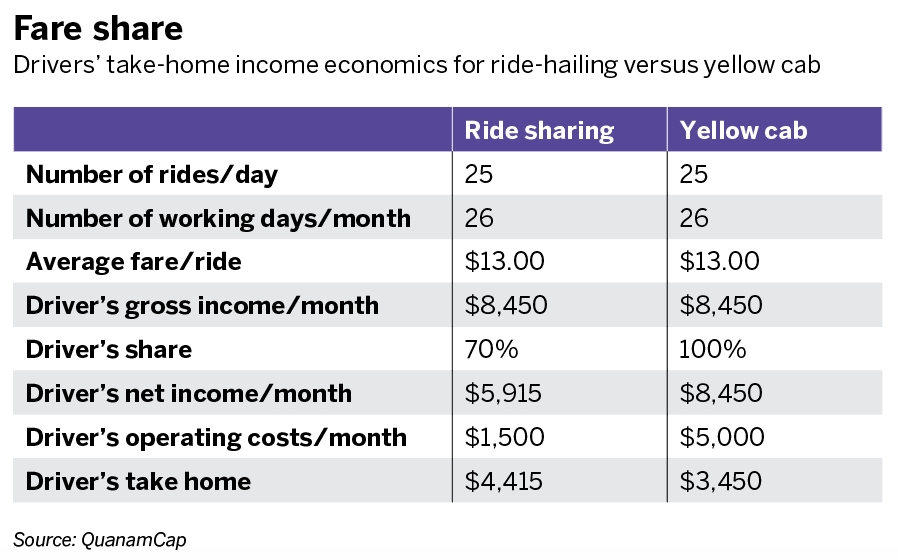 Mystery Shopping
Income Potential Varies
Perhaps the most mysterious facet of mystery shopping (secret shoppers) is whether anyone makes a decent, regular side income doing it. That's not to say it's a bad side hustle—many mystery shoppers report enjoying it—and it's not difficult to get into it.
One downside, however, is that the mystery shopping industry is plagued with scams. In fact, if a company asks a prospective shopper to deposit a check, wire money to someone or pay an application fee, side hustlers should probably refuse, according to the Federal Trade Commission.
Luckily, the Mystery Shopping Professionals Association can connect side hustlers with trustworthy opportunities. But even legitimate mystery shopping gigs have downsides.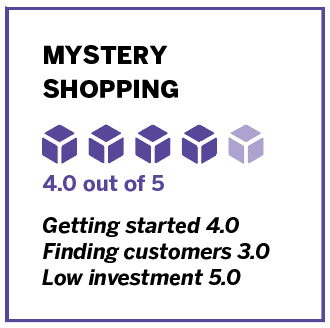 For one, it's not the most profitable opportunity out there. Some mystery shoppers just receive reimbursement for what they buy, but others receive reimbursement plus a fee and perhaps a bonus. In competitive markets, companies offer less compensation.
On the plus side, mystery shopping provides side hustlers an opportunity to shop places they may not have otherwise. They sometimes keep the products they buy, and they possibly line their pockets with a little extra cash. But if consistency is key, there are better opportunities.
Dog Walking
Income Potential $14.48/hr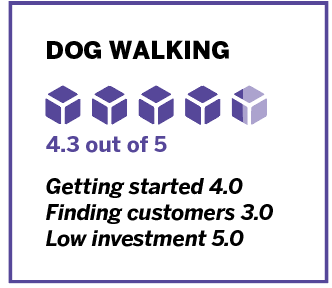 How much money a dog walker makes depends on several factors, including location, walk length, number of walks per day, tips and local competition.
Side hustlers who don't want to build a dog-walking business on their own have options. Wag and Rover, by far the biggest platforms, take a chunk of the fee. Rover gets 20%, while Wag takes 40%. In addition, some Wag and Rover walkers complain that competition can become cutthroat, especially in metro areas. On average, a dog-walking side hustler can expect to make $14.48 per working hour, according to payscale.com.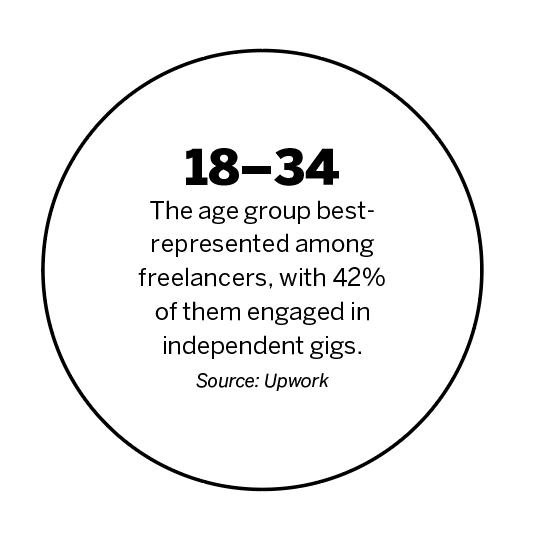 Domain Flipping
Income Potential Unpredictable
In 2010, QuinStreet spent $49.7 million acquiring the "carinsurance.com" domain, making it among the most expensive web domains ever sold and inspiring countless hopefuls to enter the niche side hustle of domain flipping. But stories like those aren't the norm, and the likelihood of scoring big by selling domains isn't great.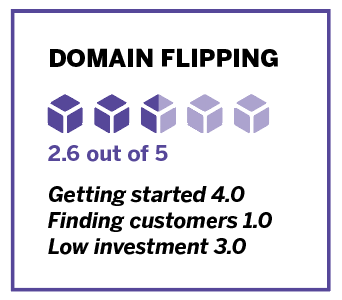 Anyone can register a domain through Google Domains or GoDaddy, but unregistered domains aren't free. Flippers should remember that regardless of how valuable they may think a domain is—or how much GoDaddy's appraisers think it's worth—there's no guarantee anyone will buy it.
It's not uncommon for flippers to get stuck with a domain that doesn't sell for years. Time is money, and each year a domain isn't sold, the owner has to make another payment to continue holding it. Flippers also pay for appraisal services and featured listings in auctions.
Domain flipping can be profitable—extremely so. But reaching that point requires knowledge, skill and sometimes luck. Side hustlers looking for steady, supplemental income would be better off looking elsewhere.
House cleaNing
Income Potential $25/hr
Countless websites explain how to get started in the house-cleaning side hustle. Start-up costs can be minimal, ranging from about $50 for cleaning supplies to $350 to become licensed and bonded. Costs increase with paid advertising, but social media and word of mouth cost nothing.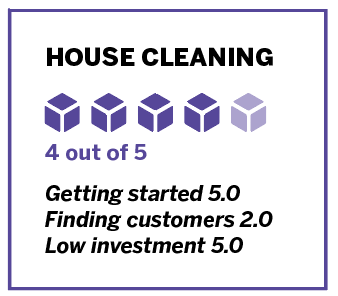 To make $1,000 a month would require working 11 or 12 hours per week at $25 an hour. Side hustlers can also charge by the room if prospective clients aren't willing to pay an hourly rate. It makes sense to research the target audience and discover neighborhoods where residents will pay a higher rate.
Finding customers can pose problems. Cleaning service companies have been around a long time and can compete effectively. But side hustlers can have lower overhead than companies and can thus offer lower prices.
Success requires cleaning skills good enough to attract repeat customers. No cleaning skills? Try becoming a matchmaker the way Chris Schwab did with Think Maids.
Odd Jobs
Income Potential $8-$43/hr
Although odd jobs score well in the ranking system, not all of them feel great in real life. Income potential varies greatly, depending upon expertise, location and number of hours a week. There's no guarantee of finding enough jobs to supplement regular income in a meaningful way.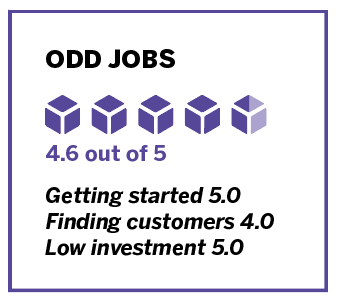 But side hustlers can find odd jobs through well-known channels like Takl, TaskRabbit and Upwork.
TaskRabbit, launched in 2008, specializes in connecting consumers with helpers to accomplish everyday tasks, such as deliveries, moving furniture or assembling furniture. Taskers can complete jobs that appeal to them when they want—on their own schedule.