These Guys Can Kick-Start any Side Hustle
Two side-hustle gurus side hustled their way into the full-time side-hustle business. Chris Guillebeau began by blogging part-time about money-making sidelines for travelers, and Nick Loper started with a part-time comparison-shopping website for shoes.
After those humble beginnings, both went on to learn the nuances of side hustles and then began sharing that wisdom. Now, their books convert legions to the side-hustle movement, their websites attract millions of monthly visitors and their podcasts have been downloaded millions of times.
So what do they have to say? Loper and Guillebeau agree the average person can develop a profitable side hustle to augment the income from a day job. Virtually everyone possesses a sometimes-hidden skill or talent that could develop into a marketable product or service. Just add strong motivation, a serious attitude and a robust work ethic. Precise timing can help, too.
Both experts hesitate to calculate the mathematical probability of side-hustle success, but they note that nearly half the population is already pursuing a second income or will soon try. Many of those side hustlers will achieve their goals, the two side-hustle pros conclude. "The odds of success are pretty good, depending on what you decide to do," Guillebeau says of beginning side hustlers.
Loper cites valuable side-hustle personality traits, such as persistence, stubbornness, resilience and a willingness to figure something out on the fly instead of beforehand. Beyond that, side hustlers who succeed generally have one of two answers to the question of why they're hungry for a part-time gig, he says. They either want more from life than their regular job provides, or they simply need the money.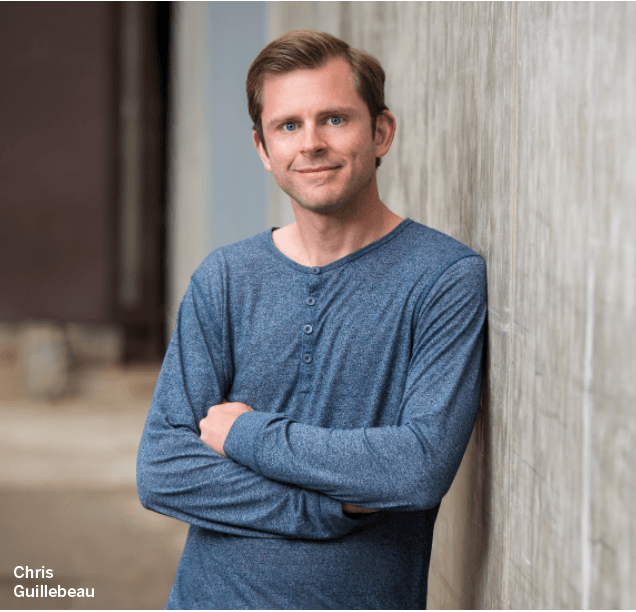 Side-hustle advice
Side hustlers should choose a secondary gig that fits their skills or knowledge, Guillebeau advises. Everyone's an expert at something, often without even realizing it, he says. Discovering a hidden expertise or latent talent can require a "self-interview" or consulting with friends, he contends. But he's confident he can usually detect someone's natural-but-marketable side-hustle skill in a three-minute conversation.
Guillebeau's advice doesn't end there. Be practical instead of purely aspirational, he admonishes. "Don't follow your passion—follow your skill," he says. "You may like to play golf, but you don't necessarily want to get into the golf business."
Loper agrees. "You become passionate by doing the work," he says, providing the examples of his own forays into house painting and podcasting. He didn't care how houses looked before he started painting them as a college student, but he soon caught himself critically eyeing the eves of every home he passed. In much the same way, his initial indifference to podcasting grew into an emotional attachment that's now a central part of his life.
Yet even when capitalizing on a personal strength, fledgling side hustlers should prepare for setbacks, Loper cautions. "It's always going to be harder than you think," he says. "But that makes it worthwhile.
If it were easy, everybody would be doing it." He notes that it's less challenging to choose a "plug and play" gig with Lyft than to come up with a unique side hustle.
Whatever gig one picks, side hustles don't necessarily last a lifetime. "Choosing what's next doesn't mean choosing what's forever," Loper says. Even someone who doesn't want to be painting houses at age 50 might do well to consider seizing that opportunity for the moment. In any case, choose a hustle and do it, he urges, because the best opportunities often appear to side hustlers who are already in motion.
"You have to look at it as an experiment," Loper says of the early stages of a side hustles. "Until you try it, you never really know," he contends. Start small with the understanding a particular gig may not work but something else could succeed later.
But that nonchalance doesn't equate to turning off the brain. Side hustlers should remember that the public tends to seek one of two results from a product or service—entertainment or the solution to a problem.
Notable side hustles
Some wacky-sounding side hustles work well, Guillebeau says. He tells the tale of a short-order cook who liked to break the monotony of his job in a diner by creating smiley faces on pancakes. The cook began offering his edible art at catered events—like birthdays and weddings—and it became so popular he found himself traveling the world to enliven parties everywhere from New York to Dubai. These days, he controls a lucrative pancake-decorating business and has attracted 300,000 Instagram followers.
In another example, a Korean-American founded a successful business that offers a subscription box for Korean face masks that act as overnight moisturizers, Guillebeau says. In yet another, a mother of twins who was frustrated with commercially available hairbrushes invented a better one and—with low startup costs and without much experience—turned it into a seven-figure business.
Loper has stories, too. "I'm always amazed at what people come up with," he says of the ideas he encounters. He recalls a college student, Chris Schwab, who started a house-cleaning business called Think Maids without ever picking up a mop or a broom. Instead, the enterprising American University undergrad hired people to do the work and spent his time on marketing and on heading off scheduling snafus, making sure phone calls were returned, and fixing or avoiding other customer-service headaches. At the 90-day milestone, his business was pulling in $20,000 a month. "Overall, I spend maybe 10 minutes a day running Think Maids now," he said.
One entrepreneur, who wishes to remain anonymous because his hustle is nearly free of barriers to entry, regularly scores $100 an hour on Saturday mornings by picking up dog droppings. The pro scooper determines the price based on the size of the yard and number of dogs in the home.
Another budding businessperson didn't have access to enough capital to become a real estate investor, but he had enough cash to buy trampoline-like "bounce houses" for children's parties. He rented them out for enough to make a profit.
Loper also cites the case of Chris Green, who sells T-shirt designs through Merch by Amazon, an invitation-based platform that pays designers royalties. Anyone interested in joining should apply, Green advises. Royalties vary but on a standard $19.99 T-shirt he collects a $5.23 royalty. The beauty of the site is that designers don't have to carry inventory or incur any other expenses—they only make money. "It really is a too-good-to-be-true kind of thing," Green claims.
In another memorable side-hustle story, Loper describes the journey of Brian Schooley. When Schooley heard about the possibility of becoming a mobile notary, he was working both a full-time and a part-time job. Two-and-a-half years later, Schooley now plans to take his side hustle full-time. "Really anybody could do it," he says. "If you just learn about the documents, it's pretty easy to become a notary." In California he had to take a six-hour course, pass a 30-question state exam and purchase insurance. In the last month, he made $6,000.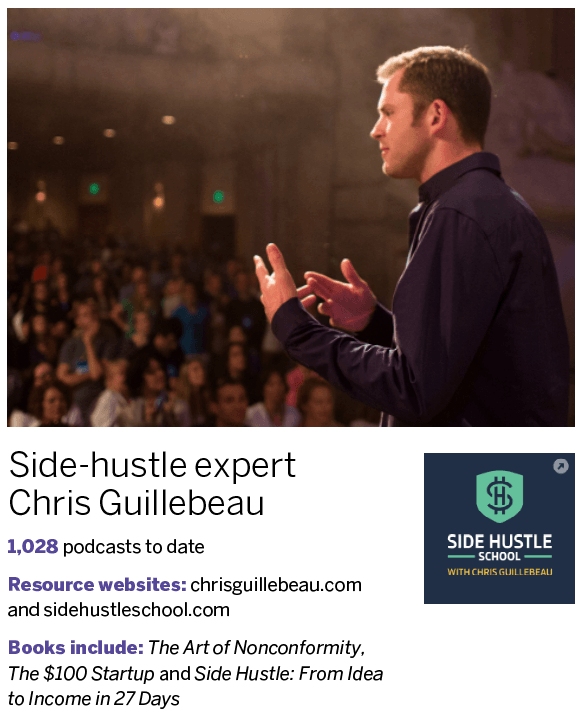 What side-hustling requires
Side-hustle entrepreneurs reach inside themselves to find their own gigs instead of signing on to work for someone else, says Guillebeau. By that definition, Uber, Lyft and other part-time jobs don't qualify as side hustles. He characterizes side hustles as "more next level" than that. "A side hustle is an asset you're creating for yourself—something that's going to build security for the future, help you get ahead or pay off significant debt," he maintains.
Loper, on the other hand, views driving for a ride-sharing service as a valid side hustle that can teach something fundamental—the lesson that income can flow from sources other than a full-time job. Still, the best side hustles don't result from Googling a list and randomly picking No. 37. The best come from within, he says, agreeing at least in part with Guillebeau.
Wherever the inspiration arises, side hustles need not break the bank. "You're not going to spend your life savings," says Guillebeau. One factor that helps hold down costs is that would-be entrepreneurs often know within 30 days or so if a side hustle shows the potential to succeed.
Regulation, licensing and other red tape shouldn't stand in the way of starting a side hustle, Guillebeau contends. Those factors become important only after a side hustle is well underway and turning a profit, he says.
Earning $500 a month part-time defines side-hustle success in Guillebeau' eyes. Though he admits the figure's a bit arbitrary, he notes that it could make a car payment or whittle away at a student loan. After reaching that $500 mark, it's usually not that difficult to progress to $1,000 monthly, he says, adding that a little more effort can bring in $2,000 each month.
Whatever the amount of cash flowing into the coffers, it's important to begin with an actionable goal, such as making $50 a day with a side hustle, Loper recommends. That provides a way of measuring success.
But however one measures success, the side-hustle gurus are convinced of at least one thing. Their extensive research and their nearly countless interviews with side hustlers of every stripe have led them to believe deeply that almost anyone who's motivated and capitalizes on established knowledge or skill should pick a gig and take a shot. "Go for it," they would agree.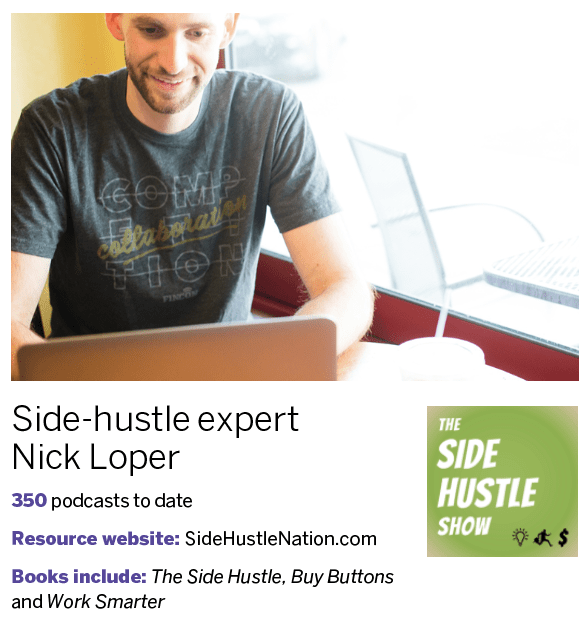 Side Hustling 101
To execute the most basic side hustle, simply begin reselling merchandise online or out of the family garage, suggests side-hustle expert Chris Guillebeau. Years ago, he started hawking his belongings on the internet and immediately found himself making $18 an hour—significantly more than the $8 an hour he was earning by loading trucks on the graveyard shift. "Plus, there's freedom and flexibility," he notes of side hustling.