The guru of wealth building uses a simple strategy any investor can mimic
Traders can make the most of their portfolios by taking a cue from investment guru Warren Buffett.One of his favorite tactics is buying stocks that pay dividends.
Investors can keep the cash they receive as dividends or use it to buy more stock in the company. They can do the latter automatically through a dividend reinvestment plan (DRIP).
DRIPs offer two benefits:
First, DRIPs use dollar-cost averaging to reduce risk by spreading the stock purchase over time instead of buying equities at a point when the price may be relatively high. That outperforms the market more often than not.

Second, DRIPs offer compounding returns. When a dividend is automatically reinvested into shares, the company pays the next dividend on a larger sum.
Over 10 or 20 years, DRIPs can drastically increase return on investment. Consider the way that would play out with Exxon Mobil (XOM). The stock now has a dividend yield of 4.25%, and that figure has fluctuated between 2% and 8% in the past decade. The company currently pays $0.88 per share quarterly.
To see the true power of a DRIP, let's compare two portfolios, both of which started with $5,000 of Exxon Mobil stock on Jan. 1, 2012.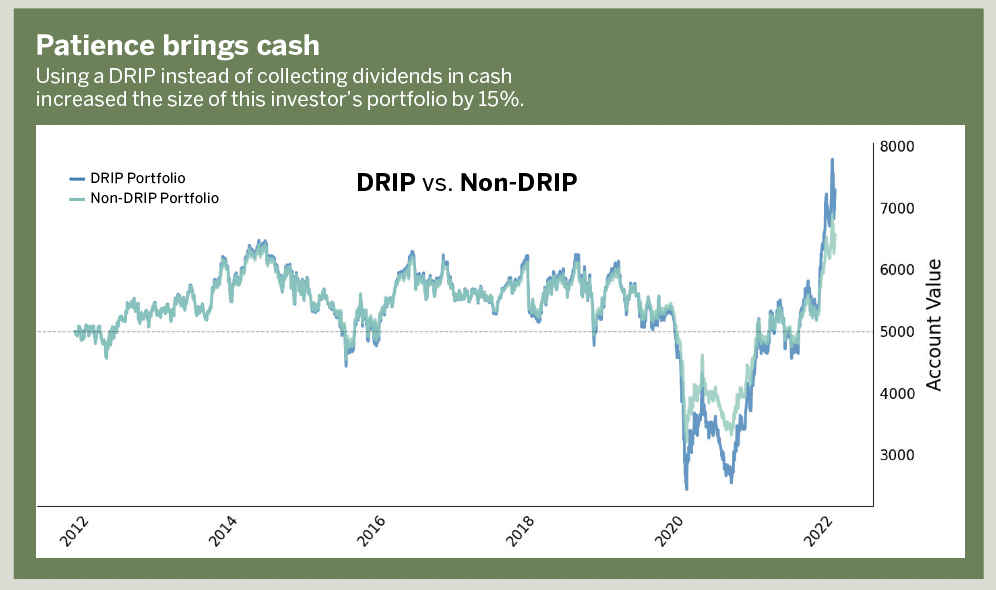 Eddie Rajcevic, a member of the tastytrade research team, serves as co-host of the network's Crypto Corner and Crypto Concepts programs. @erajcevic11