Drone Makers Soar in 2023 as Ukraine War Raises Sector Profile
Sales of unmanned aerial vehicles (UAVs) have spiked in recent years due to the increased utilization of drones in the Russo-Ukrainian war
Global drone makers have seen increased sales in 2023 due to the war in Ukraine.
Recent data indicates that Ukraine is losing 10,000 drones per month.
Drone stocks have surged in 2023 alongside strengthening earnings.
The war in Ukraine now represents one of the great tragedies of the 21st century.
Estimates suggest that upwards of 500,000 souls have been killed or wounded as a result of the conflict. The bloodshed serves as a harsh reminder that despite recent technological advancements, conventional warfare remains an acceptable form of conflict resolution in modern human civilization.
Importantly, this conflict has also impacted the global economy—devastating some regional/global business sectors, while providing fresh opportunities for others.
Not surprisingly, one of the biggest beneficiaries has been the global aerospace and defense sector. According to data compiled by the Stockholm International Peace Research Institute (SIPRI), global military spending hit a new all-time record last year, rising to roughly $2.2 trillion.
And due to the deployment of new military strategies and tactics in Ukraine, unmanned aerial vehicles (UAVs)—commonly referred to as "drones"—have emerged as one of the new favorite tools of the global military establishment.
A UAV is an aerial vehicle that does not carry a human operator, and is instead operated autonomously, or by a remote operator. UAVs leverage rotors and/or propellers for lift-off and flight, and are designed to be recoverable, or expendable (aka "suicide drones"). The latter fly into targets and detonate on contact.
Drone capabilities have increased substantially in recent years and many are now operated/controlled with the assistance of cloud computing, machine/deep learning and artificial intelligence (AI). UAVs can carry both lethal and non-lethal payloads.
Drones are typically classified according to their size, take-off weight, operating altitude, speed, range and endurance. A drone may also be classified by its degree of autonomy—ranging from remotely operated to fully autonomous.
The Ukraine war has raised the profile of UAVs because they have increasingly been utilized as machines of war. But the commercial application of drone technology extends far beyond this single application.
Some of the most common uses of drones include aerial photography/videography, data collection, security, search/rescue, environmental monitoring and package delivery.
Looking at a specific example from the commercial sector, farmers are now using drones to monitor crops/livestock, to conduct topographical surveys, to plant seeds and to apply fertilizers/insecticides.
However, the recent spike in demand for drones has been mostly attributable to the war in Eastern Europe. According to one estimate, Ukraine is losing an astonishing 10,000 drones per month.
And because increased demand typically leads to increased profits, the drone niche has drawn fresh interest from Wall Street. As highlighted below, some of the world's best-known drone makers have posted impressive gains so far in 2023.
Ehang (EH), +85%
Joby (JOBY), +82%
Kratos (KTOS), +43%
AeroVironment (AVAV), +34%
AdvisorShares Drone Technology ETF (UAV), +15%
Teledyne Technologies (TDY), +4%

In addition to the stocks listed above, there are large multinational conglomerates that also offer drone hardware, software and services.
However, due to the diversified nature of these companies, these drone divisions represent only a fraction of overall revenue. Examples include Amazon (AMZN), Boeing (BA), and Northrop Grumman (NOC).
In addition to the large conglomerates, there are also many privately-held companies operating in the drone sector. One such company is DJI in China, which reportedly controls about 70% of the global drone market.
In April of this year, DJI officially suspended all activity in Russia and Ukraine, ostensibly signaling that it had adopted a neutral stance on the war. At that time, DJI clarified that its products are "for civilian use only."
This development was considered a significant setback for the Ukrainian military effort because the DJI Mavic drone was a highly leveraged tool on the frontlines, especially because of its low price point.
It should be noted that back in 2021 DJI was officially placed on the U.S. government's blacklist, which means American companies cannot legally do business with DJI.
Background on the Use of Drones in the Ukraine War
While the use of drones in military settings may seem like a recent development, drones have been utilized in military conflicts since at least the mid-19th century.
For example, there's evidence that balloons were used as incendiary devices back in 1849, when the Austrian military besieged Venice. Then, in 1903, an engineer from Spain—Leonardo Torres Quevedo—devised a radio-based control system that was intended to allow for the testing of airships without risking the life of a test pilot.
Advancements in drone technology—as it relates to their military application—arguably reached a new level in 2020 when a UAV (the Kargu 2) purportedly hunted down and attacked a human target in Libya.
According to an investigation conducted by the United Nations, that incident may represent the first time in history that a human was attacked by an autonomous robot armed with lethal weaponry.
In a military context, a UAV may also be referred to as an unmanned combat aerial vehicle (UCAV). In the Ukraine war, UCAVs have been widely used for surveillance, reconnaissance, and military strikes. And as a result of their widespread utilization, some have even referred to the conflict as a "drone war."
Considering that Ukraine is losing an estimated 10,000 drones per month, that characterization probably isn't far off the mark. Listed below are some of the most commonly-utilized drones in the Russo-Ukrainian war:
Aerorozvidka R18: Produced by Aerorozvidka in Ukraine; primarily used for dropping "bomblets."
Kvazimachta: Produced by the Kalashnikov Group in Russia; primarily used for surveillance and reconnaissance.
Mavic Series: Produced by DJI in China; primarily used for surveillance and reconnaissance, but also capable of dropping small bombs/grenades.
Orlan 10: Produced by the Special Technology Center in Russia; primarily used for surveillance and reconnaissance, but also used to assist with the accuracy of aerial strikes. These drones have also been documented dropping bomblets and jamming cell-phone towers.
Bayraktar TB2: Produced by Baykar in Turkey; primarily used for surveillance and reconnaissance.
Kronshtadt Orion: Produced by the Kronstadt Group in Russia; primarily used to deploy air-to-air guided missiles.
Switchblade 300: Produced by AeroVironment in the United States; primarily used as "suicide drones" which are shot from a backpack.
Geran 2: Produced by Shahed Aviation Industries in Iran; primarily used as "suicide drones," much like the Switchblade 300.
Black Hornet: Produced by Teledyne Technologies in the United States; these nano drones are primarily used for surveillance and reconnaissance.
One of the well-known UCAVs that doesn't appear in the above list is the American-made MQ-9 Reaper, which can be outfitted with up to eight laser-guided missiles.
The Reaper is produced by the privately-held General Atomics in America, but these drones have not yet been approved for use in the Ukraine war by the American government.
Regardless, it's quite clear that demand for drones has skyrocketed as a result of the war in Eastern Europe, which has resulted in higher expected growth rates for the industry in the coming years, as illustrated below.
2023 Performance in the Drone Sector
Because most of the aforementioned drone makers are not publicly traded, and are headquartered outside the United States, very little is known about their respective production and financial performance.
However, the U.S.-based AeroVironment (AVAV) reported quarterly earnings at the beginning of September, which allows for a more detailed examination of the current dynamic in the drone sector. In its most recent earnings quarter, AVAV booked revenues of $152 million, which was 40% higher than the comparable period last year.
Moreover, AVAV booked adjusted earnings of $1.00 per share, which was significantly better than Wall Street's consensus forecast of $0.40. It was also significantly higher than AVAV's earnings 12 months ago, when the company reported a loss of $0.08/share.
Importantly, two of AeroVironment's key drone divisions—Tactical Missile Systems (TMS) and Small Unmanned Aircraft Systems (SUAS)—have exhibited surging growth. Growth in the TMS division clocked in at roughly 110% as compared to the year prior, while SUAS grew by roughly 60%.
According to data compiled by Fintel, AVAV's international sales have basically doubled since 2017, and the company now sells its products and services in 50 different countries around the world.
Shares in AVAV are up more than 30% so far in 2023, and are currently trading roughly $112/share. Earlier in summer, the Jeffries analyst Sheila Kahyaoglu rated the stock a buy with a 12-month price target of $115/share.
In June, Kratos (KTOS) also announced improved earnings as compared to 12 months prior. The company reported earnings of $0.09/share as compared to Wall Street's consensus estimate of $0.05, and revenues of $257 million, which were 15% higher than the same quarter last year.
KTOS used to be known for "dumb drones" that were used for target practice, but the company is currently working on developing and commercializing its tactical Valkyrie drone, which could help the company tap into the growing market for military-focused UCAVs.
Interestingly, the Valkyrie is designed to deploy a second, smaller UCAV (illustrated below)—the ALTIUS-600 unmanned aircraft system—which is controlled by the parent aircraft and can be tasked with surveillance or intercepting enemy fire.
The Valkyrie is still in testing, but on the company's most recent earnings conference call, the CEO of Kratos provided an optimistic update, saying, "Since our last report, we have now reached agreement with a new national-security related customer for payload and mission system integration into Kratos' Valkyrie, and we have recently received the contract."
In February of this year Canacord upgraded Kratos from hold to buy, and moved the price target from $11.50/share to $14.00/share. KTOS shares currently trade at about $14.50/share.
Year-to-date, Kratos shares are up more than 40%, and could rally further on any further positive developments related to its Valkyrie tactical drone.
Shares in Joby (JOBY) are up more than 80% in 2023, but this company is focused on flying cars and air taxis—technically known as "electric vertical take-off and landing" (eVTOL) aircraft.
Like Joby, Ehang out of China is also focused on eVTOLs. Shares in Ehang have also rallied by more than 80% year-to-date.
It should be noted that the U.S. military recently signaled its intention to purchase thousands of new drones in 2024 and 2025.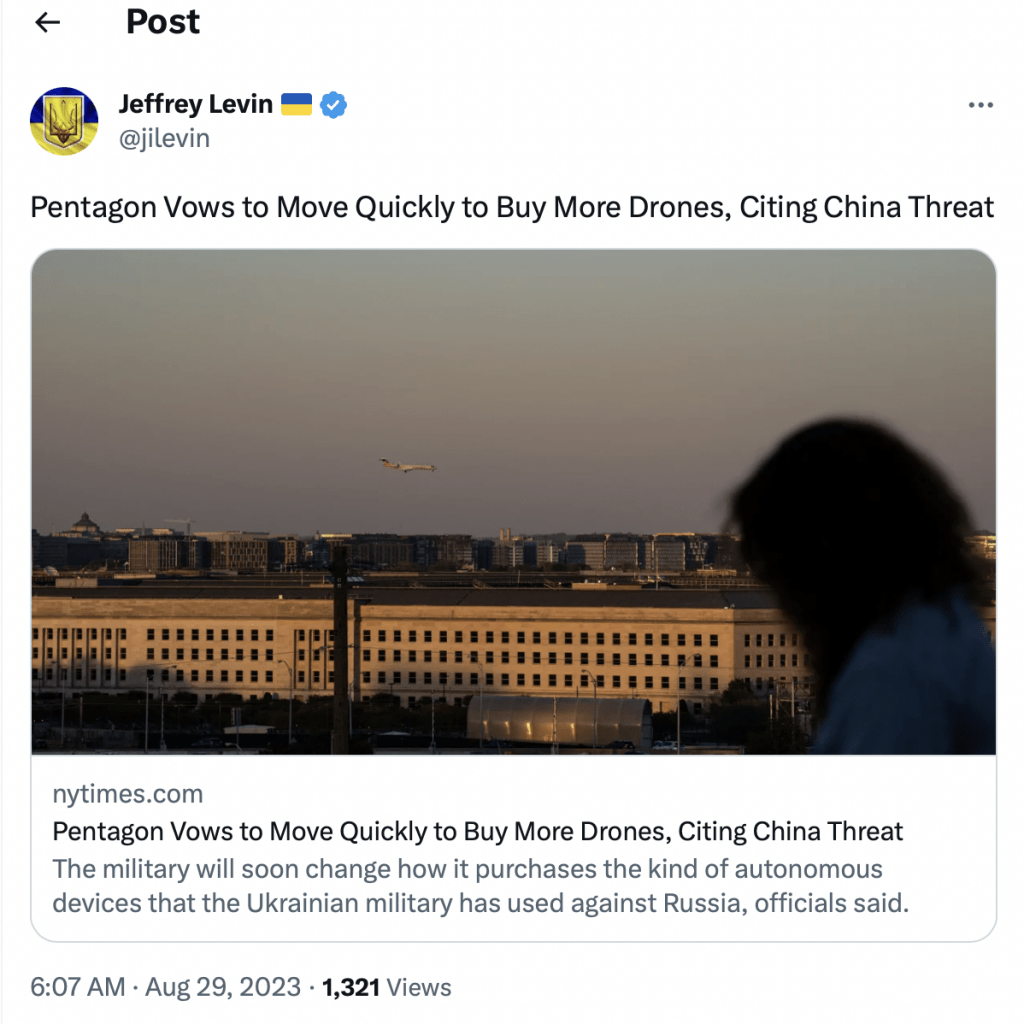 Considering the current positive momentum in the drone sector, as well as strengthening earnings, investors and traders that are bullish on the future of drones and flying cars may want to take a closer look at longer-term positions in one of the aforementioned companies.
Alternatively, the primary ETF for the drone sector—the AdvisorShares Drone Technology ETF (UAV)—is up only 15% in 2023, suggesting that bullish investors haven't necessarily missed the boat in this particular underlying.
That said, participants active in this sector should be aware that any sudden resolution to the war in Ukraine, such as a truce or cease-fire, could trigger a correction in the UAV/UCAV sector. Whether that would be a temporary or extended pullback is harder to forecast, and would likely depend on trading conditions in the broader stock market.
To follow everything moving the markets this year, including the options markets, tune into tastylive—weekdays from 7 a.m. to 4 p.m. CDT.
For daily financial market news and commentary, visit the News & Insights page at tastylive or the YouTube channels tastylive (for options traders), and tastyliveTrending for stocks, futures, forex & macro.
Trade with a better broker, open a tastytrade account today. tastylive, Inc. and tastytrade, Inc. are separate but affiliated companies.
Hungry for more? The next issue of Luckbox is food-focused looking at new growth opportunities and trading ideas in food, beverage, agricultural, hospitality and grocery stocks. Not a subscriber? Subscribe for free at getluckbox.com.
Andrew Prochnow has more than 15 years of experience trading the global financial markets, including 10 years as a professional options trader. Andrew is a frequent contributor Luckbox Magazine.