Make up for Missed Opportunities
Believe it or not, the market for U.S. dollars bears some similarity to GameStop (GME) stock. How? Both rallied from historical lows to start 2021, fell back to those lows in February and woke up again in March.
So where does that leave them? In an awkward position that has often brought traders consternation: a potential buy that's simultaneously showing signs of life and presenting less value.
But don't look back in anger over missed opportunities to invest in the dollar or GameStop. Rarely do traders buy a stock or currency at the absolute lowest price.
And opportunity could still be on the table if the market continues higher. So deciding whether or not to buy should come down to whether or not one still sees upside.
Sometimes the most difficult part of trading the dollar is deciding which currency "pair" to pick. The Small Dollar Index (SFX) combines the euro, Chinese renminbi, Japanese yen, British pound, Canadian dollar, Australian dollar and Mexican peso. The index provides a simple way to participate in the foreign exchange market.
What can help ease the frustration of missing the opportunity to buy low? Option premium. Calls against GameStop shares or puts in the U.S. dollar's competitors against SFX contracts can get that long position's breakeven closer to those lows a trader may have missed. With SFX options coming and other dollar products lacking, traders can go to other currencies to partially hedge.
There's no point in fretting about missed opportunities, especially if there's still potential for growth.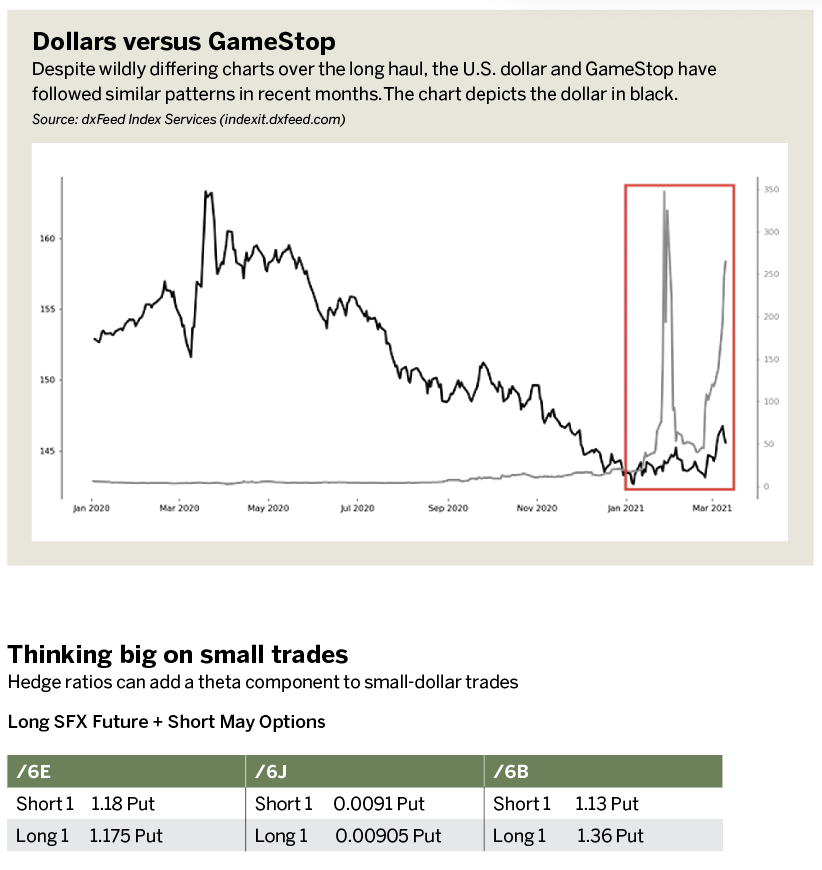 Pete Mulmat, chief futures strategist at tastytrade, serves as host for a number of daily futures segments on the tastytrade network under the main flagship programming slot called Splash Into Futures. @traderpetem