Rock Enters a New Age—Again
Rap, hip-hop and pop are dominating the music industry these days, but rockers say their genre is just in a down cycle
Back in the '90s when Blink-182 was touring on angsty albums like Cheshire Cat and Dude Ranch, singer and guitarist Tom DeLonge would spend weeks on end in the back of a van, dirty and getting into fights with random people. Today, traveling with his space-rock band Angels & Airwaves, DeLonge noted that it doesn't look quite the same as it used to for punk-rock bands—for a multitude of reasons that are easier to explain by saying, "We're in a new era."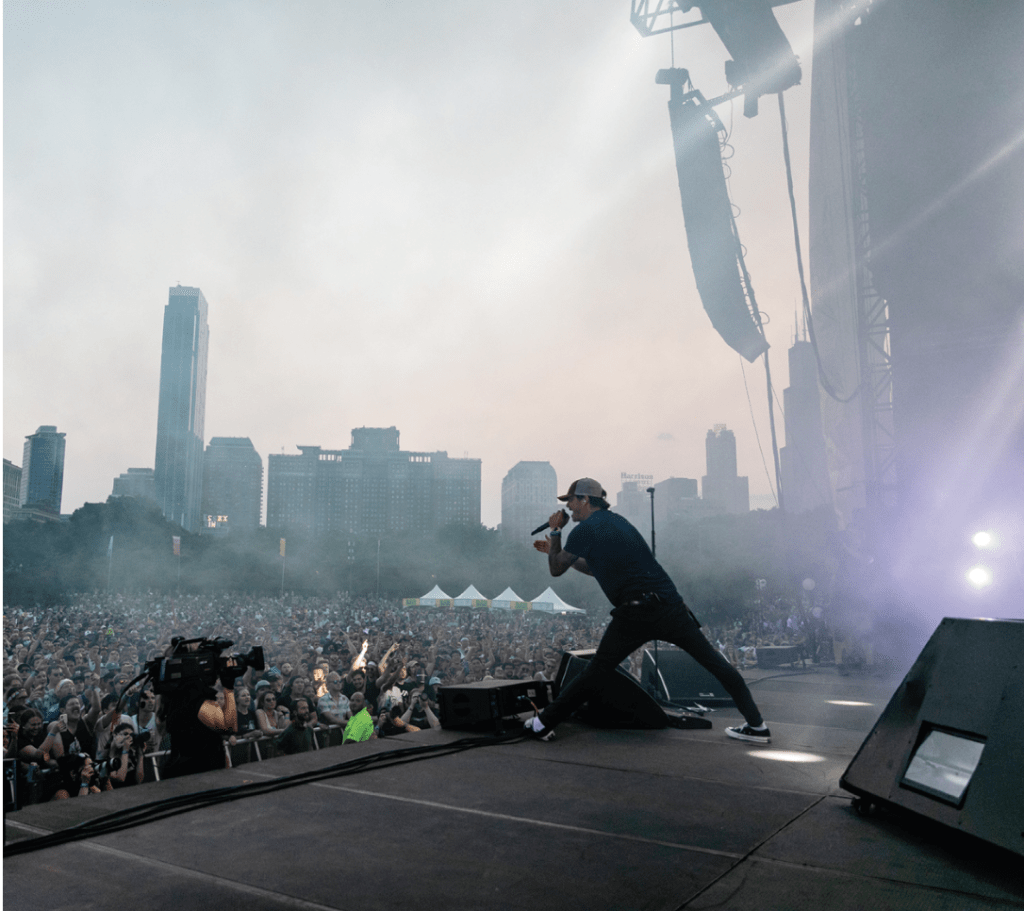 During an interview with Luckbox before his July Lollapalooza performance in Chicago, DeLonge said rock goes through cycles. These days, rap/hip-hop and pop artists dominate the U.S. music industry, with rap/hip-hop the most-streamed genre, according to 2020 MRC data. But rock remains the second most-streamed music genre with 16.3% of on-demand audio streams last year. Pop was behind it with 13.1%.
However, the streaming numbers are driven by golden oldies performers like Queen (929,000 streams), Elton John (743,000), Fleetwood Mac (721,000), Creedence Clearwater Revival and John Fogerty (630,000), and Journey (561,000).
For today's festivals, headliners are undeniably chosen for their streaming numbers and popularity. At Lollapalooza this year, the only obtainable classic rock artist with high streaming numbers was Journey, and they headlined one day of the show.
With rap/hip-hop holding the No. 1 spot for most-streamed music genre, featured festival artists directly reflect the numbers. More than 30% of all on-demand audio and video streams in the U.S. last year were of tracks recorded by R&B and hip-hop artists, according to MRC and Billboard 2020 data. The R&B/hip-hop category claimed more than a third of all plays, at 33.9%. For audio streams, R&B/hip-hop accounted for 30.7% of on-demand plays, and across audio and video streams combined, it claimed 31.1%.
So, what does it all mean for rock artists? The first Lollapalooza lineup in 1991 was made up of artists grounded in alternative rock, industrial music and rap: Siouxsie and the Banshees, Nine Inch Nails, and Ice-T and the Body Count. For a few years, the festival maintained musical acts within those three genres but has gradually expanded to embrace the moment's most popular music and artists, hence choosing artists with high streaming numbers and the most attention on social media platforms such as TikTok.
But, that's not to say the festival lineup doesn't cater to music-discovery lovers looking for smaller indie bands, such as Post Animal, ROOKIE, Mt. Joy, Whitney, Dayglow and Neal Francis. The fest also featured renowned rock bands like the Foo Fighters, Black Pistol Fire, Modest Mouse and Band of Horses.
As a veteran rocker himself, DeLonge said rock has changed because of how it's recorded. In the days of "classic rock" bands like Led Zeppelin, The Rolling Stones and Pink Floyd, music was recorded to have a raw, live sound. Now, artists pay more attention to how a song sounds digitally.
"Back then, classic rock was recording reel to reel—analog," DeLonge said. "So you had to write songs together, practice those parts, and then you all come in and record them delicately on analog tape. With computers, I don't know anybody that writes in a room together and practices it."
The accessibility of computers and editing software has made it easy for just about anyone to write a catchy song—but DeLonge questions what's behind much of today's music: Who the people are, where they're from, what they're trying to say or if they even have anything to say.
"It seems to me like everyone is starting to notice that there are a lot of hollow catchy songs out there," he said. "I feel like this is the beginning of bringing guitars back, bringing angst back, bringing back something that has a soul, that has a reason for existing and a point of view that's worth listening to. And that's rock 'n' roll—that's our job, right?"
DeLonge's not alone in his nostalgia. All five members of Chicago-based indie psychedelic rock band Post Animal said they would like to see more rock acts at festivals like Lollapalooza, but with the evolution of music comes the evolution of headlining names.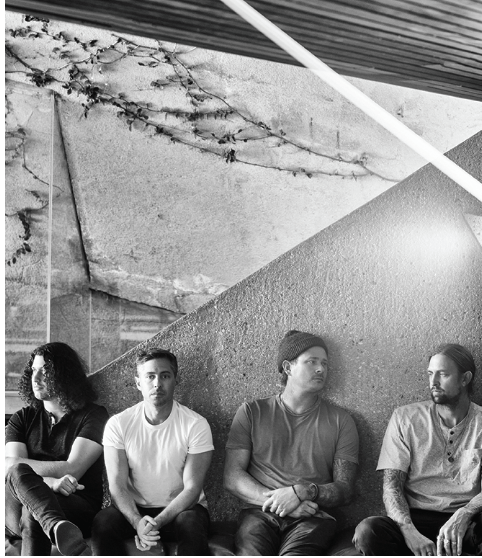 Like DeLonge, the Post boys agree that rock is cyclical—phasing in and out of popularity. Now, with a few years of touring and recording behind them, the members of Post Animal believe rock is making a comeback, but in a new way. The band grew a loyal following by touring in a van across the U.S. playing fast and heavy garage rock—a sound that surely inspired a few mosh pits. But, as with their most recent album Forward Motion Godyssey, which illuminates experimental synths reminiscent of those on Pink Floyd's The Dark Side of the Moon album, they're willing to evolve.
The band has always appreciated other genres and sounds, and members felt it was time to try something new—as there's only so much musicians can do before falling into the black hole of psychedelic rock, unable to write anything with range. They consider themselves a live band, though, noting that they don't make music for streaming but instead make it for people to hear at live shows.
"We embrace the spectrum of modern rock," the band members agreed. "We really do think there are a lot of people listening to rock music and rock bands, but maybe they're not using the same platforms to listen to their music."
According to 2020 MRC data, rock music had 19.2% of total album-equivalent consumption by format for physical albums, or vinyl records, whereas R&B/hip-hop only had 3.7% of total album consumption from physical sales.
Max Loebman, singer and guitarist for Chicago-based rock band ROOKIE, said most rock fans buy vinyl over streaming because that's the point of rock—getting as close as possible to the imperfect and authentic sound. He doesn't feel slighted as a rock artist, despite higher demand for rap/hip-hop artists at festivals, because there's always a space and place for any genre of music.
With bands like The Black Keys, Foo Fighters and Greta Van Fleet playing large arena shows, Loebman said it's hard to say that rock is dying. Instead, it's just surviving in a new way.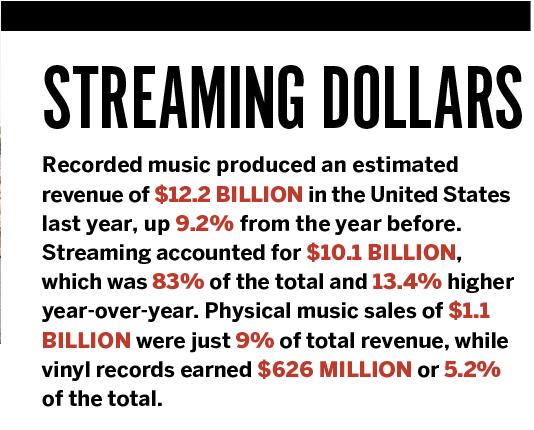 For Angels & Airwaves, DeLonge acknowledged that the band's sound does not plug into the way the market is right now. He said Pearl Jam still operates that way today—they roll into a town on tour and play a stadium show. But hardly anyone is aware they play stadiums.
"No one's talking about it, it's not on the radio stations and there's no posters," DeLonge said of the band's stadium gigs. "But everyone that was there is like, 'That was the best show ever.' That's a really cool place to aim for, where you've built something that's on your own terms."
Kendall Polidori is an associate editor at Luckbox magazine and is the publication's music guru.