The markets' performance during earlier epidemics may indicate investors have little to fear from the coronavirus
Based on the markets' performance during the onset of other infectious diseases—including SARS, Ebola and avian flu—Wall Street investors may have little to fear from the coronavirus. The pathogen need not sicken a U.S. stock market that finished last year with the best annual return in years and has traded at all-time highs.
Historically, Wall Street's reaction to such epidemics and fast-moving diseases has often been short-lived.
According to Dow Jones market data, the S&P 500 posted a gain of 14.59% after the first occurrence of SARS back in 2002-03, based on the end-of-month performance for the index in April 2003. About 12 months later, the broad-market benchmark was up 20.76%. (See "Short-lived," below.)
SARS sickened about 8,100 people during the 2003 outbreak, with 774 people dying, according to the World Health Organization and the Centers for Disease Control and Prevention.
Separately, the S&P 500 rose 11.66% in the roughly six-month period following reports of the 2006 avian flu virus—a fast-moving pathogen also known as H5N1. The market gained 18.36% in the following 12 months.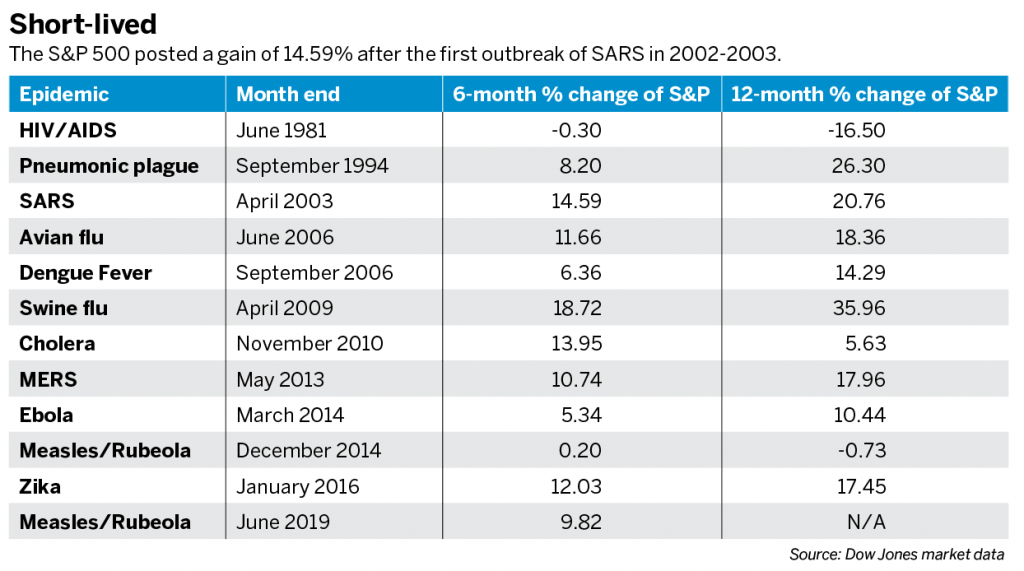 Terms
Coronaviruses cause diseases in mammals and birds. In humans, coronaviruses cause respiratory tract infections that are typically mild, such as the common cold, though rarer forms such as SARS, MERS, and COVID-19 can be lethal. The latter, COVID-19, is spreading in the world now.
FACTS
The Centers for Disease Control and Prevention defines an epidemic as "The occurrence of more cases of disease than expected in a given area or among a specific group of people over a particular period of time." A pandemic is the worldwide spread of a new disease. An influenza pandemic occurs when a new influenza virus emerges and spreads around the world, and most people do not have immunity. Viruses that have caused past pandemics typically originated from animal influenza viruses. The World Health Organization no longer uses the term "pandemic" to describe outbreaks and has instead warned government leaders to prepare for a "public health emergency of international concern."
Past Pandemics
SARS
Where: Asia, North and South America, Europe
When: 2003
Severe acute respiratory syndrome (SARS) spread quickly through contact with bodily fluids of an infected individual, including microscopic droplets of mucus or saliva that become airborne through sneezing and coughing. SARS infected people in 12 countries before it was contained that year. There's no cure.
Ebola
Where: Africa
When: 2014
The Ebola virus was transmitted to humans through contact with wild animals and then spread quickly among humans in Central and West Africa. Multiple outbreaks of Ebola have occurred, but the 2014 pandemic was by far the worst. Fatality rates for this particular strain of Ebola were about 50%, but past outbreaks have had fatality rates of up to 90%.
Zika
Where: United States
When: 2016
The Zika virus does not pose a substantial health risk. The disease is endemic in tropical climates and spreads through the bite of an Aedes aegypti mosquito or through sexual intercourse with an infected partner.