Digital assets have gone legit with regulated futures contracts, brokerage firm spot trading and company IPOs
It's not often that a new asset class is born, but it's happening with cryptocurrency.
Not long ago, the more successful cryptos were still developing spot markets within the walls of offshore exchanges and decentralized protocols.
Now, they've combined to become a legitimate tradable asset class with regulated futures contracts, brokerage firm spot trading and a few crypto-specific company IPOs.
That's prompting market participants to begin learning how to invest and trade the most diverse, volatile asset class established in decades.
Cryptocurrencies like bitcoin (BTC) and ethereum (ETH) boast market capitalizations of $1 trillion and $350 billion respectively, yet they move completely independent of existing and established markets.
The chart called "No relationship" (right) depicts the performance of bitcoin futures against other major markets, including Small Technology, Small Dollar and crude oil. The price performances vary widely, and the correlations are minimal, indicating bitcoin moves independently of these other asset classes.
That makes crypto a great portfolio diversifier for passive investors and a unique opportunity for active traders hunting for a trade.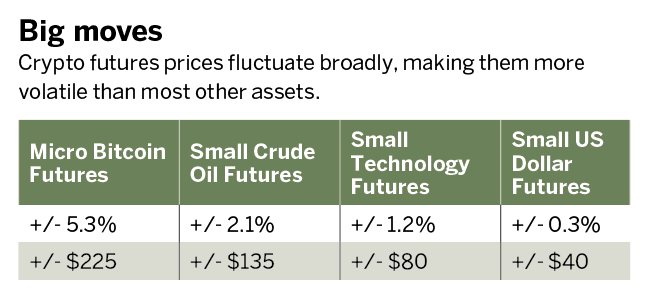 Besides moving on its own, bitcoin also moves more than other markets. The table called "Big Moves" (right) presents the daily move so far this year for the above-mentioned asset classes in dollars and percentage points.
On average, bitcoin moves more than the U.S. dollar, technology stocks and crude oil. That's significant because crude oil is known for "Wild West-like" volatility. It even descended into negative numbers in April 2020, when no one had a place to store the glut.
Anyway, this two-sided movement and average daily move of $225 makes bitcoin a potentially excellent scalping vehicle for day traders looking to make a quick trade. But newer traders should exercise caution because bitcoin futures are big and volatile, doubling and halving in 2021 alone.
To realize diversification and volatility at a manageable size, consider the new Small Cryptocurrency Equity Index Futures. This new futures product from the Small Exchange combines 17 securities in the crypto sector to create the first stock index devoted to cryptocurrency.
Prices on the Small Cryptocurrency futures are expected to correlate with price action in both bitcoin and ethereum, all at a smaller size and cost with existing bitcoin and micro bitcoin futures.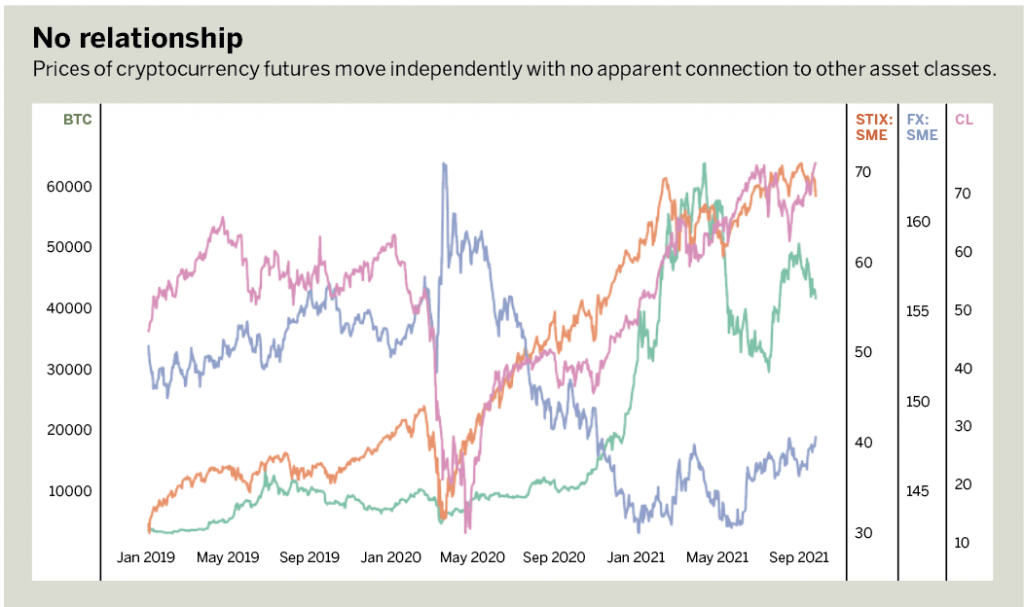 Michael Gough enjoys retail trading and writing code. He works in business and product development at the Small Exchange, building index-based futures and professional partnerships.