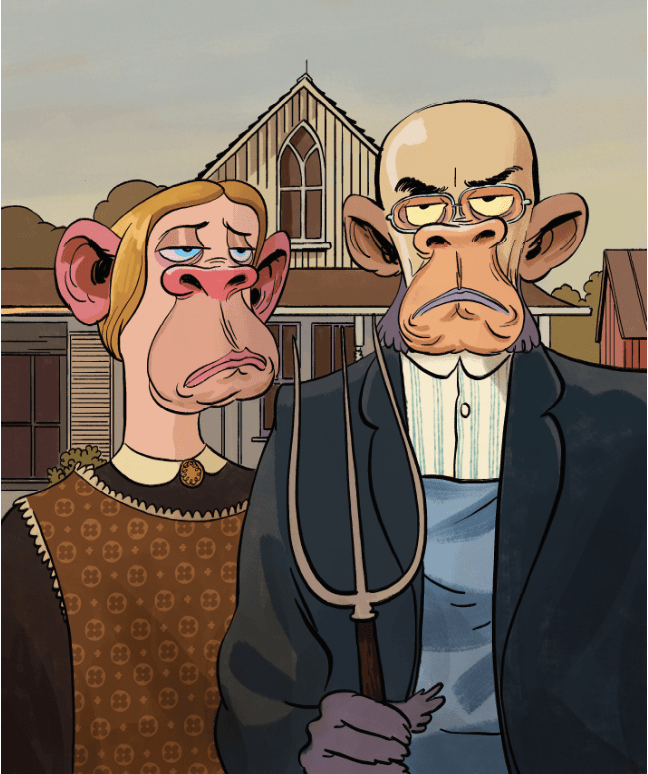 Central banks have injected trillions of dollars into faltering economies to bolster financial markets in the face of the pandemic, but much of that cash has found its way to the few.
Meanwhile, COVID-19 has widened the wealth gap. The world's 10 richest people doubled their wealth from
$700 billion to $1.5 trillion in 20 months—adding about $1.3 billion per day to their coffers.
But supply-siders can rest assured that a healthy chunk of those riches will trickle down into trophy acquisitions like sports teams, megayachts and fine art.
When LVMH Moët Hennessy CEO Bernaud Arnault isn't competing with Elon Musk and Jeff Bezos for the title of No. 1 richest man alive, he's buying fine art. In fact, the value of his collection has reached an estimated $2 billion.
Capitalism is an aspirational economic construct, so it's not the least bit surprising to see the mere millionaires follow in on the action. But true fine art is in limited supply.
Enter non-fungible tokens (NFTs), the blockchain's method of verifying ownership, safeguarding easily copied digital assets and disrupting the cushy duopoly (of Sotheby's and Christie's) that the fine art auction market has become.
Consider the Bored Ape Yacht Club (BAYC), a collection of 10,000 unique ape-avatar NFTs. Anyone who buys one is invited to an online and in-person social club. The cartoonish BAYC apes have generated more than $1 billion in sales, surpassing the Cryptopunks, the 2017 collection that kicked off the NFT craze.
The BAYC collection sold out in 12 hours for an ether price that was equivalent to $190 each. In January, the minimum price for an BAYC NFT exceeded $250,000.
Celebrities drinking the cool kids' NFT Kool-Aid include Snoop Dogg, Jimmy Fallon, Stephen Curry, Mark Cuban, Post Malone, Diplo, and DJ Khaled. Eminem paid $462,000 for one.
Those of us outside the 1% may look askance at that conspicuous consumption. We're reminded that Robin Williams once called cocaine "God's way of saying you have too much money."
It's even easier to question the quality of the art. (Frankly, we feel that most NFT art sucks.)
But, we're on a quest to separate the signal from the noise, set aside hypebeast-like consumption and repudiate the excesses of celebrity culture. It's time to dispense with the irrational exuberance that's forming a speculative bubble, pitting elite creators against ignorant consumers.
Step back for a moment and look at NFTs as more than a digital canvas for art, and you'll see the possibilities. An NFT can be minted (i.e. registered on a blockchain) from almost anything. They're financial instruments that simultaneously prove ownership and guarantee scarcity. That's no small feat.
Sure, it's easy to spread unauthorized copies of just about anything online. You wouldn't steal a car, but copying and pasting image files is second nature to most of us. Still, in the eyes of the blockchain, an NFT has only one true owner and no one else has a right to it.
In the future, every painting, whether digital or physical, will have an NFT attached. After all, NFTs are already replacing receipts for practically anything that's sold.
Despite the valuation bubble for NFT art, it's here to stay. NFT trading volume totaled more than $23 billion last year, reflecting a staggering increase of more than 20,000% from less than $100 million in 2020.
Ed McKinley, Editor in Chief
Jeff Joseph, Editorial Director
Our March issue will be hitting your email inboxes on Thursday, Feb. 10, so keep an eye out.
Luckbox is a finalist in the American Society of Magazine Editors People's Choice award for Best Cover. IG and tasty folks can vote for us with a simple thumbs up here.